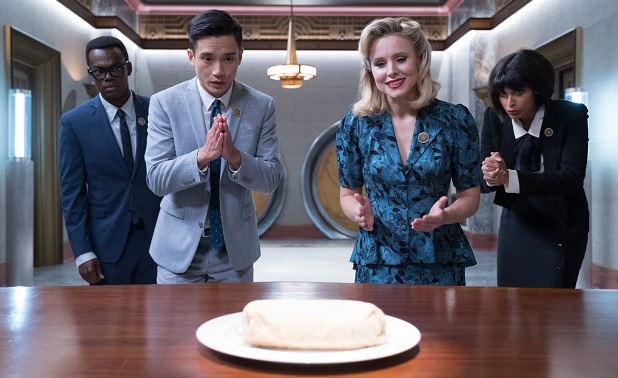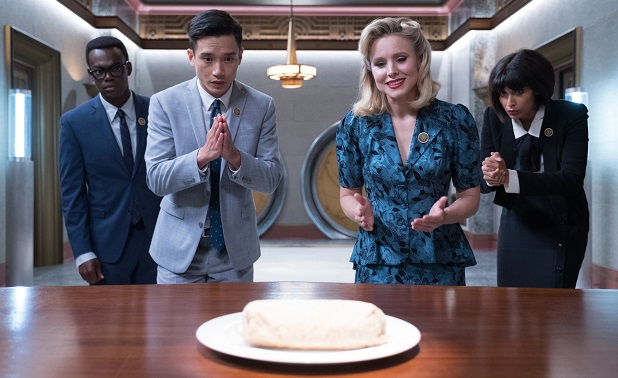 Last week we said our final goodbye to 'The Good Place,' so it was fitting that it'd be the first show we shine a light on this month as it's one of the many gifts Michael Shur has given the world of television. Whether a creator, a writer, or producer – Shur has surely been one of the most pivotal masterminds of the small screen in the past 15 years. At least that's how far back we're going as we fan out over four shows that have each managed to make a lasting, sentimental impression on fans around the world in places both bad and of course, good.
Name: The Good Place
Air Date: September 19, 2016 – January 30, 2020
Network: NBC
Twitter: @nbcthegoodplace 
Best Known For
When 'The Good Place' premiered, it was welcomed by some 8 million viewers. Pretty good for network TV in a time of streaming. With Kristen Bell bringing her hoard of 'Veronica Mars' fans, and people interested to see if Ted Danson still had what it took to hold up a show, people were interested in this quirky comedy from the start. However, it was the twist at the end of their first season that made headlines. So once it hit Netflix, a whole new wave of fans hopped on board (me included). Since it's 2016 premiere, fans have come and gone but all the while enjoyed this refreshing, hilarious, existential crisis inducing show that has made them question not only their time alive but what's to come when they reach whatever place comes with their own ending.
5 Quick The Good Place Facts
The creators went in with four seasons in mind.
The role of our favorite uptight demon, Shawn, was originally offered to 'Parks and Recreation's' Nick Offerman.
You can visit The Good Place too…well if you take the backlot tour at Universal Studios in California. It's part of their "Little Europe" lot.
Tahani Al-Jamil translates to "congratulations beautiful."
Every main character has had an episode named after them except Eleanor.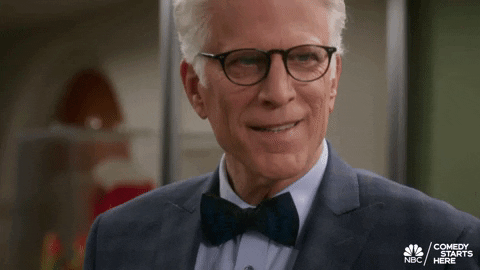 Reasons You Love The Good Place
Bonding with a TV show happens for numerous reasons. It's entertaining, heartfelt, relatable, makes you think, or makes you cry – or in the case of 'The Good Place,' does all of that and then some. What you've loved throughout its four-season run is not only did it deliver you a weekly dose of entertainment but at the same time made you look at yourself and the world around you while giving you characters, relationships, and lessons along the way.
The core four of 'The Good Place' made for some of the most genuinely loveable characters TV has seen in a long time because they were supposed to be flawed from the start. That is why they were (SPOILER) initially sent to the Bad Place. None of you are without our own faults and you loved to see the bad parts of these subjects laid out – all the while getting a chance to watch them grow as the Jeremy Bearimy's continued to roll on. It gave you a chance to realize that no matter what, you have time to change as a person; dead or alive.
Of course, these characters would be nothing without the relationships they found along the way. Whether you were inspired by the love of Eleanor and Chidi or Jason and Janet, the friendship of Janet and Michael, or the frenemy ways of Michael and Shawn – each relationship showed you the importance of the real-life ones in your own life. Especially by the end when you realize that you can't live like Mindy St. Claire, because it's the people you love and those relationships you create that make life worthwhile.
All of those lessons about being a better person and creating solid foundations with loved ones were prime examples of things you learned along the way, but perhaps the greatest lesson came with the grand scheme of the series…which is basically no one has any idea of what's to come when you pass so it's best to just live while you can and be human for as long as life allows because you never know when, how, or why it'll end – but it will.
And while none of us will live forever, you only hope that those 53 episodes continue on so that every generation from here on after can fall in love with these flawed individuals as they teach the importance of one another and ourselves, but the importance of loving whatever moments of your own personal Jeremy Bearimy you've got.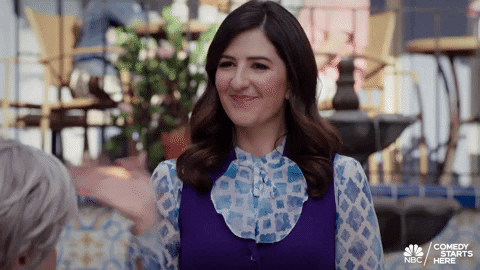 Reasons I Love The Good Place
As I said above, 'The Good Place' didn't enter my life until a season was said, done, and available for streaming on Netflix. What started as a filler during the summer months quickly turned into one of my Can't-miss shows as it was a lively way to face a fear I feel many of us share; death.
The thought of the end, if it hangs around too much, will send me into utter panic. Usually, this happens at night when it's too quiet to do anything but sit and think about horrible scenarios. Therapy may help with this but until I can afford that, 'The Good Place' aids in the horror that is my mind space as it tackled the afterlife in a way that wasn't just humorous but in many ways calming. Well, in the grand scheme. The idea of being stuck in the Bad Place as we saw at the start of the series wouldn't be ideal for eternity but by the end, 'The Good Place' made death feel as serene as walking through the final door and for that, how could I not love this show?