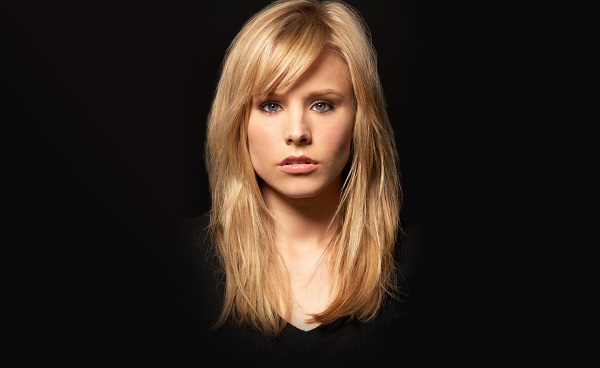 Remember that channel UPN? For those too young — it was the network that showcased programs like Moesha, Everybody Hates Chris, and Girlfriends. That was, until it went under and UPN and The WB morphed into what is now The CW: home of very attractive vampires, teen dramas, and Top Model (why is that still on?). Oh, those were the days, the days when shows like Malcolm & Eddie got green lighted.
We're not here to talk about that though, but an actress on one of those UPN shows that many felt went away too soon. Kristen Bell's Veronica Mars is one of the prime examples of a cult classic. That's not the only reason many love the forever adorable Kristen Bell — but it's likely the biggest.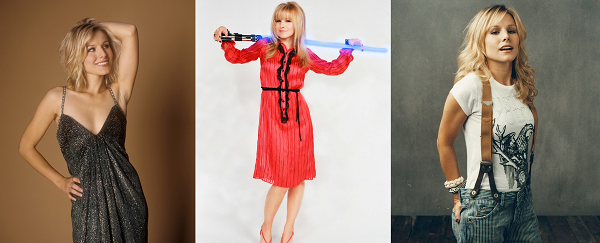 Name: Kristen Anne Bell
Birthday: July 18, 1980
Place of Birth: Huntington Woods, MI
Twitter: @IMKristenBell
Best Known For
To those who don't keep up with movies and TV but only gossip magazines, Kristen Bell is that pretty girl married to that one guy from Punk'd who recently had a baby. Those people might also note that she really, really loves sloths and she and her fiancé, Dax Shepard, did a movie together in 2012. For people in the know though, they know Bell from her work obviously as the title character in Veronica Mars, her time on Heroes as Elle Bishop and, of course, her Showtime hit, House of Lies. In the movie realm she's had parts in Pootie Tang (any excuse to write that, I'll take it), Big Miracle with John Krasinski, and Scream 4. Most will know her from the 2010 favorite Forgetting Sarah Marshall and another one from that year we can't seem to recall, When in Rome. Up next for Bell, other than continuing motherhood, will be Disney's Frozen.
5 Quick Kristen Bell Facts
She attended a Catholic high school.
Bell would still be a vegan if it weren't for her love of cheese. Being a vegetarian will have to do.
She's passionate not only about cheese, but skee-ball.
In 2006 she was named #1 on Maxim's list of "Fall TV's Criminally Sexy Investigators." Okay, how many could there have been?
She's a huge Detroit Red Wings fans and loves hockey so much that she once broke both her wrists playing.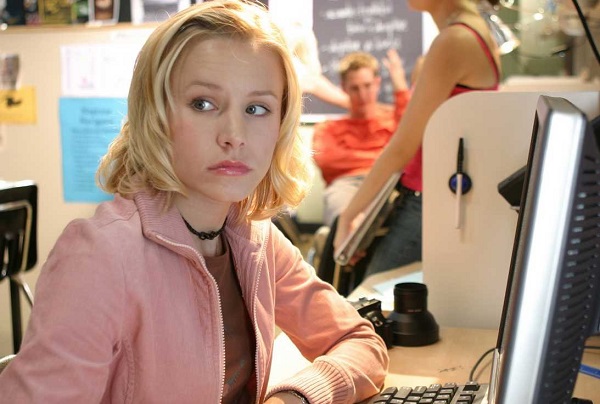 Reasons You Kristen Bell
This took me awhile because I haven't seen anything this girl's done. Back, back before you burn me at the stake. I have seen Get Him to the Greek and one episode (by force) of House of Lies, but when it comes to why you love her — I haven't seen any of those. The reasons you love Kristen Bell seem to boil down to Veronica Mars and the other nerdtacular roles she's done, her good heart, and her goofy way of life.
Let's get to it. I was reading about Veronica Mars and was like whoa, what the hell was that show about? It was a lot more complex than I had ever imagined. No wonder you rallied together and donated millions to have the movie made. In just three seasons you became more than enamored with Bell's Mars. She was a girl who had the world — well, all you can expect to have in high school — popularity, hot boyfriend, cool friends. Then in an instant it was gone and she had to step away from the sheep, becoming a lone wolf that soon found her own pack to run with. You identify and want to encompass the strength, the intelligence, and the drive of Veronica Mars. Not only did you love her there, but you kept loving her when she popped up in Fanboys and did her best to steal people's attentions away from Zachary Quinto in Heroes.
Then there's Bell outside of her roles, the woman who has a heart made of golden rays of sunshine and smiles. She does charity work for animals and loves them so much that she'd never even think of eating one. Plus, she's a big kid on the inside. Anyone who follows her and her fiancé know those two are one of the cutest, most comical couples in Hollywood.
She portrayed a character you can't wait to be reunited with on the big screen, has continued to make you proud on TV and in film, and never fails to impress you with her charitable efforts and good nature in reality. Those are the reasons you love Kristen Bell.
Reasons I Love Kristen Bell
Like I said, I never watched Veronica Mars and you know how I feel about Heroes if you read this one. So what is it I love about Kristen Bell? It's a short list of reasons but I do love that her biggest show employed one of my delusional boyfriends, Chris Lowell. Speaking of, I admire that she was on a show that garnered an amazing fan base in such a short time. It only proves the power of television and fandoms.
I love that she's perfection with Dax Shepard and that I can't really think of a logical reason to dismiss her because to me she's neither here nor there. Most of all I love that she appreciates a good sloth.