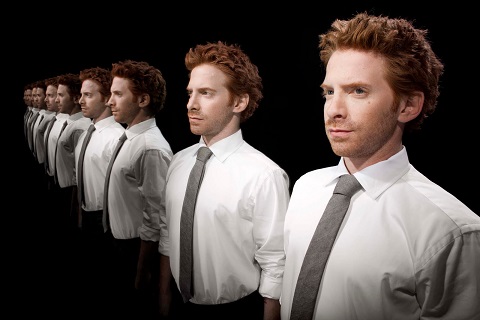 There's no real reason why we're celebrating Seth Green this week. I wrote his name down among the others and this is where he landed. It's not like we don't have anything to talk about when it comes to this guy though. Personally I've seen him be a complete sweetheart to his fans as they wait in alleyways to meet him, and if I never saw a thing he did on screen, that'd be reason enough for me to consider him a swell fellow.
Other than being a good guy when it comes to fans, there's one too many reasons why you and I can say we love Seth Green — from his collectible roles to the fact that he's been acting longer than some of us have been alive. So if you don't happen to see your favorite Seth role mentioned, just remember that he's been at this a long time and to list them all would be insane. I know Without a Paddle was good but, okay, there you go. I tossed in a freebie.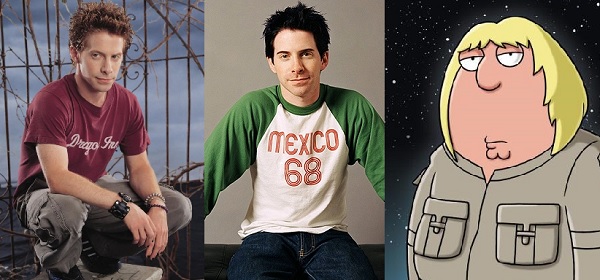 Name: Seth Benjamin Green
Birthday: February 8, 1974
Place of Birth: Philadelphia, PA
Twitter: @SethGreen
Best Known For
Seth Green may not be everyone's favorite actor, but with a resume like his, it's likely he has been in something you cherish. He's been around since the early '80s and has done everything from having bit parts in TV darlings like The Facts of Life and The Wonder Years to TGIF staples like Step by Step. Those aren't what made you recognize that 5'3" talent though. In the late '90s the world got a huge taste of Green when he took over the big and small screens. 1997 — that was the year he starred alongside Mike Myers in Austin Powers: International Man of Mystery as Scott Evil and started out on Buffy the Vampire Slayer as Oz. Those are two significant roles that have forever plastered his face in pop culture, but just two years later Seth's voice would become the most valuable asset of his career (and bank account) when he gave life to Chris Griffin on Family Guy. Today he's still trucking with that and of course Robot Chicken, and later this year he'll see how well he can do with his new sitcom, Dads.
5 Quick Seth Green Facts
This dude was a little endorser. Well, okay, they were just paying him to act like he cared in commercials for Lee Jeans, Kodak, and Fruit Loops when he was seven.
He attended the same middle school as Eve (years before her), and went on to graduate high school with honors.
His real name is Seth Benjamin Gesshel-Green, but he had it shortened in 2011.
Seth's role in the Buffy movie never really made it, but he showed them by getting a role on the TV series.
Elijah Wood out-acted him to get the part of Patrick in 2004's Eternal Sunshine of the Spotless Mind.

Reasons You Love Seth Green
It's easy to see why you love Seth Green. I mean it's not like this is Gerard Butler and I'm sitting here wondering what in the world people see in him. Nope, this is Seth Green, a dude who's been in your life for as long as you can recall. He's gone from your VHS to DVD collection just fine and there are a multitude of reasons why, and it has a lot to do with fandomania.
Let's skip all the TV spots from early on because in all honesty I don't even think my parents had met before Seth started acting. But if you loved him from back then, that's awesome. I hope you get to tell him face to face one day that you can remember the instant you started going ape for him in Billions for Boris. We're fast forwarding to his breakout year: 1997.
No matter what age you were, you were this wide eyed being who fell into Sunnydale and there was Oz. Yeah, Spike and Angel were hot, but they were the dudes you were supposed to drool over. Your Bop told you why to love them, but your heart knew Oz was your man. So you'd scrounge through every magazine to find out about him because let's face it, you probably didn't have the Internet then. Then came the monster that was Austin Powers and suddenly you might've not known it then, but that was when Seth went from a crush to a fandom. You had Oz and Scott memorabilia to collect, and collect you did.
From there you loved everything he's done from Idle Hands to Greg the Bunny. If you can recall that show without Google, you're a-ight. Then a new wave of Seth started: Family Guy and Robot Chicken. It wasn't enough that your shelves were lined with Buffy yearbooks and Austin Powers figurines, now you had a new sea of stuff from Spencer's Gifts to get your hands on.
But why? Why put yourself and your wallet through all this? Well, it's simple, Seth is without a doubt the most hilarious, surprising, and dependable man in your life. No matter what role, he's making you laugh. The fact that Family Guy rose from the grave surprised not only you, but everyone else who thought it was forever lost on those who couldn't see the humor. Plus, he's been in your life so long, you don't know what a day without a piece of him would be like at this point.
Reasons I Love Seth Green
As far as Buffy goes, the movie sits on my shelf and in my heart. The show, on the other hand, was never given the green light in my life. So Oz, I'm sorry but that's not why I love Seth Green. Austin Powers? Not really, he was good in it, but if you know me — you know where I'm going and where my love for Seth will forever remain.
The not-so-obvious first, Josie and the Pussycats. He wasn't Rachael Leigh Cook (who I could write hours about), but he played a pivotal part. If it wasn't for the boy band he was a part of, Du Jour, heading out, Josie and Co. would've never gotten their chance to head in. Seth may not sing on the Du Jour tracks, but every time to hits like "Backdoor Lover," I imagine him with Breckin Meyer just gyrating all over the place; it's more G-rated then it sounds. If you haven't checked out that soundtrack, please do yourself a favor.
Now for the obvious, Can't Hardly Wait. Teen movies are just as important as geometry and Driver's Ed in an adolescent's life. Every generation has their movies; starting in the '50s with Rebel Without a Cause, Beach Party in the '60s, 1973's American Graffiti and, in the '80s, basically any- and everything with John Hughes's name attached. But the '90s was when I latched onto movies like She's All That and Drive Me Crazy. After Clueless, the best one to me was Can't Hardly Wait.
That movie took every stereotype you'd find walking through a high school and turned them up 20 notches. In my world, Seth Green will always be the ghetto white boy Kenny Fisher who was really just as suburban as Beaver Cleaver once you stripped away his goggles and oversized street wear. So when it comes to Seth Green, I'm not really for his essential roles that garner action figures and trading cards, but the ones that render images of synchronized dance moves and air humping in a bathroom at a graduation party.