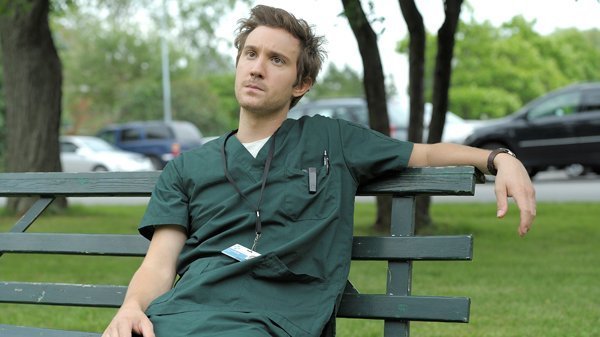 Happy Halloween! I was busy Sunday night and didn't get to write this out, and then sat on Monday with my roommate catching up on The Walking Dead in the background. I debated who to do this week since it was a holiday, but my debates all circled back to what I'd already had planned based on a multitude of reasons. I was going to do horror movies but if you've read these in the past you know I giggle at those; I was going to do an icon of the day but Lauren already blew us away with her piece on Frankenstein last week; so here we are with Sam Huntington. Which on Halloween makes sense if you think about it…
You may not know his name right away, but if you're my age and for some reason thought everything Tim Allen did were must-sees back in the day, you know Sam Huntington — trust me. He's made the transition from child actor to adult obsession just fine and there are many reasons why.
Name: Sam Huntington
Birthday: April 1, 1982
Place of Birth: Peterborough, NH
Twitter: @SammyHuntington
Best Known For
Without Google, can you name the movie Sam Huntington was in from 1997 that caused many girls to swoon? If you guessed Casper, you're dead wrong. If you said Man of the House — what were you thinking? Jungle 2 Jungle? You got it! Huntington got his big break in that Disney movie that starred him as a boy born and bred in the jungle who heads to New York with his new-found dad (Tim Allen). It's a classic; please watch if you never have. After he dominated pre-teen hearts he moved to Detroit Rock City a couple years later and did a string of teen movies: Not Another Teen Movie with Chris Evans and Sleepover with Evan Peters. In 2004 he made enough of an impression on Veronica Mars as Luke Haldeman that his character will be in the movie next year. Back to movies — Fanboys was so good in 2009 that we forgave him for the TV series Cavemen the previous year. Today he's best known as Josh Levison on the SyFy series Being Human and who knows what he'll do next.
5 Quick Sam Huntington Facts
Sarah Ferguson, the Duchess of York of the British royal family, once stopped Sam to congratulate him on Jungle 2 Jungle.
We were robbed. He had a three movie deal with Disney and only did the one. Do I smell a Jungle 2 Jungle sequel?
Sam has an Oscar. It was his uncle's who passed away.
He's a father of two.
Sam married his longtime girlfriend, Rachel Klein, in 2006.

Reasons You Love Sam Huntington
Like a lot of these guides, your love for Sam Huntington can be broken down into three parts: a loincloth, his good guy card, and what he's up to now.
For those who love Sam because of Jungle 2 Jungle, you've either kept up with him and have enjoyed seeing him for over 15 years (that was hard to digest) or you had no clue Mimi-Siku went on to do anything after he and Allen shared screen time. For those people, you regard your VHS copy of that movie as one of your prized possessions and when your mom told you to donate it to Goodwill, you laughed in her face and walked away. Those who noticed Sam went on to do more, head this way.
From Jam in Detroit Rock City to Ox in Not Another Teen Movie, you saw Sam as this doe-eyed cutie pie and wondered why he wasn't featured in more movies over the years. Then came Fanboys and your worlds collided: you, this girl with an unhealthy attraction to Chewbacca, and him, this guy who'd give up responsibility to help a friend in need — all for the sake of Star Wars. You don't care if it was just a movie, you fell hard and Sam's real identity is often masked just a bit by Eric.
Then you might just be a fan of him because of Being Human. It's only been out a few years but you found a reason to never miss an episode. Yes, you've told friends you had plans with your family to stay in just to watch and you have no shame because you can't get enough of Sam as Josh Levison. There's something to admire about a guy who had it all who'd give it up for the sake of the ones he loves. You also admire that he was able to rebuild and emerge somewhat better, only with way more supernatural problems in the mix.
You either loved him when you were growing up, his attention to a galaxy far, far away, or thanks to a show on a network you may've not been able to find in an instant before he came along.
Reasons I Love Sam Huntington
If I were to make a list of the hottest guys of my prepubescent life, Sam Huntington would land somewhere between Erik von Detten and Nate Richert. I watched Jungle 2 Jungle obsessively — way too much when it finally came out on home video. It wasn't because I was in love with Tim Allen, that crush came later. It was all because of that adorable jungle boy. Do you know how much I, and I'm pretty sure 80% of the girls who watched, hated Leelee Sobieski? What did she have that I didn't in '97? Well, a lot. That didn't matter though; I swore he was my boyfriend.
So I've never seen Veronica Mars, have only watched one episode of Being Human and have only seen Fanboys once years ago — those play no role in why I will always love Sam Huntington. My love for him in a movie from my childhood proves that all one has to do is take my heart early enough to have a hold on me the rest of my life.