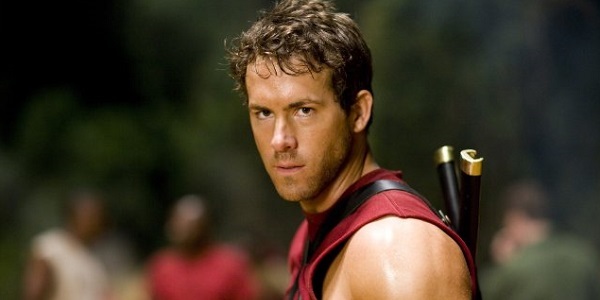 He's one of the sexiest men alive according to every publication that declares the annual notion. He found an early niche in comedy and that's made him not only someone who can deliver a punch line, but someone who can look very good doing it. On top of that he's also got a grasp on the comic sphere with his various super identities, so he's got that going for him. Ryan Reynolds — just typing his name makes this gal giggle. There are a multitude of reasons to love Ryan, so let's not waste any more of your time.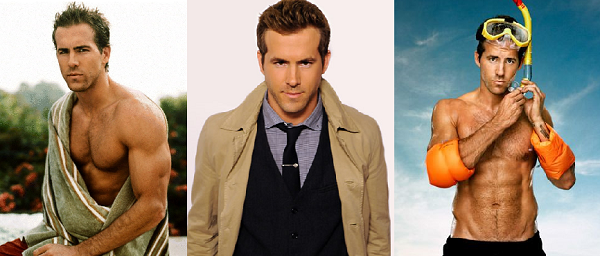 Name: Ryan Rodney Reynolds
Birthday: October 23, 1976
Place of Birth: Vancouver, Canada
Fangirl Fan Site Shout Out: ryanreynoldsfan.net
Best Known For
Sometimes you're known for great things like your physique and movies that offer up laughter. Other times you're known as an okay superhero and being buried alive. Ryan Reynolds has had the best of times and the worst of times, but at the end of the day you still know him. He got his start on Fifteen in 1990, but it's likely only five people know what that is, and chances are those who do were on that show. His semi-big break came on Two Guys, a Girl and a Pizza Place, where he played Berg. After that wrapped, he went from sitcom cutie to big screen hottie as the college student we all aspired to be in 2002's Van Wilder. From there he did a couple of movies that keep TBS running on the weekends: Waiting… and Just Friends. Things never slowed down for Reynolds after he stole everyone's hormones, including Sandra Bullock's (allegedly) in The Proposal. Since then he's gone on to do a lot of hits and misses. That leads us to this year with The Croods, Turbo, and R.I.P.D. Next up for Reynolds? Deadpool, enough said.
5 Quick Ryan Reynolds Facts
When Ryan wasn't working at a grocery store back in the day, he was failing high school drama.
He first locked lips behind a dumpster at 13.
He was offered the role of Xander in Buffy the Vampire Slayer. Can you imagine, him, James Marsters, and David Boreanaz at one time?
Ryan was raised Catholic but now says, "Religion poisons everything good in this world."
He only wore a 60 lb. fat suit for Just Friends, but for Blade: Trinity he actually packed on 25 lbs. of muscle.

Reasons You Love Ryan Reynolds
If it were possible to put one of those emoji things in here, I'd place some abs. Ryan Reynolds sits atop your "must have" list because let's face it, he's a gorgeous specimen. You often give your boyfriend a glaring look for even thinking twice about Megan Fox, but you've argued it's okay to drool over Green Lantern; admit it. That face, paired with six friends waiting underneath his tees are seven reasons right there, but Ryan does have other admirable traits, like his acting of course.
You either fell in love with Berg and thought, why the hell can't any of my guy friends look like that, or you were instantly obsessed with Van Wilder and for that one moment you wished you were Tara Reid. You were a young girl and college was years away, but the idea that a boy like Van was there made you wish you were approaching freshman orientation. What you wouldn't have done to be invited to one of those parties. From that point on you've made it your business to see any and all Reynolds related movies on their opening weekends. You felt girly with Just Friends, heartfelt with Definitely, Maybe and were one of the few in the theater for The Change-Up (sorry Olivia). No matter what though, you are there.
When your friends ask why, you point to your Reynolds screensaver and say, "Really, do I need to explain?" Then you get into the reasons. Ryan almost always plays a guy you want — need — to root for. Whether he's chasing the girl or saving the world, he's rarely the douchebag. It's that good guy demeanor that keeps him on your best side. Even when you have to see a movie about a racing snail, you're cheering him on. Go you slimy little guy, go!
You love Ryan for the obvious attribute, his body, but you also love him because he often plays guys you can get behind without feeling guilty.
Reasons I Love Ryan Reynolds
Over a month ago I was stoked on Turbo. This is only because snails are one of my favorite animals, but once I found out there were people and it wasn't just a critter world — I was out. So that'll never be a reason my heart fills with joy when it comes to Ryan. My feelings for that man are based on three things: the look, a college experience, and his dating past.
There's no reason to go into what Ryan Reynolds is working with physically. We've all seen it and we all enjoy it, including most men. I've heard more than once that Ryan's some dude's "guy crush," and rightfully so. He's that perfect mix of masculine charm and sensitive bravado. So that's that; if Michelangelo were alive today David would be Ryan.
After Pauly Shore in Son in Law, Van Wilder is what I wanted college to be like. What could be better than spending forever in school? This is coming from the nerd in me who actually dreams of writing research papers, not the party girl mentality I never possessed. So I wanted to have that Wilder experience that was more academic, but nevertheless I wanted to stay in school for as long as possible. Sadly, I only spent four years in college and didn't go on to rule the school after seven like Van.
Lastly, Ryan's love life is a big reason I find myself smitten with him. I don't care if he may've dated Sandra Bullock or that he's married to a Gossip Girl. I'm more into his time with Alanis Morissette and Scarlett Johansson. Ryan dating Alanis made me think he was this sort of artsy guy who was pissed all the time. That somehow made him more attractive. I'm aware they didn't date when Jagged Little Pill was big, but that's all I'll ever see Alanis as. Also, Ryan dating Alanis made me think that one day I too could land a guy like that. I mean I'm moody and would perform at Lilith Fair if I had any talent and if it still existed. Then there's Scarlett, aka my number two lady love. When they married, their future children were instantly placed on People's "Most Beautiful" list for 2027. Their hotness was unbearable and I didn't know who I was more jealous of, her or him. Then they had to go get a divorce and ruin it. Thankfully that People hadn't gone to the printers yet.