Thoughts of taking the easy way out came to mind when Ryan Gosling's name popped up. Why not just post James Blunt's "You're Beautiful" and be done with it? I mean, it's pretty hard to deny that this man is a specimen for male perfection alongside Efron, Pratt, and Hemsworth. While that thought lingered for five minutes and then some, I decided Gosling is worth some words and started to put them down — that is, after I stared longingly at pictures of him in The Notebook, then pondered watching it and then got back to writing.



Name: Ryan Thomas Gosling
Birthday: November 12, 1980
Place of Birth: London, Canada
Twitter: @RyanGosling
Best Known For
Many young actors trying to make their way in the '90s got their start not on NCIS (it's been on that long, right?) but on shows like Are You Afraid of the Dark? and Goosebumps. Gosling did just that in the mid-'90s after a stint on The All-New Mickey Mouse Club, and from there landed starring roles on Breaker High and later Young Hercules. He was a low key teen idol, but finally got a little more notice with a bit part in Remember the Titans in 2000. A couple of years later he got creepy in Murder by Numbers, and then came 2004's The Notebook. That put him on the map. He was no longer that pretty blond kid from this-and-that, no — he was it. After the success of The Notebook, Gosling took some turns in his career towards the indie beaten path with Half Nelson, Lars and the Real Girl, and Blue Valentine. After a three year break he came back with Drive and was back on top of everyone's radar once again. Plus, no one could deny his shirtless scenes alongside Steve Carell and Emma Stone in Crazy, Stupid Love. Come next year he'll be back with Stone in La La Land.
5 Quick Ryan Gosling Facts
Growing up his nickname was "Trouble."
Ryan's weight once hit 210 lbs thanks to drinking melted Haagen Dazs. In fact, that weight gain cost him to lose the lead in The Lovely Bones. He was cast at 150 and, well, he was a little over what they wanted.
One of his favorite things to do is knit.
On top of knitting, he loves going to Disneyland.
Once time he bought all the cookies from a Girl Scout stand and then just handed them out to people for free.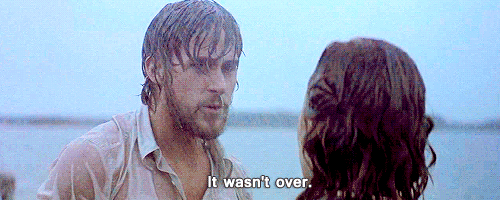 Reasons You Love Ryan Gosling
Remember last week when I said Jason Bateman was like the Erik von Detten of his time, meaning he was a teen idol, but not on the level of the other cuties in the '80s? Well, that's how I feel about Ryan Gosling in the '90s. There's no denying he was the cream of the crop looking back, but then there were others like Ryan Phillippe and Freddie Prinze, Jr. taking claim to the throne. Not for you though. Ryan and Freddie were cute and you had them on your wall, but you practically bought any and every magazine willing to feature Ryan because you were insanely obsessed with Breaker High and Young Hercules. Why? Well, for a 12-year-old girl all it takes is a handsome face to get them hooked. You're the old school fan and you have serious history with Gosling, but you welcomed the rest of the world when they finally noticed your boy in 2004.
Oh 2004. It was the year one of the best movies ever came out. The Notebook made you care about Nicholas Sparks and while none of the other movies based on his books ever matched up, you and everyone else thanked him for this story because it made Ryan Gosling a true star and ensured that he'd be working for a long time after. Ryan's Noah was perfection. I mean, how many times after have you wished a someone would not only write you a letter every day, but build your freaking dream house? Plus, that scene in the rain. That alone was cause for many fantasies. After that, it was hard to separate Ryan from Noah and in your mind, he was just the perfect gentleman, husband, person.
Speaking of, Ryan's Noah was with Rachel McAdams's Allie and while they hated each other during filming, they fell for one another later, and it gave you life. They may've been the first couple you actually shipped, or referred to as such and they were amazing. You've imagined yourself marrying Ryan a million and one times, but in your heart you knew it'd never work because you're one of the many who still hold onto hope that they'll reunite one day; #RyanAndRachelForever.
Ryan is one of the few child stars to not let his looks fall by the wayside as he got older. It makes you wonder what was in the water when he filmed MMC with Justin Timberlake, Christina Aguilera, and Britney Spears. Anyways, today he's a full fledged man, a dad — a DILF — and that's apparent by his godlike body. Hello, cue the Crazy, Stupid, Love scenes now. Hey, where's my cue? Oh, here we go. The ladies and gents who somehow missed the Gosling train back during The Notebook definitely hopped on in recent years thanks to his more grown up movies like Crazy, Drive, and The Place Beyond the Pines.
Whether you were there from the start when he was just a kid, caught wind thanks to The Notebook, or just noticed his man body, the love for Ryan Gosling is grand.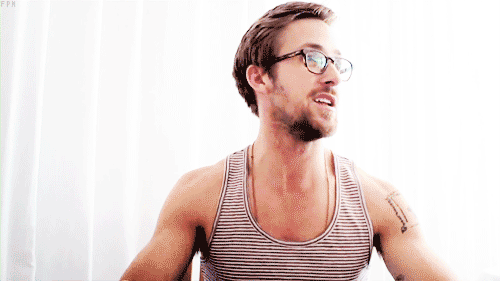 Reasons I Love Ryan Gosling
Other than almost being a Backstreet Boy, Ryan Gosling has other attributes I love. Of course I'm like 99% of the world and consider The Notebook one of the greatest movies ever. Put that on and I'll sit and fall in love with Noah all over again, every single time. Other than that, Remember the Titans, and Lars and the Real Girl, my heart swells when it comes to Ryan because of his demeanor. He's a weird dude who goes to Disneyland by himself, but he's a sweetheart. He dropped everything after Hurricane Katrina to head down south and help build a monastery. Plus, he's a doll when it comes to his fans. When you're as famous and beautiful as Gosling, no one would be surprised to hear horror stories when it comes to fan encounters. Thankfully that's not the case.
If you're ever in LA and on Hollywood Blvd. you'll see this alley where fans and annoying paparazzi hang out to try and meet the guests on stopping by Jimmy Kimmel Live! I used to go way too much, and it can be a task. When it's cold, it's freezing and the wait can be unbearable. Sometimes the celebrities just walk on by without a care, giving a little wave. Like, that gesture is enough, but then there are others who take the time to walk the some 30 feet to take pictures and sign autographs. Well, Gosling did just that and it made these peoples' day (well, night), including mine. He signed my Goosebumps "Say Cheese and Die" DVD and my heart about dropped when he walked over. Seriously, having this man in your face will take your breath away. So he was almost a part of my favorite group and he's as sweet as can be to his fans, and that is why I'll always love him. He could be a complete douchebag, but he's so down to earth, you can't hate the guy.