Tears started collecting before words were even formed.
We live in a weird society where the death of someone we've never met, shared intimate details with, or even been in the same room with can affect our lives. Even if you weren't a fan, you felt something in the air the day Michael Jackson passed and I think the same has to be said of Robin Williams. Yes, he wasn't the renowned "King of Pop" and he didn't come with a scroll of scandals and even more beloved songs, but he was in some way a part of a lot of our lives and like many said last year on the eleventh of August, "The world got a little less funny today."
Like most of you, I'm never too far from my phone and, without thought, checked it right as I got out of the shower. The mirror hadn't even lost its haze before I'd read Robin Williams was gone. Many celebrities have died in my lifetime, and there've been a few that'd made me sad — Chris Farley, Left-Eye, Aaliyah — but this one really took a hold of me. I didn't care how it'd happened, I just knew it wasn't right. Since many of you felt the same I decided this couldn't be just any Guide, it had to be done a little different. So let's get to the usual and then regroup.


Name: Robin McLaurin Williams
Birthday: July 21, 1951
Place of Birth: Paradise Cay, CA
Site: Robin Williams
Best Known For
To say Robin Williams will go down as one of the greatest comedians to have ever walked the Earth would be a grand understatement. His frantic delivery and ability to create 101 characters on the spot quickly became revered in the stand-up community. From the clubs to the small screen he jumped and landed on Happy Days. From there he garnered a spin-off. Mork & Mindy was just the start. Working well throughout the '70s and '80s, Williams really hit a stride when he started doing hit after hit from Dead Poets Society to Hook to FernGully. Then in walked a role that many in their mid to late 20s remember all too well. Williams as Genie in Aladdin was game changing and it only got better from there. Mrs. Doubtfire, Jumanji, The Birdcage and, of course, his Oscar winning performance in Good Will Hunting. It's really hard to sum up the career of a man who worked up until the end, from not-so-hits like RV to guest spots on Wilfred and Louie to his last starring role in this year's Boulevard. He was and will forever be one of a kind.
5 Quick Robin Williams Facts
Like a lot of actors, Williams was shy growing up but he got over it when he got into drama in high school.
Speaking of, he was voted "Least Likely to Succeed."
When he first moved to New York he performed as a mime to make money outside the Met.
While he was an avid gamer, it wasn't his idea to name his daughter Zelda — it was his son's.
Richard Pryor and Jonathan Winters were two of his idols.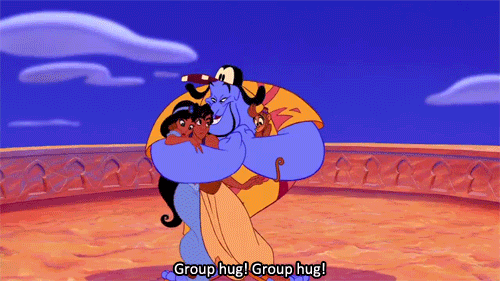 Reasons We Love Robin Williams
There is no you and me this week, just us. We all had a special place in our lives when it came to Robin Williams so that's why we're going to sit here together — less than a week before what would have been his 64th birthday — and celebrate. From his beginnings in stand-up to his remarkable time in voice-over to those moments when he made us both laugh and cry, we're going to try and talk about it all.
Those of you reading this who are old enough to remember the days when Williams was just starting out got to witness the birth of a genius. Watching clips of his earlier acts can take your breath away merely based on the fact that he performed with such energy and finesse that you often wonder when and if he ever paused. It was easy to see why he scored a role alongside the Fonz and why he then got his own show. While Mork & Mindy isn't in syndication as much as I Love Lucy or Everybody Loves Raymond, it holds a special place in TV fans' hearts for being this wacky, out-of-this-world show that really managed to take on some serious topics like racism — yes, please look this episode up because it is a doozy.
On a lighter note, Williams changed Disney movies forever when he became everyone's best friend in Aladdin. Before him, the voices of our favorite characters were voice actors who rarely saw the spotlight. After the success of Genie, we started to hear a lot more A-listers less wary of taking on animated movies. Now people like Tom Hanks, Ellen DeGeneres, and Mandy Moore are forever cemented in the Disney Hall of Fame. I mean, Disney movies were great before Aladdin, but what he did to change that dynamic can't be overlooked.


Whether we were hearing him or seeing him on screen, he made us laugh regardless. If you ask my roommate how many times I've watched Jumanji, she'll roll her eyes and say, "Too much." It's true and I'm not even sure why. There's something comforting about seeing a movie you watched and were amazed by as a kid. On top of that, who doesn't quote Mrs. Doubtfire on the daily? HELLLOOOOO, so many people posted non-stop the eleventh of August last year about their favorites, and the ones that made them laugh growing up sat high on top of their list.
While some noted the comedies, others couldn't let go of Williams's serious side. There are those who are never far from Dead Poets Society. A lot of screenwriters loved the reality behind Good Will Hunting and watched it on repeat trying to crack the Hollywood magic code and others, well, others couldn't help but get creeped the hell out by the idea of him looking at all their pictures à la One Hour Photo.
It's hard to see someone as a funny man and then turn around and take them seriously. It's not impossible, but it's sometimes hard to separate the two. That's why I wanted to take a second to talk about one movie of his that blends both beautifully: Jack. This is one of the few movies I can't watch without bawling, and you might be the same way. We watch and laugh at the fart in the can, the idea that he wanted to date Jennifer Lopez, and that weird kid with the glasses who was also in Little Giants, but then we get to almost the end when Louie reads who he wants to be like when he grows up — and we lose it. I think what Louie wrote best sums up why we all felt so strongly last summer: "He's like the perfect grown-up because on the inside, he's still just a kid."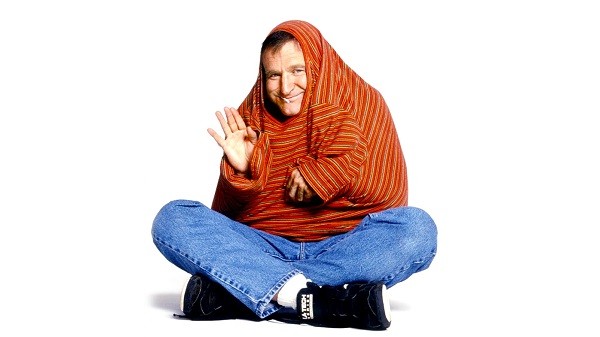 For those older than me, Williams was this amazing, hilarious talent, but to people my age, he was this big kid who in one way or another was a friend growing up. Whether he was a nanny in drag, a hyper bat in the rain forest, or the boy who never wanted to grow up, he was there for you as a kid and even though he never came to a sleepover in person (that would've been weird), and we're older now, it always hurts to lose a friend.
Robin Williams managed to entertain the world for nearly four decades. In that time we either loved his stand-up, his voice-over skills, the way he always got a laugh from us, the times he made us cry, or simply all of the above.