Where would elder millennials be without the contributions of Rachael Leigh Cook? We wouldn't know taking off our glasses and overalls could suddenly transform us into a queen, how crucial a carpool can be, and how the music industry puts subliminal messages out via pop stars. In all seriousness, Rachael Leigh Cook has been entertaining and inspiring us for a quarter of a century this year and there was no way I was going to let another Fangirl's Guide run go without fanning out over this true pop culture icon.
Name: Rachel Leigh Cook
Birthday: October 4, 1979
Place of Birth: Minneapolis, Minnesota
Twitter: @RachaelLCook
Best Known For
It's safe to say about 90% of tween and teen girls in the late '80s and early '90s were absolutely obsessed with 'The Baby-Sitters Club' series. So much so that in 1990 they made a TV series but it was just okay, and we all know from those AT&T commercials that just okay isn't okay. So five years later Dalene Young brought Ann M. Martin's Stonybrook to the big screen and with it came the introduction of Racheal Leigh Cook as the shy good girl, Mary Anne Spier. From there it was a constant stream of kid's movies. She starred alongside JTT in 'Tom and Huck,' played the cool kid in 'Carpool,' and then moved on to the teen movie scene with 1999's classic, 'She's All That.' Once the new millennium hit we saw her take over TV in 'Las Vegas,' 'Psych,' and 'Perception.' All the while voicing various characters on Seth Green's 'Robot Chicken' – which she still does.
5 Quick Rachael Leigh Cook Facts
She did one of the most memorable anti-drug commercials. Remember the one with the frying pan?
Rachael has voiced the video game character, Tifa Lockhart, since 2005.
Somewhere Rachael has one Teen Choice Award Surfboard and one Nickelodeon Kids Choice Awards Blimp.
How would 'Twilight' have been with Rachael? Well, we'll never know but it's said that Stephanie Meyer wrote the character of Alice Cullen with Cook in mind.
One time KISS' Paul Stanley complimented her posture in line at a Starbucks and she told him, "Thank you, I have mild scoliosis."
Reasons You Love Rachael Leigh Cook
There probably hasn't been a day that's gone by since 1999 that Rachael Leigh Cook has not been called "Laney Boggs" and for good reason. 'She's All That' was the modern-day telling of 'Pygmalion.' We saw Laney at the center of a bet only phonetics wasn't the key. Instead, Freddie Prinze Jr. had to make her prom queen, and honey – we all ate it up and asked for seconds. What 'Pretty in Pink' was to '80s teens, 'She's All That' was to those on the verge of Y2K. From her paint-stained overalls to her falafel hat to that stunning red dress, Rachael was put on a pedestal by girls and guys alike.
For years you watched her every move and while she soon fell back from the brightest of spotlights, you appreciated her consistency. Not a year has gone by since stepping into Stonybrook that has seen her without work. Check the receipts. She's had one or more jobs added to her resume every year since 1995 and that's not something many of her '90s child star peers can say.
Which, speaking of, being a child star isn't the easiest road to travel. With many of them crashing and burning for various reasons before adulthood, it would've been easy for Cook to fall victim to a handful of Hollywood Horrors, but she didn't. In many ways, Rachael Leigh Cook walked so stars like Hilary Duff and Selena Gomez could later run. She proved you could step into Hollywood as a kid and remain a respected working individual so long as you had a great team around you and an even better head on your shoulders.
Rachael Leigh Cook entered your life when you were just a wee child and for the past 25 years she's not only been a consistent part of it but has also been admirable the whole way through and for that, you can't help but love her.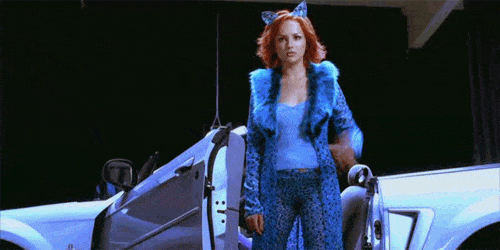 Reasons I Love Rachael Leigh Cook
The year was 2000-something and my friends and I went to a 'Robot Chicken' event at a skating rink in the San Fernando Valley. Various celebrities who'd lent their voice to the series were rolling around and out of the corner of my eye, there she was. Now I've gotten to meet a lot of my childhood loves from Carson Daly to Backstreet Boys, but none of them compared to Rachael Leigh Cook and I told her as much. "I'm going to fangirl really hard right now," I warned her. After that, I was a hot mess as I just rambled on about Laney, Mary Anne, and Josie. Shout out to her for being so cordial to a 20-something who was standing face to face with someone who represented not only one of her favorite fictional characters but the star of a movie she was too obsessed with growing up.
For as long as I can remember I've been the shy kid, the quiet girl in class, the awkwardly weird child of the bunch. So when I cracked open my first 'Baby-Sitters Club' book in elementary school, my heart instantly gravitated towards Mary Anne. Well, her and Kristy because I'll forever be a tomboy wondering what the hell makeup is for. Book after book, Mary Anne continued to be my girl so when the movie came out, I had hearts in my eyes as I watched Rachael Leigh Cook bring her life. She played her so perfectly that I can't help but want to send Mary Gail Artz a thank you note all these years later for casting her. Because without that role, who knows if we would have later gotten to see her bring another character from the pages to the big screen in 'Josie and the Pussycats.'
I turned 14 the year 'Josie' hit theaters. I remember that not because of Google, but because my best friend got me the soundtrack that year for my birthday and it still plays in heavy rotation to this day. Having one of the best soundtracks aside, 'Josie' was and is still one of my favorite movies because with all of its campy humor comes some pretty serious messages about our obsession with the media and trends. I've always been interested in why we love the things we love (hello, this series was based around it). Why Beanie Babies were suddenly on everyone's mind, how certain artists hit #1 on the charts sans vocal range, and so forth and so on. I even did a whole presentation on it using 'Josie' as a thesis of sorts in 10th grade. Subliminal messages, a wild but fascinating idea that came to me from a movie starring Cook alongside Tara Reid and Rosario Dawson.
There isn't a lot I can recall about being eight-years-old but if you would have told me that at 32 I'd be wearing a 'Baby-Sitters Club' tee on Instagram and Rachael Leigh Cook would be commenting on it, I would've died just as much as I did that day in the skating rink. For Cook isn't just an actress that has starred in movies I can put on and be enamored with for an hour and a half, she's a pillar of my existence and pop culture obsession and for that, I am forever thankful.