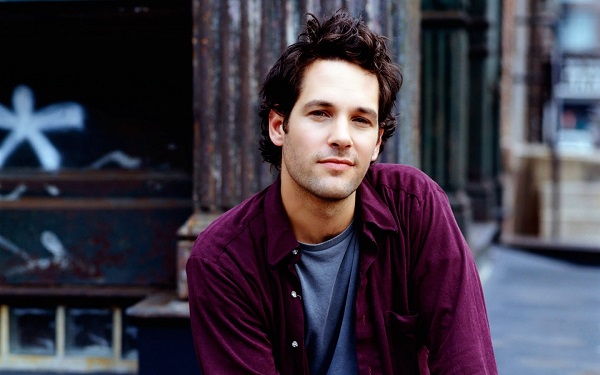 Last week I wanted to write about some silver foxes and this week I kind of am. Paul Rudd is 44 this year, but he doesn't look a day over 30. How he does it is a mystery I hope to crack one day, but until then I'll sit with my notebook full of conspiracies on the matter and let you know why it's damn near impossible to hate Paul Rudd. Really, I heard about a girl who tried before and she's still recovering from the effects.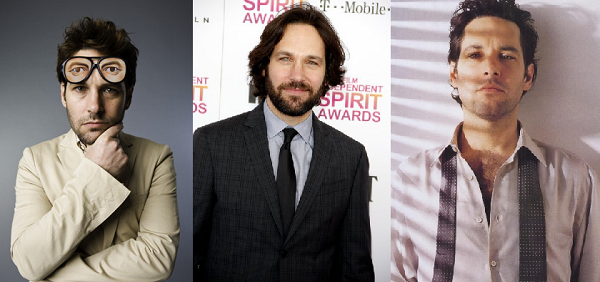 Name: Paul Stephen Rudd
Birthday: April 6, 1969
Place of Birth: Passaic, New Jersey
Fangirl Fansite Shout Out: paulruddfan.com
Best Known For
Paul Rudd started acting professionally over 20 years ago, but it wasn't until 1995's Clueless that we took notice. That role made us question our thoughts on incest as he played the older ex-stepbrother who Alicia Silverstone's Cher Horowitz fell for in the end. Okay, so it wasn't total incest, but to this day I still think it was weird he was in college and she was a high school sophomore. Anyways, Paul kept working after Clueless, but we didn't really care until he resurfaced on Friends as Phoebe's man Mike Hannigan in 2002. A couple years later Paul was in almost every hit comedy from Anchorman to The 40-Year-Old Virgin to Knocked Up. By 2008 it was time for Paul to be the main man on movie posters with Role Models and I Love You, Man. If you haven't seen any of those movies, you obviously hate to laugh.  In the past year you might recognize Paul from his bit part in The Perks of Being a Wallflower, and will likely have his face drilled into your memory with the upcoming movie Admission, starring him and Tina Fey.
5 Quick Paul Rudd Facts
We can thank Paul for the infamous "Kelly Clarkson!" line in 40-Year-Old Virgin; he came up with it.
He studied with Shaggy — well, Matthew Lillard — at the American Academy of Dramatic Arts.
He might've been born in Jersey, but he was raised in Kansas and has a huge love for all Kansas sports because of it.
Paul used to get down on the turntables, DJing Bat Mitzvahs once upon a time.
Looking at his birthdate, you can figure he was almost 30 in Clueless, but did you know he auditioned for almost every male role in the movie? Yup, think about Paul as Christian!

Reasons You Love Paul Rudd
Back when you first watched Clueless, the boy you chose to crush on told tales about what kind of guys you were into. Liking Elton meant you wanted an egotistical man, Murray meant you craved a bad boy with a soft heart, having eyes for Travis meant you loved laid back dudes, and wanting a boyfriend like Christian meant you were only going to have a BFF. But loving Paul Rudd's Josh meant that you yearned for a smart, honest man who would leave a make out session with another girl to rescue you from the valley after you ruined your Alaia.
Paul's Josh was just the start of your lifelong devotion. When he popped up on Friends you gushed that he wasn't cast with Monica or Rachel, but rather the eccentric Phoebe. For some reason that made him cooler in your reality. After his stint on Friends, Paul continued to warm your heart with his comedic charm in every movie he did. You didn't mind that he was the co-pilot in movies like Knocked Up, but were happy to see more of him once he started getting the lead roles in amazing movies like Role Models. You also love that he can now be likened to Ben Affleck because of that film.
Were you surprised that Paul was in Perks of Being a Wallflower as Mr. Anderson? That he'd take on a part that was a far cry from his usual sarcastic tone? Hell no, you supported that movie just the same as you would any other because Paul's the one constant in your life. I mean seriously, look at him. Paul in Clueless is the same Paul you'll see when you go and watch Admission when it drops on March 8th.
Paul Rudd was likely the man you based your "wants and needs" in a significant other on when you were a mere child running around saying "as if!" That, paired with his dry sense of humor and his fountain of youth demeanor, are the reasons you've loved and continue to love Mr. Rudd.
Reasons I Love Paul Rudd
Like many of you, Paul Rudd will forever be in my heart because of Clueless. Have I said Clueless enough yet? But he wasn't the boy in that movie who had my 8-year-old heart racing. That title belonged to Breckin Meyer's Travis, but I will say that Clueless is the main reason I love Paul Rudd. The other is a secret, a secret that Rudd himself only knows… How he has managed to age just one millisecond since 1995? In less than two years, Clueless will turn 20. In two years Paul Rudd will still look like he did the day that movie premiered. One day I plan to hold Rudd hostage and ask him his regimen. Could it be surgeries, diet and exercise, ox blood, ritual sacrifices? Whatever it is, it is a huge reason why I've continued to be amazed by Paul Rudd over the years. That and of course Clueless. Last one, I promise.