In the midst of the vampire explosion brought on by Twilight, The Vampire Diaries was born and while one of them has died down in hysteria, another is still going strong. Yes, it's in part due to guys like Ian Somerhalder and Paul Wesley, but also thanks to Nina Dobrev playing a cascade of characters on the hit CW series. While most of the world loves and knows Nina from her blood sucking ways, that's not the only reason to love this girl.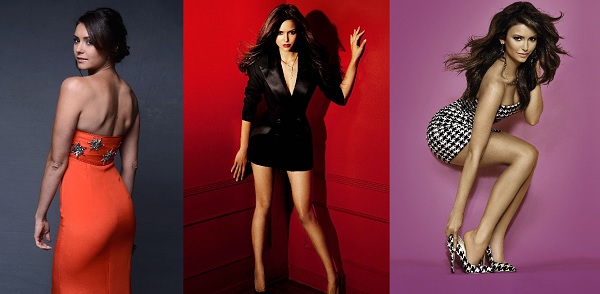 Name: Nina Dobrev
Birthday: January 9, 1989
Place of Birth: Sofia, Bulgaria
Twitter: @ninadobrev
Best Known For
For the rest of her career her face will be synonymous with The Vampire Diaries. That's a fact. She'll forever be Elena Gilbert. Before that she was part of the drama as a teen mom/model on Degrassi. Other than that she's had parts in TV movies like The American Mall and big screen projects The Roommate, The Perks of Being a Wallflower, and last year's Let's Be Cops. She hasn't had a lot of roles but she's managed to make the most of what she's done.
5 Quick Nina Dobrev Facts
Her full name is a mouthful: Nikolina Konstantinova Dobreva.
She landed her role in Perks after a Skype audition.
She's fluent in French and Bulgarian.
Nina is a sucker for her costars. She not only had a long time romance with Vampire's Ian Somerhalder, but she also was once linked to Daniel Clark from Degrassi.
She was once Hermione from Harry Potter for Halloween and is a huge Potterhead.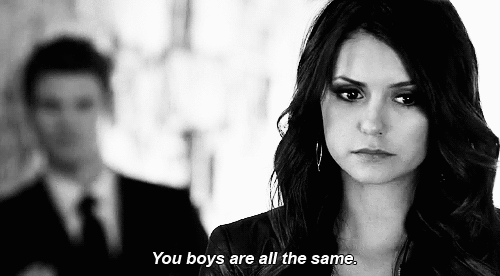 Reasons You Love Nina Dobrev
Let's be real, nobody loves Nina for Let's Be Cops. Even super fans of New Girl didn't see that movie because well, we already had 22 Jump Street that year and our funny cop film quota was tapped out. The reason most love the young actress is definitely due to The Vampire Diaries. Yes, some may've followed her from the halls of Degrassi to her new locker assignment at Mystic Falls High, but it's that bloodsucking show that really has you hooked when it comes to Dobrev. We could talk about you loving her looks as well, but that's just an obvious — so let's talk more about her defining role on The CW.
This isn't a show that I've watched every season of but I fell into it once before and know a bit about her character(s). After fans picked between Damon and Stefan and declared one their true love and obsession, they went and fell for Elena. Part of that reason being that you wished you could be her because like that moody chick in Twilight and Katniss in The Hunger Games, who wouldn't want to be the focal point stuck between two dudes? That aside, you fell for Elena's strength and, at times even though she's a vampire now, her humanity. Her love of her brother and her connection to those she loves is strong and that has been showcased immensely.
Do you sometimes get annoyed at her decisions and scream at her from the comfort of your living room? Yes, but you accept her faults with her strengths because your love for her is a two way street; the good and bad must be accepted. You also take her other characters — or, rather, familiars — like Amara and the forever evil Katherine Pierce. Hardcore fans of Nina have sat and ranked out all them with facts and figures. Those people are a gift to the fandom that we'll just leave alone.
So while she's done quite a bit, your love for Nina Dobrev resides heavily in her role on The Vampire Diaries. Oh, let's not forget how you love her in reality for never taking things too seriously. Remember last year when she was rumored to have hooked up with four or so guys at Comic-Con and poked fun at it for weeks after? That's how celebrities should handle rumors, with humor.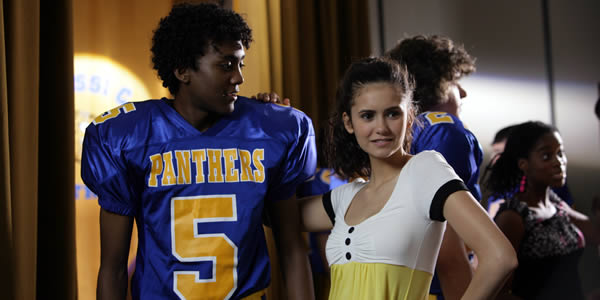 Reasons I Love Nina Dobrev
While I got roped into Vampire Diaries for a quick minute before it got a little too ridiculous and I figured I could just watch The Originals and stare at Joseph Morgan instead, my love for Nina doesn't reside with that show — at all. Also, while Perks is one of my favorite movies, I didn't walk away from that movie with the same appreciation I had for Logan Lerman and Emma Watson. So for those who know me well, you know where this is going: Degrassi.
When I was about 14 years old, my best friend said there was this show on a channel my family was too broke to get. I then went to her house, checked it out once, continued to go every Friday and have been watching it ever since. If you're wondering, I turn 28 this year. It's sad to some, impressive to only those who really know what it's like to be obsessed with television. Well Nina was a part of that show and a part of it at one of the best times.
She played Mia and while I was against her towards the end, I can't say I hated her fully because come on, it's Degrassi and the only character one should ever hate is/was/will forever be Tobey. Anyways, Mia was a single teen mom who happened to date my favorite character J.T. Then when the show decided he needed to die (instead of lame Tobey), Mia thought she had more of a right to his belongings than his baby mama and best friend. It's been how long and I'm still mad about this?
No matter what her role was on the show, there's some sort of odd happiness I get when a Degrassi alum goes on to do more once their run on the show is over and done. This is why I had to go see Drake when he performed on Jimmy Kimmel back in the day. I know none of his songs by heart but man oh man, JIMMY BROOKS. So yes, Nina Dobrev is Elena Gilbert to most and even I see her that way but in my heart she'll always be a notch in my long history of a show I'm now way too old to watch and pinpoint as one of my favorites.