McFlurry in my belly and Taylor Swift in my ears — I'm sure Mindy Kaling would approve of this situation. That's just one of the many reasons she's being highlighted this week. That, and the fact that The Office premiered 10 years ago this week. March 24th to be exact. Anyways, I'm surprised Mindy wasn't in the first round of these. I'm also surprised that I don't rave about her on a weekly basis and call it "The Mindy Mayhem Report." I'm sure Jason (the Managing Editor of Fandomania) would love that, only not really. I'm actually not sure how he feels about one of the funniest and most awesome women in the world. Yes, world — not just Hollywood.
She's got an insane amount of humor, style, and skills that make every girl on Earth want to be her BFF. Sadly 99% of us aren't, but we can dream. We can also just sit and applaud all she's done and all she will continue to do from her time as a self-obsessed office employee to her current state as a less self-obsessed OBGYN.



Name: Vera Mindy Chokalingam
Birthday: June 24, 1979
Place of Birth: Cambridge, MA
Twitter: @mindykaling
Best Known For
Mindy's been our lives for a decade now and she's popped up in a lot of our favorites. She was Paul Rudd's ex in The 40-Year-Old Virgin, with her Office costar John Krasinski in License to Wed and in many other RomComs like No Strings Attached and The Five-Year Engagement. She's even stepped into the voiceover game in Wreck-It Ralph and the upcoming Pixar film, Inside Out as Disgust. While she has some parts here and there, we all know her best as the talkative Kelly Kapoor on The Office and now as the title character in Fox's The Mindy Project.
5 Quick Mindy Kaling Facts
She wrote a comic strip for the school paper when attending Dartmouth College called "Badly Drawn Girl."
Mindy Lahiri isn't a gynecologist for just any reason. It's an ode to Mindy's mom, who was a doctor.
Romantic comedies are her real life obsession.
When The Office started, she was the only female writer on staff.
While in college she interned at Late Night with Conan O'Brien.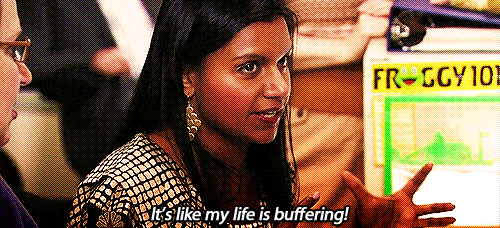 Reasons You Love Mindy Kaling
It was hard to separate myself from you this week because this is the first person this year that I've loved for almost all the same reasons everyone else does. I mean, we all bow to her comedic skills, her acceptance and celebration of her curves, and the fact that she's a strong female role model both on and off screen. Plus, who doesn't enjoy The Office now in syndication and The Mindy Project?
It's obvious the girl is funny. You knew that from the start and it's not just in front of the camera but behind it as well in the writer's room. You love that she's not just some pretty face who can deliver a punchline, but write one (or a million) too. Plus, you've also been following her on Instagram since she signed up and are constantly liking her pictures because she's constantly posting her fashionable shots, most of the time with comical comments underneath.
Speaking of, she's been very vocal about her body. Here's just one of the many things she's had to say about it (and I'm sure you have this printed and in your cubicle or office): "I get so worried about girls with body image stuff… And I feel like I have been able to have a fun career and be an on-camera talent and be someone who has boyfriends and love interests and wears nice clothes and those kinds of things without having to be an emaciated stick. And it is possible to do it. In life, you don't have to be that way and you can have a great life, a fun life, and a fulfilling love life."
Her being talented as an actor, writer, and producer as well as not giving into the social norms Hollywood has placed upon itself are just some of the reasons why you not only love Mindy Kaling but why she's an overall role model everyone can look up to — and you do. Like I said, you have her quotes memorized, her book's never far from your side (its spine is bent like Quasimodo's because you've read it one too many times), and you have any and everything she's ever appeared in. Yup, that includes every box set of The Office and The Mindy Project.
From the laughter she makes you expel to the way she appreciates her body to the inspiration she gives you on a daily basis by just being herself and through characters you consider your besties, you love Mindy Kaling for all of the above.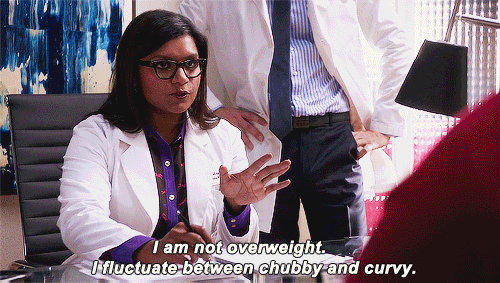 Reasons I Love Mindy Kaling
Like you, I love Mindy because she's talented and funny and because of the TV shows she's attached at the hip to. However, instead of just saying that, posting this, and going about my day, I'll go a little deeper into why I love her book, The Mindy Project, and why she makes me feel a little more normal.
Last year when I was doing Fandomanual, I may've mentioned how I don't like to read. Okay, it's not like I don't like to — I do. It's just that I'm slow and am not sure how I managed to sneak into the honors classes as a kid. Anyways, Mindy's book is one I recommend everyone read — everyone. So many celebrities write a book after they've made a name for themselves and/or had a scandalous life and need to get it down on paper so that one day their children can sell the movie rights. I've read a few and while Tina Fey's is what the hashtag #WhitePeopleProblems was created for, Mindy's was like listening to your best friend talk. Only you had to read it unless you got the book on tape.
That's the same feeling you get when you watch The Mindy Project, if your friend happens to be a wealthy doctor living in New York. That aside, I love how relatable Mindy Lahiri is as a person. Yes, she's got her success but she proves that having all that doesn't make your life any easier. Dating, coworkers — life is still hard and watching her learning to deal with it every week is a delight. Tuesdays at 9:30pm is one of my favorite times of the week because of it.
Another reason I love Mindy Lahiri and Kaling is that both showcase that it's totally okay to talk in pop culture references. It can be a chore to try and have a conversation with someone who doesn't know a single thing about TV, movies, or music. I'm not saying you have to be a walking Trivial Pursuit champ, just know the basics so that when I say you're being a total Heather, you know I mean you're being a witch with a capital B, or simply know that when it's Wednesday — we wear pink. If you can't recognize that, why are we still talking?
Why do I love Mindy Kaling? Because her book and show make me happier than when Sheldon's right, Seth Cohen lands Summer, and when Cory sees Shawn all rolled into one.