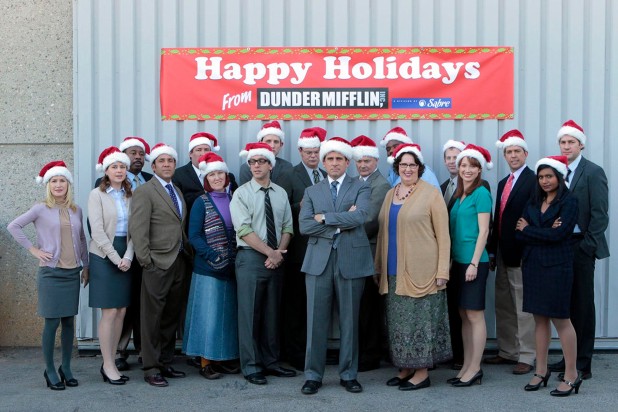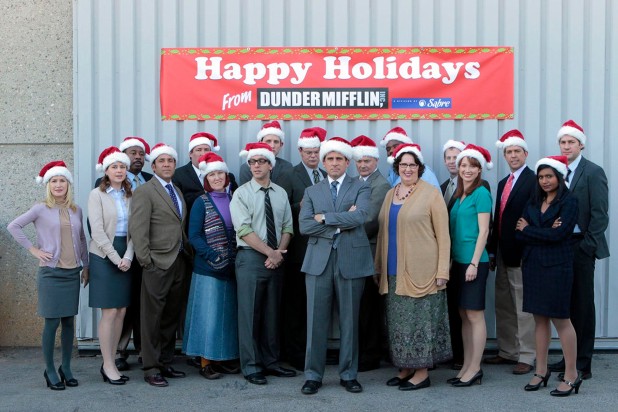 Like Vanessa Williams once sang, you go and save the best for last…So here we are. We've filled the last few weeks with shows Michael Schur has either created or been a part of, and we couldn't move onto the next without talking about 'The Office.' 
Throughout its run, Schur wrote a dozen episodes, served as producer and executive producer, and even appeared on more than a few episodes as Mose. Superfans already knew but for those new to 'The Office,' yes, Michael Schur played one of the oddest people in and around Scranton, Dwight's cousin Mose. 
Anyways, I did want to save this show for the end because out of all the shows this month, and quite frankly all the shows I've ever taken in, this one means the absolute world to me and not just because it's hilarious or John Krasinski is gorgeous, but because well, you'll just have to keep reading to know why I adore 'The Office' and always will. 
Name: The Office
Air Dates: March 24, 2005 – May 16, 2013
Network: NBC
Twitter: @theofficenbc
Best Known For
2020 marks 15 years since 'The Office' first entered the TV game. Adapted from the UK, American audiences weren't feeling it – at first. Then Steve Carell screamed "KELLY CLARKSON" to the heavens, ratings went up, and the sitcom was saved from being a permanent one-season clearance bin item found at Walmart. And we're all thankful for that because can you imagine the world without the cringeworthy Michael Scott moments, Jim and Pam's love, Kevin's chili, or Mindy freaking Kaling? No, you cannot. 
'The Office' has only been off the air for seven years but it remains one of the most-streamed shows because their writers were able to weave the most insane, well-thought humor into one of the most boring occupations on earth and all the while they made you fall in love with a group of regular people. To say they summed it up best in their series finale when Pam said, "There's a lot of beauty in ordinary things," would be a clear understatement because, throughout nine seasons (and beyond), fans have fallen in love with, of all things, a paper company and those inside. 
5 Quick Office Facts
Steve Carell's performance as Michael Scott is consistently ranked high when it comes to TV, but he never took an Emmy home for the role. 

John Krasinski was wearing a wig during the latter half of the third season because he had to cut his hair for another role. 

The Greater Scranton Chamber of Commerce has an interesting member. Yup, Dunder Mifflin Paper Company. 

When casting 'The Office,' they wanted to go with actors who didn't bring a big name with them. With that, many actors you know and love today who were struggling once upon a time in Hollywood auditioned for this show including 'Modern Family's' Eric Stonestreet, Kathryn Hahn, and Adam Scott who later went on to be on Schur's 'Parks and Recreation.'

Oscar Nunez knew nothing was for sure, so he kept his day job even after getting the role of Oscar Martinez.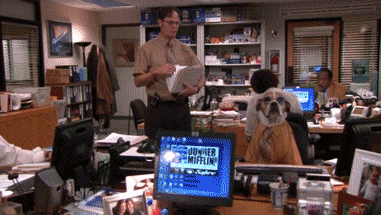 Reasons You Love The Office
'The Office' wasn't anything new, especially since it was a remake of a show that already existed across the Atlantic. For workplace comedies had come before and continue on with the likes of 'Superstore' taking an everyday occupation and making it seem worthwhile thanks to its humor, wonderfully constructed characters, and the relationships they have with one another. As did 'The Office,' so what made it the giant it is? Made it one of the most-watched and beloved shows to date? Well, it's humor and characters of course…but that's not all. Because while on paper every TV show is comparable to another based on its plot and construction, 'The Office' continues to bring joy and laughter to people around the world because of you. 
Yes, 'The Office' has one of the most dedicated fandoms out there. Do they have as much gusto as those who love BTS or Beliebers back in the day? That's debatable, but when it comes to TV, 'The Office' fans rank higher than most. You know that, right? From being able to quote episodes with ease to knowing the most random facts, that's all normal for you and you've dedicated part of your life to this show because it's like the light at the end of a tunnel you feared you were never going to get out of. 
So many of you find complete comfort in sitting down with an episode of 'The Office' you've seen one too many times before. It starts with that all too familiar theme and by the end, whatever bad thing that happened before you turned it on, suddenly seems less traumatizing. You watch these characters on repeat and nothing ever changes but you still feel every single moment of that show with the same intensity as the first time you watched. Whether it be Jim leaving Karen in NYC to ask Pam out, Angela touching Oscar's hand to showcase how much she appreciated his help and friendship, or Michael's goodbye, and we have the writers to thank for that. 
Some shows just don't age well in syndication. I could rattle off a few but we all know this to be true so I won't bore you with my opinions on that matter, but the fact is – 'The Office' ain't one of them. While some antics would not fly in 2020, for some reason they still work in Scranton. That aside, the humor is there. Be it obvious jokes or the subtle ones, each piece of comedy is something you hold dear as a fan and like we already discussed, you quote on a loop and in doing so you sometimes annoy those who "don't get it" or you make a lifelong friend who also understands just how important 'The Office' is in life. 
Just how important these characters were and continue to be because while some like Dwight and Michael could be what the kids call, "extra," they were some of the most relatable characters to ever grace a TV screen. They weren't supermodels posing as office employees. Hell, Phyllis was working in their casting department before she landed the role. They were everyday people living pretty average lives – if average is having a camera crew document your workplace, but still. You appreciated that you knew a Stanley, a Ryan, a Kelly, an Erin, and even a freaking Gabe. These were coworkers you could 100% relate to in one way or another. 
Characters you could also give your heart to as the relationships, romantic and just friends, were beautifully written throughout the series sans a few that made skin crawl; Gabe and Erin, Erin and Andy. The good ones though, oh my. How wonderful are they? Dwight and Jim's chaotic dynamic had so much love within it, as did the accounting department, and the unspoken warmth between Stanley and Phyllis. But of course, we can't go on without talking about the romantic relationships that have been the beacons of 'The Office.' 
The will-they-won't-they of TV relationships is a huge deal, especially for ratings. People want to see if these two characters they've watched week after week finally get together. From 'Cheers' to 'Friends' to 'Brooklyn Nine-Nine,' it is a TV staple we won't rid ourselves of, ever. So, Jim and Pam, that wasn't new but it was endearing nonetheless. Watching the seeds of their romance planted, watered, yanked from the soil, and replanted again in a bigger pot was a whirlwind that never ceases to inspire you and your romantic endeavors. How many of you have said you want your own Jim and/or Pam? More than likely all of you, or perhaps you admired one of the other couples?
Perhaps you loved the pure sexual chemistry of Phyllis and Bob Vance, Vance Refrigeration. Which I mean, I get it. Or you're one of those who shipped Dwight and Angela from the start and they're your romantic rock, or you love the story of Michael and Holly. No matter which couple you idolized when it came to love, what you appreciated about each was the lessons they provided, especially Jim and Pam, as well as Michael and Holly. What they taught us is that when you find the one, the wait is always worth it. 
'The Office' was nothing new, but because of its impeccable humor and irresistible characters, fans latched on and continue to do so thanks to streaming services, reruns, and DVDs. It took one of the most mundane jobs one could have and made it must-watch TV then, now, and likely forever because again, "There's a lot of beauty in ordinary things."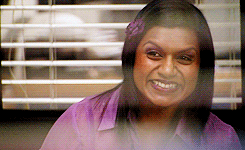 Reasons I Love The Office
There was a time where I'd stay up later than the world around me. We can blame a lot of things, anxiety and stress, but no matter the reason without those late nights I would have never fallen in love with 'The Office' when I did. Syndication led me to borrow DVDs and within a short time, I was all caught up and watching it live with the rest of you and like you, I loved that it made me laugh, cry, and want love. It was and is one of those shows I can't help but hold close, and that's because while it was my own personal light at the end of a tunnel at the time – it was the sun come 2017. 
January 29, 2017. My then-boyfriend, Matt, and I had just moved in together a few months prior and for the entire month of January, he experienced pain like never before. Finally, we went to the ER and by that afternoon the diagnosis was cancer, leukemia to be exact. You know how bad news is always portrayed in slow motion in movies? Well, that was my reality that day. From the second the doctor told us to the moment Matt called his parents to meeting my mom in the lobby, and I didn't know if time would ever go back to normal. It did though, thanks to hours of comedic television and obviously the amazing medical staff at UCLA. 
Matt couldn't go back to work right away and didn't until the fall of 2018. During that time we spent every second together. He'd lay on the couch while I worked at my desk, the TV not four feet from either of us. When it wasn't playing football highlights or videos of podcasts, it was either 'Frasier' and 'The Office.' We watched so much 'Office' during that time as it gave us something to laugh about even when we feared the worst. We could always turn on Netflix and immerse ourselves in the Scranton universe and break the tension of our own reality.
The reasons you love 'The Office' match mine exactly. I adore every ounce of humor, every character, every bit, everything about that freaking show and I'd be lying if I said I didn't love it a bit more than some of my other favorites because, in 2017, it gave my Jim, my Michael, my Bob Vance, Vance Refrigeration something to smile about even when his world seemed bleak. Well, 'The Office' and 'Frasier' but we're not here to talk about Seattle's talk radio scene. 
When I first started watching 'The Office' I thought love was something I'd never have. I believed I'd win the lottery before finding someone who loved me as much as I loved them, but then I met Matt and knew within 24 hours I was never going to lose him, so when I almost did – it was terrifying but he's still here, healthy, and when we finish rewatching 'Martin,' we'll be watching 'The Office,' again and for as long our love story is – which I know will be a long time.