Superhero movies are a dime a dozen and it seems like just yesterday we had a Fantastic Four movie, maybe because it was literally only a decade ago that Chris Evans and Co. took those characters to the big screen. Well, just like they argued with Spider-Man, a new generation deserves a new crop of heroes. Plus, Michael B. Jordan would've barely been a legal adult if he'd been cast in the first.
His casting caused quite the stir, and we'll get to that a little bit later but first we have to talk about why this guy — who isn't even 30 yet — is one of the most adored men out there. From his time in soap dramas to being a critical favorite to hanging around Troy Bolton, we're talking about it all.

Name: Michael Bakari Jordan
Birthday: February 9, 1987
Place of Birth: Santa Ana, CA
Twitter: @michaelb4jordan
Best Known For
You have to assume that when your first gig is on The Sopranos, you're going to do pretty well in Hollywood. Even though it was a bit part, Michael B. Jordan used that to land in Hard Ball alongside Keanu Reeves and on HBO's other mega hit, The Wire. After that he headed to All My Children. He was overdramatic for a few years and then became a part of a show that has cult favorite written all over it. Friday Night Lights' Jason Katims then gave him a part on Parenthood in 2010. While his fans knew he wasn't that Michael Jordan, he pretty much flew under the mainstream radar until he landed the lead role in Fruitvale Station. He had a lot of Oscar buzz that never panned out, but that didn't stop this young actor. He had some awkward moments and then of course became the next Johnny Storm in the latest Fantastic Four series.
5 Quick Michael B. Jordan Facts
His dad is Michael A. Jordan. So does that mean if he has a son he'll be Michael C. Jordan?
He can really bust a move — when it comes to tap dancing. His mom made him take lessons when he was younger.
One day he hopes to get on the other side of the camera and produce.
Michael took home five awards for his role in Fruitvale Station including a Virtuoso Award and a Satellite Award.
It's no surprise that he used to model, but did you know it was for Toys"R"Us? Now you do.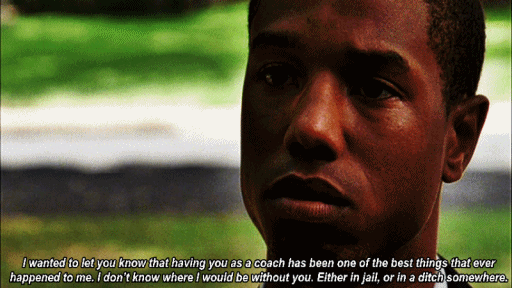 Reasons You Love Michael B. Jordan
There are three major moments in Michael B. Jordan's life and for some reason I feel they should be presented by a Sesame Street character because they all start with the apparent letter of this post: F. Let's talk about why you've fallen for him as a football player, a fallen father, and a fiery hot superhero.
In the world of a Friday Night Lights fan, there are those who've watched and those who haven't. There is no in between because if you watched it, you love it and that love still burns strong within you. Like any TV show there were characters you loved, hated, often forgot, and so forth and so on, but when it came to Michael's Vince Howard, you immediately fell for him because even though he eventually smoothed out — those rough edges were to die for. Who doesn't love a boy from the wrong side of the tracks? It's why Dylan McKay, Damon Salvatore, and Shawn Hunter are forever celebrated. Anyways, Michael played Vince with such conviction that you swear if you ever saw him in person you'd scream, "VINCE!" Then of course those who loved Friday Night Lights followed Katims to Parenthood and, once again, your boy played that troubled soul set on the right path — and it was like falling in love all over again.
Then there are those of you who only knew that Michael Jordan until you started to hear all this chatter about Fruitvale Station. A movie nerd, you had to see what it was all about. You did. You cried. You declared Michael B. Jordan was one of the greatest young actors existing today. You then scoffed when he wasn't even nominated for an Oscar or Golden Globe. While you're still fuming, you've let it go just a little and are holding out that he'll score with Creed this fall.
There are those who've been there since almost the start, the critic-told-me-so fans and then the comic book fans who love just about any and everyone who steps into a superhero role. You've seen every Marvel movie in theaters, you have all the figurines and, to you, it doesn't matter who plays who — just as long as there's a movie involved that you can watch a midnight release of in IMAX 3D.
Some of you have and will always be Michael B. Jordan fans, some jumped on when everyone else did, and others are barely starting to take notice. Nevertheless, you're a fan — thus bringing the letter of the day full circle.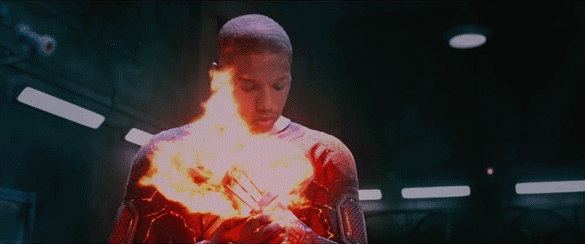 Reasons I Love Michael B. Jordan
Thinking back to the last ten years or so of my TV watching, I'd have to say Parenthood was one of the best. The family drama had it all: love, loss, and a wonderful interracial family. Sadly, it left way before its time, but along the way it had a lot of talent in its core and supporting cast. Let's not deny Tyson Ritter was golden, but this isn't about him — it's about Michael B. Jordan. His character dated my least favorite Braveman and the whole time you had to scream at the screen, "WHY ARE YOU WITH HER?!" While there were a ton of emotions running through me week after week when watching this NBC gem, it's only a tiny piece of why I can say I love this actor who is the same age as me.
Ugh, he's 28 and doing that with his life while I'm sitting here awaiting an episode of Jeopardy. Anyways, jealousy aside — I have to say that even though I will likely never see Fantastic Four be it in theaters, downloaded, or edited for TV, it's why I love him most and here's why.
When you're black and nerdy, it's hard as hell to find someone that looks like you in the things you love. It's even harder for you other ethnics out there and one day we can only hope that all races are in these universes in a big way. Back to black though, growing up my brother and I thankfully had two Power Rangers to look up to. Other than that, who were we supposed to idolize when it came to crime fighters on TV and in movies? Please, don't say Blade — Wesley Snipes wasn't getting a lot of play in our childhood. Race shouldn't matter and it should be about what's on the inside, but that's what people say when they're the majority.
I remember when Michael was cast as Johnny Storm and the uproar it got. It was similar to when the idea of Spider-Man being anything but a thin, white boy was tossed around. Hey majority — if race doesn't matter, then what was the problem? Anyways, this isn't just the case with superheroes; many hated on the Annie remake and let's not just make this an issue of race. How many haters popped up when the Ghostbusters were going to be women?
It's understandable that we hate to see change when it comes to our favorite characters, but we should only hate on casting choices when it's a horrendous actor taking on the part. That little Quvenzhané Wallis is an Oscar nominee, the four women in Ghostbusters are 100 times funnier than a lot of men, and Michael B. Jordan is just as respectable as Chris Evans. Hey, they both have some sketchy movies in their past but look at them now, right?
I've liked Michael B. Jordan since he popped up on Parenthood, but I love him because he's going to be a superhero that a little kid that looked like my brother can go and see on the big screen and think, "Hey, he looks like me!"