One of the last great teen movies came out over 10 years ago. It was as if someone took an ounce of darkness from Heathers, sprinkled it with the fashion sense of Clueless, and then rolled it around in Tina Fey's mind. Mean Girls isn't just one of the most classic teen movies, but movies ever. Line after line is quotable and the characters have managed to become pop culture staples from the barely there but very important Glen Coco to the cynical but lovable Janis Ian. Many think this was the first role Janis's Lizzy Caplan ever got. It wasn't, it just became one she may never live down and one of the biggest reasons we celebrate her on a day to day basis. So much so you may say we all have a "big lesbian crush" on her.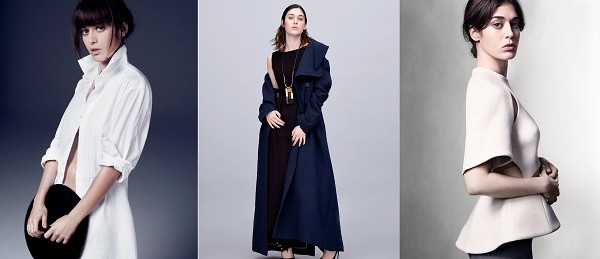 Name: Elizabeth Anne Caplan
Birthday: June 30, 1982
Place of Birth: Los Angeles, CA
Fansite Shout Out: Fuck Yeah Lizzy Caplan
Best Known For
Right off the bat, you see Lizzy Caplan and Mean Girls quotes start rolling off the tongue but before she was Lindsay Lohan's friend, frenemy, and then friend again, she was a staple in the Judd Apatow circle. She was in Freaks and Geeks and then once that ended she was cast as a simple "beautiful girl" in Undeclared. From there she earned some geek cred in Smallville as Tina Greer, in the little movie that could Cloverfield, as well as in True Blood. She has had her share of short lived hits, though, too, like Party Down and Mr. Sunshine. After owning every scene when she scored roles on New Girl and The League, she landed on Showtime's Masters of Sex as Virginia Johnson. There she's been slaying, but that doesn't mean she's left movies behind. She'll be in X-Mas this fall with Joseph Gordon-Levitt and Seth Rogen, and she'll be in the Now You See Me sequel next year with Jesse Eisenberg.
5 Quick Lizzy Caplan Facts
Growing up she admired Robin Tunney in Empire Records.
She once dated a Scientologist back in high school.
Her cat's name is Lisa Turtle.
She was in Jason Mraz's video for "You and I Both."
Like her character in Party Down, she was once a caterer.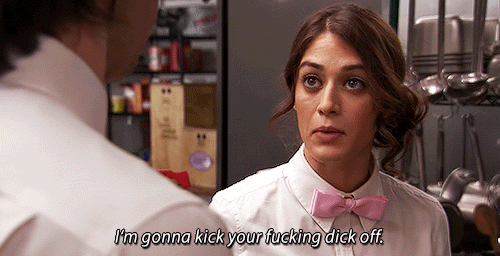 Reasons You Love Lizzy Caplan
There are a multitude of reasons people have an insane amount of love for Lizzy Caplan, whether it's her current role on Masters of Sex where she plays someone who really did help us learn more about the birds and the bees, or the fact that she has a nerdy scene thanks to Smallville and True Blood. However, that's not the fandom we're going to focus on here. I know you're there, but we're going to focus on those who love her bad attitude (on screen) and her association with one of the most successful cliques in Hollywood.
Janis Ian was a modern day Veronica Sawyer. Only Janis didn't play a part in killing anyone. You loved her because you were likely just like her — anti everything that the popular crowd stood for. You didn't necessarily rock all black on an everyday basis, but the idea of pep rallies made your skin crawl and your Regina George was your mortal enemy because she was the symbol of everything you figured was evil, OR you just loved Janis because she was hilarious and in reality was one of the most likable characters in the movie. That leads us to Casey in Party Down. She was basically what Janis would grow up to be. She wasn't a fan of authority and Caplan continued to make you happy with her role choices. You felt like she was picking her parts to pay tribute to you.
On the flip side, there are those who love anyone that works with Judd Apatow. He executive produced Freaks and Geeks, where she had her first real job. Then he tried to help her out when he cast her in Undeclared. Sadly it was a bit part and while Party Down and the upcoming X-Mas aren't Apatow related, they both allowed her to reunite with her former and fellow freaks and geeks. So you love her because it's in your blood to love anything and anyone associated with that crew. Apatow's touch can only mean greatness and you're quite aware of that.
Whether you caught on to her due to your interest in sex, her mean spirited ways, or love her Apatow connection, your love for Lizzy Caplan is strong.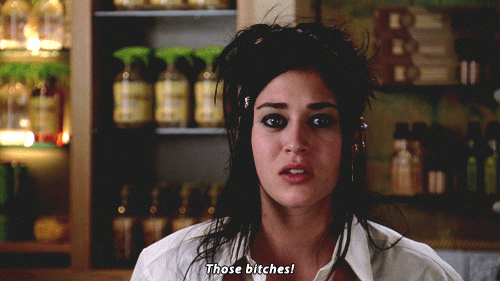 Reasons I Love Lizzy Caplan
Fact: If you don't regard Mean Girls as one of the greatest movies ever, I'm not sure you understand what "greatest" means. With that, the only reason I truly love Lizzy Caplan is because of how beautifully she played Janis Ian. Loving her since I first watched the movie, Janis was a character I could relate to. I wasn't so much against popular kids in school as much as I was against school spirit and I'm sure Janis would agree – it's ridiculous. Wearing the colors, cheering for fellow students to win a game that in reality doesn't matter to you at all, unless you're the one playing for a scholarship. Anyways, also like Janis, I'm not a fan of many people and am quick to give the side eye to those I'm not a fan of.
So Lizzy Caplan, you did things before and you're making waves today but to me and many others you'll always be the girl who said, "You smell like a baby prostitute," and we'll love you forever because of it.