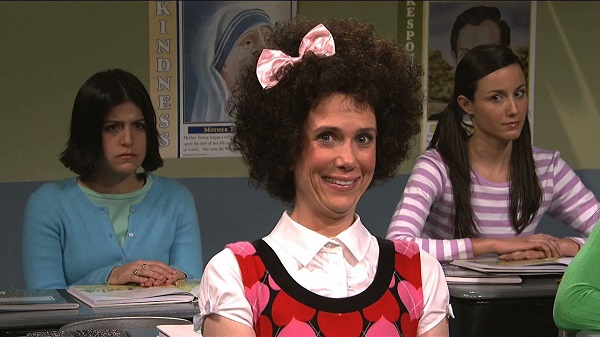 There are bus ads around LA that say "honk if you love minions" and while I haven't heard any response, I'm sure they meant well. Minions, you know? Those Twinkie-looking things from Despicable Me? Well, that only came to mind because this week we celebrate one of the leading ladies of laughter, Kristen Wiig.
She made her mark on SNL and has since left to conquer even more movies. So why do you and I both have strong admiration for her? Yours is likely based on sketch comedy, but mine is all about a sense of self.

Name: Kristen Carroll Wiig
Birthday: August 22, 1973
Place of Birth: Canandaigua, NY
Site: Too Cool for Social Media
Best Known For
There are a lot of greats who come from the trenches of SNL and one of the best from recent years is Kristen Wiig. There's no denying her ability to make you laugh with her celebrity impressions from Paula Deen to Lana Del Rey, and her infamous characters like Gilly and that damn Target Lady. SNL is where Wiig really laid her roots and what most of us will always associate her with, but let's not forget she's stolen scenes on the big screen as well. From a yoga instructor in Forgetting Sarah Marshall to a gal named Jill in Knocked Up, Kristen's done her thing making audible background noise. It was movies like Adventureland and Paul that really gave her a stable footing in movies though. From there she won over everyone who wasn't aware of her awesomeness in 2011's Bridesmaids. You always worry about people once they leave SNL, but Kristen's doing just fine. She has Despicable Me 2 out this week, Girl Most Likely later this month and, hopefully, The Skeleton Twins with Bill Hader will be out before I perish.
5 Quick Kristen Wiig Facts
She didn't have any interest in acting until she was encouraged by a teacher in college.
After she moved to LA, she waited tables at Universal Studios.
You'd never catch her indulging in a burger, well, unless it's veggie.
Target Lady was based on a real life Target worker from Burbank, CA.
Just last year Time Magazine named her one of the most influential people.

Reasons You Love Kristen Wiig
Kristen Wiig isn't just someone who can act funny. She's innately humorous. Overall it's her comedic ways that make you love her. She's managed to transfer what you love about her on SNL to movies seamlessly. You even loved her in MacGruber — now that's some strong emotion right there. You may've been the few who actually saw it in theaters and didn't wait for it to pop up on Amazon for 98 cents (plus shipping). Nevertheless, you love Wiig for her laughable demeanor.
Did you think that's all we were going to talk about when it came to Wiig? You were wrong. Other than being the reason you can honestly type "LOL" when replying to your friends about Wiig, you love that she can also take control behind the scenes as well. Other than helping write A Very Gilly Christmas, you marveled at her work on Bridesmaids. What can't she do? is what you thought to yourself. The answer is, not much. Acting, writing and even producing. She's even a sloth whisperer. Okay, that one's made up, but in your world, Kristen can do pretty much anything.
With Kristen still being pretty fresh off the SNL scene, you're always in anticipation of what's next for her. While other funny ladies have placed Fey and Poehler on a pedestal, your mantel is reserved for Kristen Wiig. Yeah, those other gals are just as great both in front of and behind a camera, but there's something invigorating about Kristen's essence that makes her your go-to when it comes to comedy.
Reasons I Love Kristen Wiig
She was and forever will be one of my reasons for ever watching SNL, but the sole reason I love Kristen Wiig is all based on Bridesmaids. Yes, the movie is only a couple years old but from the second I watched, I identified with it and knew that it'd forever be in my top 10.
I've heard a range of reactions to Bridesmaids from friends. Either it's "just some chick flick" or "it's freaking hilarious." To me it's as significant to my existence as Garden State was back when I was going from a "high school nobody" to "real world nobody." For those who haven't seen it, it's the story of Annie Walker, played amazingly by Kristen, a woman who can't catch a break. A failed business, issues finding the right guy and on top of all that — she manages to screw up any and everything when it comes to her BFF's wedding.
She's my underdog and I couldn't help but call Annie Walker my spiritual twin ever since. Back in 2011 I wasn't losing my friend to marriage or even asked to be a bridesmaid of any sort, but I felt like Annie in the sense that life was never coming up Milhouse. I had a job that induced endless headaches, my love life was (is) nonexistent and it seemed like everyone around me was doing well while I was a college grad (two years out) with little to show. Annie's thing was baking and mine, writing, but somehow we were both stuck in a ditch that seemed 100 miles deep with no one offering assistance.
You'd think I'd welcome a pity party because of it, but it's actually Megan's words to Annie that really put my life into perspective. She told her, "You're your problem Annie, and you're also your solution." Like Annie, I blamed everything wrong with my life on outside forces, and like Annie I had to switch up my outlook.
Even today I'm unemployed and restless, but I'm trying to make the best of it and not point the finger at anyone but me. I'm the problem, but you better be damn sure I'm going to be my own solution.