In middle school my friends and I had a "Fat Kids Club." Our meetings would consist of sleepovers, food, and talking about what boys in the class were the cutest. In case you're wondering, Mark, Robert, and Daniel always won. It's cool, we're all adults now and mature enough to admit crushes from yesteryear. Anyways, one of those slumber parties involved watching Hollow Man. That's when I decided not only who the cutest boy at Nicolet was, but that I absolutely loathed Kevin Bacon. Everything about him enraged me — from his pig-like nose to that movie everyone fell asleep watching.
If you were to tell me then that I'd be deeply invested in anything he ever did, I would've thrown a 12-year-old tantrum and told you that you were an idiot and walked off. Alas, I fell hard for The Following. While the rest of the world loves the six degrees, his way with dance, or his time in space, my love for him was bred out of hate and now resides in a show about true bromance.

Name: Kevin Norwood Bacon
Birthday: July 8, 1958
Place of Birth: Philadelphia, PA
Twitter: @kevinbacon
Best Known For
Classics like Animal House and Friday the 13th housed some of Bacon's first times on screen. Then he became a Tiger Beat fixture when he brought a small town to their feet in 1984's Footloose. He danced his way into the '90s and away from tremors, asteroids, and overtly sexual women. Plus, did you know he was in Beauty Shop? Yup, the one with Queen Latifah. It's clear this guy has that six degrees game for a reason. Also, who could forget his finest role as himself in Will & Grace? In recent years he's added to his growing Rolodex with X-Men: First Class, Crazy, Stupid, Love and, of course, the Fox hit The Following where he plays Ryan Hardy, the love of a serial killer's life — or at least that's what many a fanfiction author has written.
5 Quick Kevin Bacon Facts
He was voted one of the sexiest stars in Hollywood back in 1995 by Empire.
The Bacon Brothers is his band.
In 2003 he received his star on the Hollywood Walk of Fame.
He made his acting debut in Animal House.
He and Kyra Sedgwick have been married almost three decades.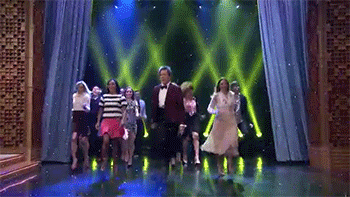 Reasons You Love Kevin Bacon
In my head there are three types of people who love Kevin Bacon. There are those who can't shake the fact that Ren was their first crush, there are those who actually like all his movies, and then there are the people who appreciate his sense of humor when it comes to himself.
Let's face it, Ren in Footloose was a bonafide rebel. Well, he was rebelling against authority by dancing, but way cool nevertheless and no matter when you watched, Bacon became your main squeeze. You looked over the hair rockers of the '80s and all the guys in The Outsiders and landed on Ren and in your heart he remains, always and forever. He was and remains your bad boy, even if he was lukewarm. Those who got caught up in his fancy footwork later on in life, your sentiments were the same only minus the whole Outsiders thing.
The lot of you don't consider Footloose your favorite, but it's definitely one of them. When it comes to Bacon super fans like Will & Grace's Jack, all his movies are the best. You learned his Ren moves, have thought out a plan if you were ever stuck in a Tremors situation, actually remember he was in Beauty Shop, and totally looked past Ryan Gosling in Crazy, Stupid, Love. When it comes to Kevin Bacon, there is no such thing as a bad movie. Even Hollow Man is celebrated in your twisted reality.
Then there are those who adore his ability to laugh at himself. He'll play six degrees, a version of himself on a sitcom, and even step back into his dancing shoes 30 years later to impress. If more actors were like him, it'd be easier to like them, right?
Whether he was your first crush, favorite actor, or just a fun guy, you love him.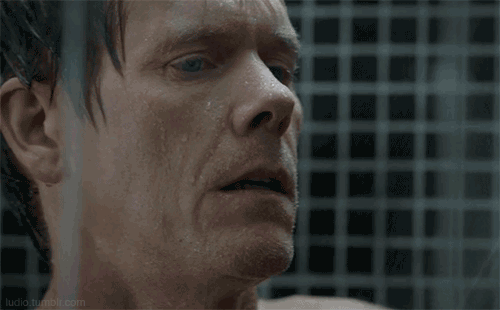 Reasons I Love Kevin Bacon
Hollow Man haunts me to this day, but I looked past that when commercials for The Following started to pop up two years ago. When he's Ryan Hardy, I don't see that pig-like face. I see a man who in my head is the man everyone wants on the show. I mean come on — Joe and then Weston's undeniable love for Hardy… it's kind of hard to ignore. I'm sure there are other people in the world that watch this show the same way as me and my roommate. There have to be. We don't write fiction based upon it but we do imagine that Ryan Hardy is the show's dreamboat that everyone is in love with and I think that is what made season two more bearable. Let's face it, it was a bit much and I'm not even sure how the third is going to go.
Also, I had never seen Footloose until last year and didn't even make it through the entire thing. So while the rest of the world will always know him as the guy who's gotta gotta cut loose, to me he'll always be some guy who I went from loathing in my preteens to a man I can't miss on Monday nights due to an imaginative world created in my head.