Three years ago many of us had no idea who Kerry Washington was. She was maybe "that one girl in that one thing" or "you know, that GIRL in that THING." Then she became the woman behind Olivia Pope and everyone and their mother became aware of the 37-year-old actress. Scandal became an overnight addiction and another notch in Shonda Rhimes's must-see belt.
People who love Kerry surpass that sentiment by a mile. Their infatuation with her stems from her role on Scandal and overflows into an obsession with her as a whole. We'll have to dive deeper into this later because I've never seen an episode and don't fully understand but I'm sure I will soon enough.

Name: Kerry Marisa Washington
Birthday: January 31, 1977
Place of Birth: New York City, NY
Twitter: @kerrywashington
Best Known For
For the rest of her career she will be Olivia Pope. One person with a Rain Man-like mind might remember her from a 1994 after school special. Another may say, oh yeah — she was in Save the Last Dance and that Wonderfalls show that Fox stupidly cancelled. Movie people who don't really spend too much time with the small screen know her from Ray, Mr. & Mrs. Smith, and, of course, Django Unchained. She hasn't served up too much but the main courses of Kerry Washington are enough to please her fandom forever and a day.
5 Quick Kerry Washington Facts
She was on her high school's swim team. I wonder if that was why her favorite movie is Splash?
She likely landed her role in Save the Last Dance because she took ballet as a kid and had the skills already.
Not only does she get political on screen, but it's in her blood. She's cousins with Colin Powell.
This woman isn't afraid to do anything. Some of her first acting gigs were sex-education skits.
Spongebob would never invite her over because he'd end up homeless. Yup, her favorite food is pineapple.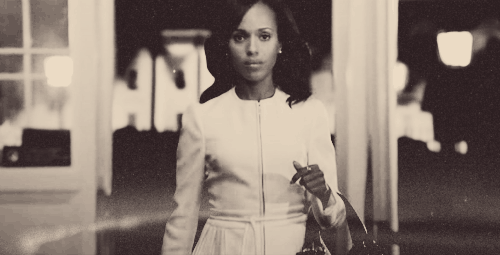 Reasons You Love Kerry Washington
When it comes to Kerry Washington there is one role and one role only that brings the fascination and dedication and that is Olivia Pope. Scandal isn't on the level of Breaking Bad where people literally lock themselves up to avoid spoilers, but it's close. Yes, there are other characters on the show but none hold a candle to Pope. She and the woman who play her are godlike to those who tune in every week, but why?
I had to ask myself this and do some research because Private Practice is where my affair with Rhimes-related TV begins and ends. Rhimes, though, is a genius when it comes to writing roles for women. She made Ellen Pompeo a thing with Grey's Anatomy, spun that off into Practice, went on to rule with Scandal, and has done it again with How to Get Away with Murder. Each of those shows stars a woman in the lead role and each, including Pope, has great strength but also personal flaws that make them human.
Pope is smart, audacious and, while working for the president, couldn't help but be human and hop into bed with him. Kerry's so called "Gladiators" love her because while she's this quick, on-her-toes thinker, she's also a basic woman who makes mistakes but can learn from them and keep them under wraps… right? That's her job, so I'm assuming as much.
Other than Pope's personality, fans go insane over her attire. In just a few years she has become a style icon and that's translated into Washington being one as well. Her followers wait anxiously for her to appear on red carpets to see what she comes up with next. Even when she was pregnant, she rocked it out.
On top of being of the most well-loved and stylish characters on TV, Washington is a genuine sweetheart. You never hear stories of her being nasty and you love her for that. She's appreciative of her life and that's something to be admired. So while you love everything that she is, you mostly love her because she makes Thursday nights whole.
Reasons I Love Kerry Washington
Like I said, I've never watched Scandal and I never really had any interest in it whatsoever. So I'm not really sure I can say I love this lady or this character at all. Nope, I can't. I do like that she's a black woman leading a cast. Do I like that it's 2015 and that's something we have to acknowledge as a feat because it's so rare? Not at all — but, alas, we do. However, Kerry's not the one to thank for that — Shonda Rhimes is. She's the one who created the show and deserves the pat on the back for Olivia Pope.
This week is short because there's nothing of Kerry's I've ever attached myself to. I don't think of her when Save the Last Dance is on TBS in the middle of the night, nor is she the face of Wonderfalls. She's just that one girl on that one show I don't watch created by a lady I have major TV respect for.