Kelly Clarkson became more than an American Idol 15 years ago next week. That's when she was transformed into the ultimate exclamation thanks to The 40-Year-Old Virgin. That, along with The Office, made Steve Carell the talk of 2005 — but it was also the movie that made the world fall in love with a then 19-year-old Kat Dennings. Since then she's become known as one of the queens of sarcasm thanks to roles in Nick and Norah's Infinite Playlist and her hit CBS show, 2 Broke Girls. With her first box office smash celebrating its 15th anniversary soon, we're going to explore why the world has been in love with Ms. Dennings all these years and will continue to be for many more.


Name: Katherine Litwack
Birthday: June 13, 1986
Place of Birth: Bryn Mawr, PA
Twitter: @OfficialKat
Best Known For
She was barely getting used to being a teenager when she landed her first acting gig on Sex and the City. She wasn't around long, but it helped her first role starring in a sitcom. Raising Dad starred Bob Saget as a single dad (big stretch) but it never gained the momentum of Full House and only lasted one season. She then made some noise in Raise Your Voice and of course stood out alongside Steve Carell in The 40-Year-Old Virgin. It was apparent that Dennings was the go-to for "angst ridden girl with some attitude" from that point on as she went from Charlie Bartlett to Nick and Norah's Infinite Playlist. Then in 2011 she made the leap into the Marvel Universe in 2011 when she was Darcy Lewis in Thor. That same year she scored a sitcom, that unlike her first, lasted more than a season. Today 2 Broke Girls is still kicking and where Dennings hangs her hat.
5 Quick Kat Dennings Facts
Being home schooled, she fast tracked her way to the end and graduated high school when she was only 14.
She was born the same day as the Olsen Twins. What's weird is that Bob Saget played their dad on the small screen.
She's a big fan of Smallville and South Park.
When she's not working she's either reading or knitting.
One thing you'll never find her doing is seeing a musical — she hates them.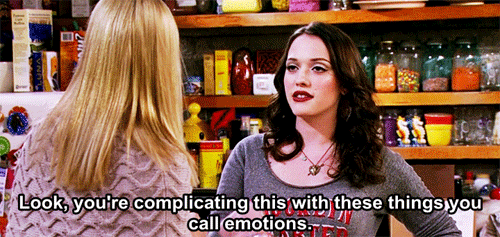 Reasons You Love Kat Dennings
So you're a fan of Kat Dennings. You likely look/act like Daria, her best friend Jane, or a mixture of the two. You're smart, quick when it comes to sarcasm, and aren't afraid to speak your mind. You're basically the non-famous version of Kat Dennings. It's likely you also fancy Aubrey Plaza too, but that's another story. When you aren't swearing you'd be best friends with Kat if she ever saw your Twitter feed and realize you and she are one and the same, you're either loving her roles that have defined what it's like to be a woman who says what she wants, watching 2 Broke Girls whenever you can, or absolutely in love with the fact that she's dating Josh Groban because it both amuses and confuses you.
It was clear early on that Kat was your girl in movies. You often ignored her male counterparts in movies like Charlie and Nick and Norah because to you they would've been nothing without her. She has never really played the damsel in distress and you fear the day she does. Then you heard about this little indie flick based on a true story, To Write Love on Her Arms, and that was it. As soon as you got the chance to see it, you knew that even when her character was down in the dumps, she was strong and would overcome. That's the thing about Kat on and off stage: she's strong willed and that's inspiring to you.
Of course there are those of you who love her on 2 Broke Girls. Max is the dark one in the dynamic duo that lead that show. You see yourself as that as well in your circle of friends and that's why whenever she makes a joke, you never think it's gone too far — you're just mad you didn't think of it first. To you, Max and Kat may as well be one and the same.
Then there's her reality. She's dating Josh Groban. He had a hit like 23241 years ago but still manages to be relevant AND date someone like Kat. To you she's too cool for him and you often sit up at night and wonder what brought them together, but even after all your questioning , you love that they're together because it shows you how normal and down to Earth your girl really is. She could have anyone and she has that guy.
Whether you identify with her based on reality or fiction, love her poor tales in New York, or love her love with her latest beau, your love for Kat Dennings is as strong as her sarcasm.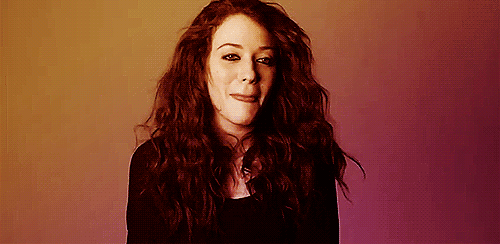 Reasons I Love Kat Dennings
Fact: I will watch The House Bunny any time I see it's on TV. Is it because of Kat? No. It's because when it comes to Tyson Ritter, I'm forever 15. Anyways, I bought Charlie Bartlett because Anton Yelchin is an immense talent wrapped up in a tiny frame. Actually, he's not that short. Then there's 2 Broke Girls. If it's on, I'll watch but it's something I can catch up on later in the week and when I do binge On Demand, it's not Kat I love, but Beth Behrs. So why do I love Kat Dennings, hmm?
Okay, maybe I spoke too soon. I love the idea behind 2 Broke Girls because if you think blogging has led me to a lifestyle of "champagne wishes and caviar dreams" then think again. Broke would be an understatement in my situation, but I continue to truck on like Max and Caroline and in a way, I suppose I have some love for Kat because of that show.

What I really love about Kat is that she's one of the ideals when it comes to beauty. Everything from her hourglass figure to her luscious locks are perfection. I'd be lying if I said I didn't strive to look like her one day — well, only with my face. I'm not sure I could ever get skin that mirrored the shade of porcelain.