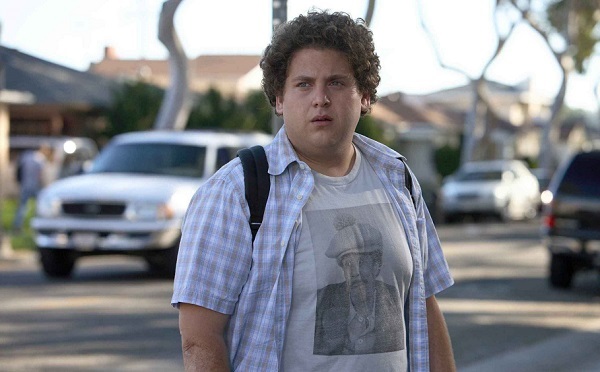 The night before I sat down to write this I was sitting in a bit of a coma after a long day in the sun watching baseball. Those are two things I never do, so I was drained. Then someone mentioned Channing Tatum and I had to pop in 21 Jump Street and that has everything to do with this week because I not only love that movie because of my delusional husband Mr. Tatum, but also Jonah Hill. Yes, placing those two together was eye candy overload for this gal and I'm sure some of you would agree, most would disagree, and some are likely to say, "Really… Channing over Jonah? You crazy."
Jonah Hill is a man of many sizes who can make you laugh in an instant, and that's a huge reason why we love him. What are the others, though?

Name: Jonah Hill Feldstein
Birthday: December 20, 1983
Place of Birth: Los Angeles, CA
Twitter: @JonahHill
Best Known For
You probably missed him in his first break in 2004's I Heart Huckabees and that's okay, just so long as you can recall what he was trying to buy the following year in The 40-Year-Old Virgin. From there he kept on trucking through Accepted and Knocked Up. Then in 2007 he broke out in a role that will likely define him forever in Superbad as Seth. He was the kind of arrogant BFF to Michael Cera's awkwardly romantic Evan, and the frenemy to Christopher Mintz-Plasse's McLovin. The movies to follow were hits and misses, Forgetting Sarah Marshall and Walk Hard: The Dewey Cox Story. Come 2011, no one saw Hill taking on Moneyball alongside Brad Pitt. After that, he was known as "Oscar Nominated…" That same year saw a lot of fails, though, like The Sitter and Allen Gregory on Fox. He picked things back up soon after with the surprise hit, 21 Jump Street, and an unforgettable cameo in Django Unchained. This year he's made us fall in love all over again playing himself in This Is The End with James Franco and next up he'll be super as the Green Lantern in The LEGO Movie.
5 Quick Jonah Hill Facts
He perfected his craft studying drama at The New School of New York.
He's connected to Adam Levine — how? His brother manages Maroon 5.
Demetri Martin has to be a little peeved. Jonah replaced him in Moneyball.
Justin Long and Jonah were roomies back in 2006.
He has "Nancy Rules" tatted on his arm as a tribute to his grandma.

Reasons You Love Jonah Hill
It's pretty clear why you love Jonah Hill: his sense of humor borders on sarcastic a**hole. Yes, if you got on his bad side he could likely make you cry, but you'd still laugh. That kind of comedic style is never not funny. You also admire that he can make the littlest thing a huge predicament — the lube incident, for example. Let's not forget that when he's not making you crack up, he's taking chances and never giving up, and also he keeps damn good company.
It's easy to see that he's had a lot of great movies, but for every hit, there were like two iffy mistakes. You stood by him though because who hasn't taken a bad turn in life at some point, or multiple points? Did you see The Watch? Yes, but you were the only one in the theater with your mom who you had to beg to go with you after you promised to buy her the giant popcorn and soda combo. Movies like that never bothered you because they never bothered him. He shook them off and moved on and that's a reason to love him. He takes what he can and if it doesn't work, so what? There'll be more.
More that will house his buddies. Jonah is never far from the reigning kings of laughs thanks to the roster Judd Apatow likely keeps on his nightstand. You can't even begin to entertain the idea of a world where Jonah wasn't with either Franco brother or Seth Rogen. Plus, you were surprised when he and Channing Tatum worked on some odd level.
It's a short list of reasons, but they're firm enough to hold your love for Jonah Hill forever and a day.
Reasons I Love Jonah Hill
Just like you, Jonah's ability to make me laugh is hands down the main reason he made my initial list of guys and gals to fangirl over, but there are two movies I'd like to shine my light on.
Have I said this enough? Superbad has one of the most attractive casts to ever grace a movie screen, Jonah Hill included. Not only did the men stir my hormones, but also my chuckles. So that's reason number one. A lot of Jonah's lines as Seth that I often say to myself aren't appropriate to lay out right here, so I'll just assume you have your own and can agree that he often owns the humor in that movie. Plus, again — he's absolutely adorable with that little Jew fro.
Next up is 21 Jump Street, another beautifully casted movie that is only made better by the amazing comedy throughout. Okay, so at first I dreaded seeing this. It was a remake of an old TV show and we've seen how so many of those have completely bombed in theaters. I couldn't stand the idea of seeing Tatum and Hill failing like that, but I went and after the first five minutes I let my guard down just a little. Then by the time they were one strapping versus two, I was over my doubt. Not only did Jonah Hill act hilarious in it, but he played a part in creating it. You can't top a man who can act and write — swoon.
Oh, and if you're wondering since this hasn't really come up — I prefer fat Jonah over skinny Jonah, but I wouldn't deny either.