Sometime back in November the list for this year's Fangirl's Guide was being written out. I still have the notebook with the notes; it resides in a pile I can't bear to throw away. It's a problem I have — one day I'll never seek help for it. Anyways, I was done and still needed some names to fill out the fresh new planner that now looks like a bullfighting victim. I reached out to a couple people and here's a special shout out to my pal Cindy for suggesting John Cho. I must admit, I would've never thought of him on my own but I'm glad he was on someone's mind because it was a pleasure to gush about why he's such a favorite of yours.


Name: John Yohan Cho
Birthday: June 16, 1972
Place of Birth: Seoul, South Korea
Twitter: @JohnTheCho
Best Known For
Single episodes here and there of Felicity and Charmed didn't get this guy going in the mainstream. Neither did his quick spots in the American Pie franchise over the years. It wasn't until 2004 that this random guy became a leading man in Harold & Kumar Go to White Castle. He then portrayed that stoner in a handful of sequels, giving fans of those movies something silly to love. Then he started to mature a bit as Sulu in the reboot of Star Trek alongside Zachary Quinto and Zoe Saldana. In recent years he's tried TV again with Go On and Selfie, but they never gained any traction. He popped up with Mindy Kaling on The Mindy Project, and he'll soon be in Get a Job with Bryan Cranston and another Star Trek film come 2016.
5 Quick John Cho Facts
While he was born in Korea, he was raised in Los Angeles after living in Texas and Washington.
He's a father of two, a seven-year-old boy and a two-year-old girl.
He has a musical side. He is the lead singer of Viva La Union.
You might remember him as the hype man in Kat Denning and Michael Cera's Nick and Norah's Infinite Playlist.
He turned down a role in Big Fat Liar when he was asked to do an Asian accent.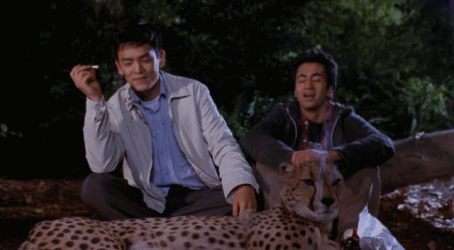 Reasons You Love John Cho
When it comes to John Cho, he represents stoners, nerds, and Asians well and whether you're one, two, or all three of the above, these are the reasons Cho has a piece of your heart.
Movies centering around herbal refreshments aren't new. Teen movies always seem to have that one character, Dazed and Confused is a classic, and of course there's Cheech and Chong who've built their career on the stuff. So Harold & Kumar wasn't groundbreaking but it was one of those movies you either loved with a cult-like passion or didn't quite understand. I'm in the group that just doesn't get it. I think I've seen a few scenes in passing when my brother was watching. Anyways, the people who love Harold & Kumar love it with a fervor that is quite intense. You can quote every line, know every part as if you'd written it yourself,and some of you even make special trips to White Castle just to relish in the glory of your love for that film. Why though, why that movie? It's silly and not something to be taken too seriously and you like that. You don't have a stuffy approach to movies and just like to be entertained — and that's exactly what this does.
Then there are you Trekkies out there. Star Trek is a whole other world when it comes to fandom. I feel Trekkies are as insane as those who pray to Star Wars, but are a little more low key about it. Nevertheless, you're a Trekkie and while you were a little iffy about the reboot, you loved it and it did take you a minute to get over George Takei not being Sulu, but Cho did the iconic character justice, so it was all gravy in the end. As a Star Trek fan, you've learned to take the good with the bad and at the end of the day, you love it all, especially Cho.
Let's get to those who love Cho because he represents a group of people who aren't represented largely in pop culture: Asians. Last I checked, there are over four billion Asians in the world but when it comes to mainstream TV and movies, there's like five. Off the top of my head I can give you that many, including the two men already mentioned as well as Lucy Liu, Ming-Na Wen, and Orange is the New Black's Kimiko Glenn. I've mentioned it here that growing up without seeing someone that looks like you is hard. You start to wonder why people like you aren't good enough to be stars, and it eats at you. Then when people like John Cho are in the spotlight, there's a sense of relief and you smile. Him just being around and showcasing that Asians can act and do more than the norm plays a huge part in why he's one of your favorites.
Whether he's representing the stoners, the Trekkies, or a huge chunk of humanity, John Cho is a leading man who those groups are proud to have behind them.
Reasons I Love John Cho
Like I said, I've only seen bits and parts of Harold & Kumar and I fell asleep during Star Trek, so nope — sorry John, I don't love you for these huge roles. I did enjoy his presence on The Mindy Project but I can't say I feel for him because of it. My love for Cho revolves around him being him.
I'm not Asian but as someone who did grow up knowing what it's like to look at a television screen and not see themselves, I'm all for diversity on screens both big and small. If it weren't for Shawn and Angela on Boy Meets World I would've been lost, so I can appreciate some kid seeing Cho and feeling at ease because of it. My reasons for loving Cho are more or less the same as the ones I had for speaking up about Michael B. Jordan.
Also, this Get a Job movie he has in the works seems like something I'm going to attach myself to. However, it's too early to tell. So right now I'll say I love him for the idea of the movie, but can't quite say for the execution. Check my Twitter in the future for my thoughts on that.