Making light of stupid things on TV is something we all do in the comfort of our own homes, but Joel McHale is the lucky one who gets paid to poke jokes at some of the most ridiculous things on the small screen every week on The Soup. That, along with his time in community college and his upcoming role on the revival of one of the most beloved television shows ever, is why he was chosen this week. Plus the fact that he's celebrating a birthday this Friday. Happy early birthday, Joel! Now let's get to business.



Name: Joel Edward McHale
Birthday: November 20, 1971
Place of Birth: Rome, Italy
Twitter: @joelmchale
Best Known For
Many probably don't remember Almost Live! back in 1996, or the fact that it was Joel's first gig. That's okay. Some years later he bounced back and got bit parts on screens both big and small on Will & Grace and Spider-Man 2. The same year he was near Spidey, he landed on The Soup and that's where he's been since. Luckily that job isn't that time consuming because he continued to take other jobs over the years like in Lords of Dogtown, voice acting on Robot Chicken, and of course being a lawyer without a real degree on Community. From NBC to Yahoo, Community wouldn't quit but to assure himself of his acting skills, he guest starred on Sons of Anarchy with Charlie Hunnam and up next? Oh, it's a big one. He'll be Tad O'Malley in the reboot of The X-Files come 2016.
5 Quick Joel McHale Facts
He's been married almost 20 years.
While he was born overseas, he moved to Washington and grew up with a great loyalty to his new home. How? He's is a dedicated Seattle Seahawks fan.
His humor was shaped by Monty Python.
Funny, yes, but did you know he was an athlete too? He played football back in the day.
Joel once appeared in a Burger King commercial.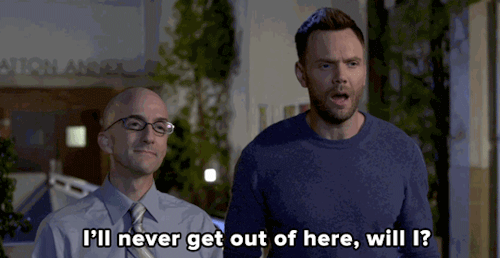 Reasons You Love Joel McHale
We don't cover a lot of famous faces who play, well, themselves. Those who think Joel McHale is just playing it up on The Soup, haven't met him. He is quick with the tongue and that's his most endearing attribute when it comes to why you love him. He's not afraid to speak up about what everyone is thinking. You love his brash sense of humor andhis ability to tear pop culture figures down without being too nasty. While we're all wondering if we should Tweet this and that about the latest Kardashian news, he just comes out and says it. Plus, you're a pop culture junkie and sitting down every week with The Soup helps calm your nerves and keeps you up to date when it comes to the stupidity out there on TV. McHale is your leader in knowing it all, and you welcome him with open arms.
Then there are the McHale fans who could care less about what he does on E! You're all about what he does as Jeff Winger on Community, especially when he does it shirtless. You and the Dean were on the same page. McHale's Winger is similar to another character in the past decade, Brian from Queer As Folk. He's this extremely good looking man who seems to be hard as steel, but at the core he cares more about those around him than he likes to let on. Only Community is a light take on life and the Showtime hit was based more in reality. Nevertheless, you watched from NBC to Yahoo and every episode that centered around Jeff, well, you're a little biased when you say those ones were a lot better than the rest. Maybe because you think he's hot as the devil's backyard, you love the character and can relate to not being too open with feelings, or you just loved the hilarity that ensued at Greendale.
Lastly, these fans haven't even gotten to see this one yet but they already know they love him for it. The X-Files was your jam back in the day. You didn't just watch, you were engulfed by it and when you heard it was coming back for a short run, you checked your pulse and make sure your heart hadn't stopped beating. You have no clue how McHale will do as O'Malley, but you don't care. If it's X-Files, it's great. No questions about it.
There are those who love him when he's just his sarcastic self, those who love his body on Community – and there are those who are jumping the gun a little but already have him in your heart that he'll be great on The X-Files next year because that show is the best thing to have ever existed.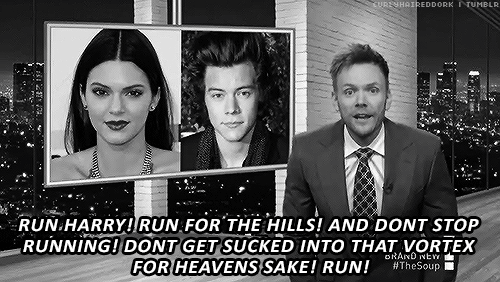 Reasons I Love Joel McHale
There are people in my life who are SUPER into their culture. They're constantly posting about their events, their foods, their celebrations. That's awesome but for someone who was born to a Spanish/German/Irish mother raised in the church who ran away from it, and a black dad who wasn't around as much — what's culture really? We didn't grow up with culturally based traditions, clothing, holidays, or any of that. What we did have was television. Big Bird was my first teacher, Zack Morris my first crush, Boy Meets World my first look inside adolescence.
So what I love about Joel McHale is that he brings pop culture to the masses every week. What I wouldn't give to have a job where all I did all day was talk about TV. He's living the dream and because of that, I'll always admire and have a place in my heart for the giant man on E!