Grandmas are awesome. Some bake, some craft, some yell things that aren't socially acceptable because they were born in a different time, and some do all of the above. There's one grandma I never had the chance to meet and the other now resides in the den of my mom's trailer. She's the one I'm most like. We both enjoy a nice V.C. Andrews book but hate any movie adaptation, and we both can't get enough of office supplies. While I love my grandma with all my heart, I couldn't help but adopt Jessica Lange as my new one some years ago.
Now, I didn't know her by name until she won me (and so many others) over on American Horror Story — but I was hooked to her evil in an instant. She's won Oscars, Emmys, Golden Globes, and even a SAG Award, but the most important thing she's won is a legion of fans and because she turned a stunning 66 years old this week, we're celebrating all that is the one and only Jessica Lange.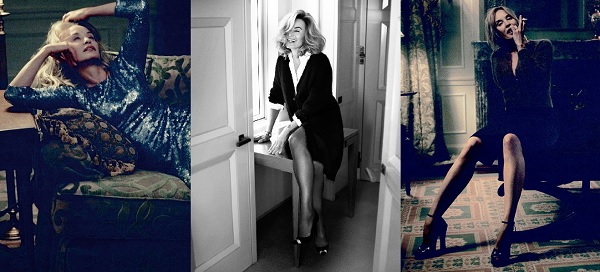 Name: Jessica Phyllis Lange
Birthday: April 20, 1949
Place of Birth: Cloquet, MN
Best Known For
Movie buffs have known Lange forever. She got her start with a giant ape in King Kong back in the late '70s. Then she went on to Tootsie in the '80s and made everyone (like my mom) cry their eyes out alongside Halle Berry in 1995's Losing Isaiah. Come the new millenium she popped up in Prozac Nation, Big Fish, and Grey Gardens. While she's has a lengthy career, she became the supreme to 20-somethings everywhere when she stole every season of Ryan Murphy's American Horror Story. Whether she was the world's worst neighbor, a sinful nun, a wicked witch, or a demented ringleader, she was the one to watch. Well, her and Evan Peters, of course.
5 Quick Jessica Lange Facts
She earned a scholarship to the University of Minnesota but went to Paris to study drama instead.
Just three years before King Kong she was waiting tables in New York City's Greenwich Village.
When she's not acting she's snapping — pictures, that is.
Lange is one of 10 actors who've ever been nominated for both Best Supporting and Lead Actor at the Academy Awards.
She's not perfect though. She has been up for an infamous Razzie before. It was in 1999 for her role in Hush.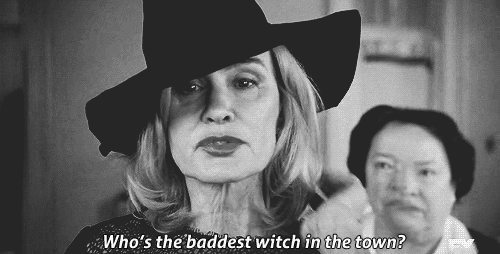 Reasons You Love Jessica Lange
Because I'm not familiar with what Lange did before she attached herself to FX, I have to assume that many just loved her because she was a great actress — obviously. One can't work that long and be mediocre. Unless you're Nicolas Cage or Keanu Reeves. In that case, it's likely you sold your first born to the devil for a lifetime of fame. So what I'll focus on is why you've all loved her in recent years thanks to American Horror Story.
When you weren't drooling over Tate Langdon during Murder House, you were trying to figure out what was going on with Lange's Constance. Unlike Wilson on Home Improvement, she was the neighbor from Hell, but for some reason you wanted to move in next to her. That love continued on to Asylum as she was driven to madness and then aliens cured her cancer? I'm still unsure what those aliens had to do with anything. Anyways, her real shining moment came with Coven.
For most, this was the ultimate season. Even before it aired, it was deemed the best. Now that it's come and gone, many will say that it reigns supreme. Speaking of, Lange's Fiona Goode was surprisingly one of the most relatable characters she's played on the miniseries and you felt that, and that's why you regard Goode as your girl. While she met her demise, Goode will always be your number one. Plus, you'll always love how sassy she was with all the young girls.
If you're a movie nerd, you've known the power that is Jessica Lange for years and are sad that TV folks barely caught on in recent years. Nevertheless, you love this woman because no matter what she's in, she owns it and steals every scene.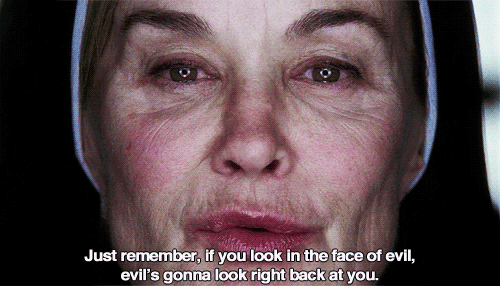 Reasons I Love Jessica Lange
Losing Isaiah is a movie that was watched one too many times when I was growing up. My mom loved the story of a white lady taking care of a black kid because that was her, only me and my brother were her biological kids and not the result of being tossed in the trash by a drug addict. Even though I've seen it what feels like a million times, I could only tell you Halle Berry was in it. For Jessica Lange is only in my heart because of American Horror Story — a show I didn't even want to watch at first.
My roommate actually wanted to watch it before I did, so we tuned in and she ended up not caring at all. I, on the other hand, was in love. It quickly turned into a love/hate relationship because Ryan Murphy and Co. would toss things in the mix that made absolutely no sense, but nevertheless I continued on because of Peters and of course my new grandma, Lange. We all know why I loved Evan, but Lange — I fell for her battle between good and evil each season. She was like so many other characters near and dear to me like Dexter and House. You wanted to hate her for the things she'd done but, after learning her history, had some sympathy each and every time. Plus, the bad she did was always the most stunning for me. That is, until I got to Freak Show and couldn't bring myself to finish that season. There were too many things going on to care. Now she's not returning to the fifth installment, and I'm not sure I will either.
She was around during my childhood, but I didn't come to appreciate Jessica Lange until she showcased that not everyone is born evil, but that some are crafted that way after a lifetime of events that led them to that dark place. While my time with her ended before her run on American Horror Story, we'll always have reruns and Netflix. Is it on there yet?