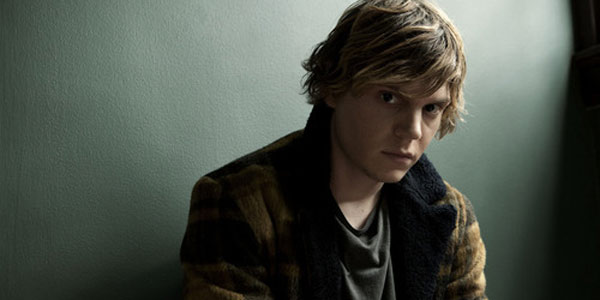 One bus stop I used to frequent had an ad for American Horror Story back in 2011. I had no clue what it was supposed to be about, nor did I want to watch it because 1. I have never been a fan of horror and found the genre more hilarious than spooky and 2. It was associated with Ryan Murphy of Glee and I thought it couldn't be good in any way shape or form. In the end my roommate wanted to watch, so we did and I ended up too into it. Yeah, I thought the story was really interesting and I loved that it wasn't like anything else in my current TV schedule, but most of all I loved me some Tate Langdon, played by Evan Peters.

Name: Evan Thomas Peters
Birthday: January 20, 1987
Place of Birth: St. Louis, MO
Twitter: @tweetsonurface
Best Known For
There's always those actors you see and go, "hey isn't that so and so from that one thing?" Evan Peters used to be one of them since he was never the star, just a recognizable face that made you take a quick mental note of his presence. I mean he was in ABC's The Days as a main character, but that only lasted long enough to note it on his IMDB. He was also in Disney's Phil of the Future, but he wasn't pulling rank as "Phil," just a friend. Evan kind of made it his thing to play the funny sidekick in movies like the tween favorite Sleepover and the comic book inspired hit Kick-Ass. Now he's no longer "that one guy from that one movie" thanks to FX's American Horror Story. In season one he played Tate Langdon, a ghostly school shooter, and this season he's Kit Walker, an alleged serial killer… and no matter how creepy his characters sound to the common man, girls continue to flock to him because let's face it, he makes sociopaths sexier than ever.
5 Quick Evan Peters Facts
Looking to impress Evan with a meal? Buy him some tacos from Taco Bell because word on the street is that's his favorite.
You might not be able to catch his heart too much though since he's dating Emma Roberts right now.
There's no ink for his current lady, but one for the best woman in his life… his mother. He has "MOM" on his left arm.
A Midwest boy, born and bred in the cold… Evan loves him some hockey. The St. Louis Blues to be exact.
He might go back to school in five years — "I think if I'm at 30 or something like that, if I'm a bum, eating ketchup packets, that's when I'll probably go back to college."

Reasons You Love Evan Peters
Every Wednesday at 11pm, I search "American Horror Story," "Evan Peters," and "Kit Walker" on Tumblr to see what people are saying about the show. To say that Evan had a following would be an understatement because it's complete insanity that his fans possess. On AHS he portrays people who are taboo in society, but with those big puppy dog eyes and that head of slightly curled locks… none of that matters. Tate might've shot up his classmates, but throughout the first season you fell hard for him because he wanted nothing more than to protect and love Violet (even though he could've done better, sorry… my jealousy came out). And while some were worried Evan's character in season two wouldn't live up to Tate, Kit Walker has done a fine job at making you fall in love all over again… Thanks to a lot of nude scenes.
Reasons I Love Evan Peters
I remember thinking Evan was adorable in The Days, Sleepover, and Kick-Ass, but let's face it… Those roles were kind of erased in my memory the second Tate Langdon walked on screen. Without diving too into my personal interests outside of music, TV and snack foods, Tate was a boy I'd consider a soul mate in my delusional mind. That goes the same for Kit Walker as well. Other than his roles on AHS that make my heart go pitter patter, his looks of course have a lot to do with why my hormones go into overdrive Wednesdays at 10. He had boyish charm before, but now as Kit, he's a full grown man and I'm not hungry for roast (AHS fans get it). Ever since Evan mentioned in an interview that he actually searches himself on Tumblr, fangirls have been trying to use it to their advantage and I am no different. So hey Evan, if you read this, ditch Emma and make my initials KRP. That's not coming on too strong is it?