As the year winds down, this series does too and Emma Stone was a great choice to end with. Well, as far as lady love is concerned. She's the last girl I have planned for one of these Guides but she was far from the last person I had in mind. She was one of the first names I had down on paper when this second wave was sketched out over a year ago — and for good reasons. When it comes to Emma Stone, she's basically your best friend who got famous but even though she's in movies with Bradley Cooper and has shacked up with Andrew Garfield, you still see her as plain old Emma from down the street. She's your BFF next door, but that's not the only reason we're celebrating her today.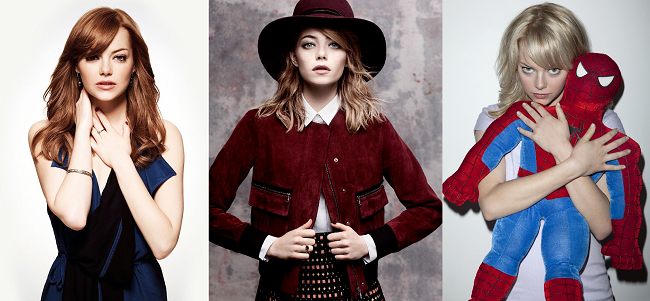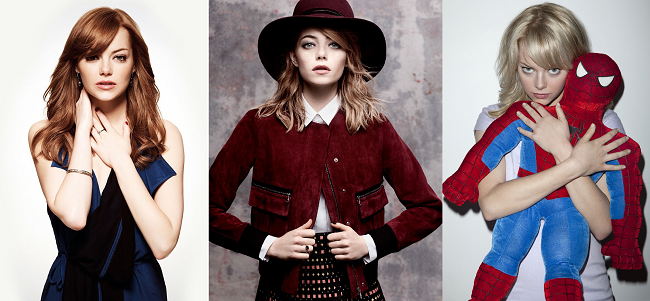 Name: Emily Jean Stone
Birthday: November 6, 1988
Place of Birth: Scottsdale, AZ
Fan Site Shout Out: Emma Stone Web
Best Known For
She'd been here and there before she made her big mark in 2007's Superbad but after that we couldn't get enough of Emma Stone as she played an outcast turned cutie in The House Bunny, a badass in Zombieland, and then an innocent harlot in Easy A. After that she really hit her stride in the Oscar nominated The Help, alongside Ryan Gosling in Crazy, Stupid, Love and of course opposite Andrew Garfield in The Amazing Spider-Man. Like most actors, she's had her ups and downs along the way. A handful of people watched Gangster Squad, while critics adored Birdman and then threw shade at her for Aloha. Next up for Stone, she'll be back with Gosling in next year's La La Land and returning as Eep in The Croods 2 in 2017.
5 Quick Emma Stone Facts
She almost went with "Riley Stone" as her stage name.
Her signature voice is the result of a bad case of colic as a baby.
Stone once appeared in The Suite Life of Zack and Cody. She was the voice of Brenda Song's character's pup.
You might've known her for Heroes alongside Zachary Quinto if Hayden Panettiere didn't crush it in her audition.
Woody Allen learned a thing or two from her. Well, he learned to text thanks to her.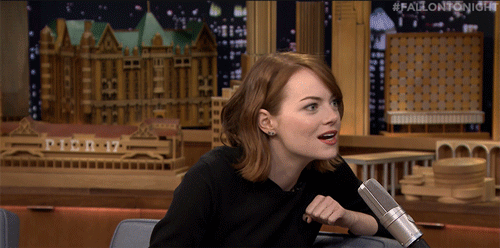 Reasons You Love Emma Stone
Like I said when this thing started, you love Emma Stone because she could be the girl you sit around with and binge Orange is the New Black with without a care in the world. She's your bestie who just happens to have to go to red carpets once in awhile. Her laid back ways also make her comedic charm even more endearing. So as much as you love her normalcy, you love her way with humor. She's so natural with the laughs too. It's like she doesn't even try and when you watch her in things like Superbad or Zombieland, you can't help but admire the ease at which she takes control. That's another reason you love her. Stone always manages to play these sort of badass characters who don't back down. From Wichita to Eep to Olive. It's no wonder she won that MTV Trailblazer award.
Of course we can't move any further without talking about the lot of you who absolutely adore her as Gwen in The Amazing Spider-Man. This is possibly because you weren't old enough to witness Tobey Maguire as the geek turned hero, but that aside, your love for her and Spidey only escalated when she and Garfield started dating in real life. Because of that, your heart burst. They were, are, your only definition for #relationshipgoals and, like Gosling fans when it comes to Rachel McAdams, you won't be okay until Stone and Garfield are back together again. Funny, strong, and geeky are her hits but Emma has proven she can act in Oscar-nominated movies. Fans of those Stone roles are the little thespians who can't be bothered with the more mainstream hits but rather find solace in exploring the deeper meaning of Birdman. Was he dead all along, what really happened between Sam and Mike, was that just a symbol for something bigger?
Proving women can be as hilarious as their male counterparts, and twice as strong, Stone is a pure talent who made you have some intense goals, both romantic and professional.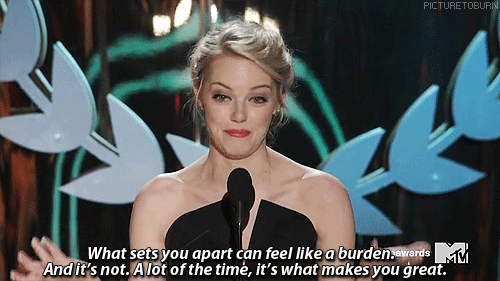 Reasons I Love Emma Stone
Superbad was the first movie I ever went and watched alone at the theater. It's still hilarious to me all these years later, but that's not the reason I love Emma Stone. For me, Jonah, Michael, and Chris owned that movie. Alas, I will say I watch that and The House Bunny every time they're on. If you haven't watched her crush on Tyson Ritter in that movie, please do yourself a favor and get to it. I'm sure it's on TBS sometime this week past midnight.
I liked Emma Stone before 2012, but wasn't head over heels for her. I'm still not #1 in her fan club — that was, until she was the first recipient of the MTV Trailblazer Award. Yes, it's not an Oscar or a Golden Globe but it's a big deal for those who fall in between the ages of barely starting out in high school and not quite ready to understand what paying a mortgage is like. I personally don't understand it as I'm mentally teetering between 12 when Backstreet Boys tour and 55 every other part of the year. It's what she said during her speech that left me enamored. In a world that pitches perfection, she went the opposite way and preached embracing yourself, imperfections and all.