It seems like just yesterday Juno references were fresh and teen pregnancy was being dealt with in a mature manner instead of on a reality show on a music channel. With that said, it's hard to believe that it's been almost eight years since Ellen Page became a household name. She had a couple of things under her belt before then, but that prosthetic baby bump really sent her into the mainstream. We all love her, whether it's her most famous role, her mutant ways, or her being who she is.




Name: Ellen Philpotts-Page
Birthday: February 21, 1987
Place of Birth: Halifax, Canada
Twitter: @EllenPage
Best Known For
Page started out on the small screen and a big break came when she was on a season of the cult comedy hit Trailer Park Boys. It took some time but when she was barely 18 she gained critical acclaim playing a teen trying to expose a pedophile in Hard Candy. A year later she scored a lifetime role in the X-Men series as Kitty Pryde. Not long after that she became a legit household name when she got knocked up in high school by Michael Cera. She got blockbuster roles following that like Inception and the upcoming apocalypse-based film with Evan Rachel Wood, Into the Forest.
5 Quick Ellen Page Facts
On the soccer field her nickname was "Peeps."
She may not be a fan of rabbits. She was bitten on the toe by one when she was three.
When she was in the 5th grade she played the title role in her school's production of Charlie and the Chocolate Factory.
Justin Long almost had her as his costar in Drag Me to Hell, but she couldn't commit due to scheduling conflicts.
She was given the pop culture seal of approval when she appeared on The Simpsons as "Alaska Nebraska."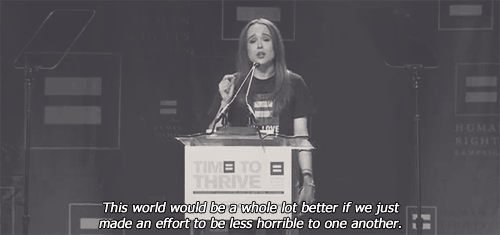 Reasons You Love Ellen Page
It didn't take very long for this girl to become someone you loved. Whether you are an indie movie fanatic and actually saw Hard Candy before Juno, or you're a Marvel fan or like most people — Juno was your first introduction to her. No matter where you first saw her, it was love at first sight because when it comes to Ellen Page, you don't fall for her like you would a supermodel, although I think she beats out half of Maxim's annual list. You fall for her natural finesse, her charisma, her play-it-cool demeanor. You love that about her, you also love that she almost always portrays strong female characters who aren't afraid to do their own thing.
She took on a pedo in Hard Candy, was super in X-Men, and played hardball in Whip It. And of course, you love her because Juno was one movie you could not stop quoting from the moment you stepped out of the theater. Page never fails to take on roles that really empower women and give them a voice in a world where, sadly, that's still something we have to yearn and look for in media. She's not only a strong role model on screen, but off as well. When she came out in 2014 it only made you love her more because you respected that she did it on her own terms.
When it comes to Ellen Page, you love her because she's an all-around role model for everyone out there, be it because of her movies or her reality.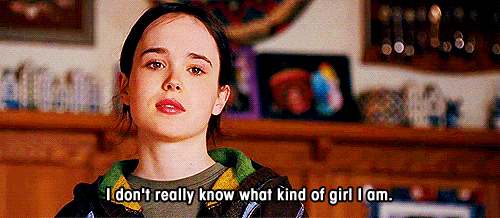 Reasons I Love Ellen Page
My mom was a teen parent, and so were both of my brothers. Looking down on people who get busy during high school has never been my thing. How they treat the situation is what should be judged. Some take it as an excuse to act a fool, others realize they are bringing a life into this world and make the right decision based on what's best not only for them, but for the baby. I feel like Juno taught us a lot about that and what it's like to be a teen and deal with such a grand life changing experience and not only approached it with the dramatics, but also with a bit of humor.
That's one of the reasons I absolutely loved that character. Here was this pint-sized girl who got lucky with her longtime crush and made a baby. Mistakes happen, but one person's mishap can ultimately be another person's joy. In case you didn't know, I'm very big on adoption and have been into the idea of it ever since I was introduced to Wednesday's Child on Fox 11 News when I was five. I wanted my mom to side with me on taking the kid in her tummy and trading him for the cooler ones we saw each week. She never took me up on that and, alas, I have my little brother today.
Back to Juno though, other than being a kickass role model for pregnant teens out there, I loved Page's character because she was a straight up tomboy that proved not all of us are these sports-enthused, disheveled beings. Even though we fail to fall for feminine propaganda like makeup and fancy clothing, we can still be not only cute but have boys find us attractive. There aren't that many tomboys out there for girls like me to look at in pop culture other than my love Darlene Connor.
Page can and has gone on to do so many other things and I'm sure she'll continue to do so for a long time after this is posted, but to me she'll always be Juno. That tomboy who proved girls don't have to fall into a mold to get the guy, and who also showcased that teens can be responsible about the steps that have to be taken after a baby pops up unexpectedly. Last note, does anyone else ever wonder what kind of ending it would've been had she not given her up to that chick from Alias?