Whenever I think of Hollywood redemption Robert Downey, Jr. comes to mind. Here was this dude that probably should've died a million times over, who somehow went on to not only clean himself up, but become a freaking superhero. My mind also wanders to our focus for this week, Drew Barrymore. She was the poster child for child star gone wrong, but then like Downey, Jr. she got on the right track and transformed into one of America's sweethearts. I think we can thank Adam Sandler for playing a small part in that. Hey, The Wedding Singer seems to be her comeback.
Anyways, from E.T. to the dismal time that is Blended — hey, not all Sandler flicks are winners — Drew has been in most of our lives since we were born. Well, anyone born post-Gertie, even though she did a couple of things before that. Drew is loved not only for her movies, but her comeback, and her overall sweet attitude toward life.


Name: Drew Blyth Barrymore
Birthday: February 22, 1975
Place of Birth: Culver City, CA
Instagram: @drewbarrymore
Best Known For
It's kind of a blessing and a curse when you can look at someone's baby pictures and instantly know who they are. In Barrymore's case, it's a little of both. While she'll never escape that wild child past, she'll always be connected to one of the most celebrated movies ever: E.T. the Extra-Terrestrial. During her rebellious phase she played the lead in Poison Ivy, but managed to clean up and come back strong in 1998 alongside Sandler in The Wedding Singer. They even made magic happen again in 50 First Dates, but unfortunately a third time wasn't a charm for them. That aside, Barrymore has more hits than misses from Never Been Kissed to Charlie's Angels to her recurring role as Brian's not-too-bright girlfriend Jillian Russell on Family Guy.
5 Quick Drew Barrymore Facts
She and Sandler are so close, she consulted him on what to name one of her kids.
She tries to wear Converse as often as possible.
She auditioned for the role of Carol Ann in Poltergeist.
Glitter is her thing. She once said, "I was always obsessed with glitter, especially for my face. I still feel that way."
She and Gwyneth Paltrow share the same godfather: Steven Spielberg.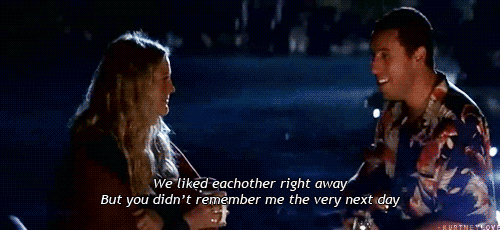 Reasons You Love Drew Barrymore
There's no denying that you love Drew Barrymore because she's a sweetheart. That odd way she talks kind of with her mouth half closed and off to the side like she's Angelica Pickles is to die for and you have worked your whole life to imitate it as you repeat her famous lines in the mirror, hoping that one day you're opposite Adam Sandler. Speaking of, most of you love her because hello — even though the last one wasn't that great, you are an oddball when it comes to romance and think she and Sandler are a real life couple that you could only hope to emulate one day. Let's not forget that you love a comeback story. There she was, destined for obscurity with that ginger from The Partridge Family and she got a second wind and chance at not being an inhabitant of VH1's The Surreal Life.
Every time you watch Drew in an interview, you swoon and hope that one day you can be as sweet as her. It's your daily goal to be "more Drew" and even say to yourself in the mirror when feeling down and stressed, "What would Drew do?" Is it weird that I know you have that "W.W.D.D." embroidered on a bracelet?
Then there are those who have Drew and Adam on a pedestal. You can't even remember how many times you've watched The Wedding Singer and 50 First Dates on repeat, but it's likely in the thousands. Are you ashamed? Not really. You'd take them over Matthew McConaughey and whatever woman is his leading lady. It's clear you haven't watched a RomCom since the early 2000s, but that's cool. You came out of the woodwork for Blended and don't care what anyone says. On your "Drew & Adam 4-Life" Tumblr, you've raved about how it's not that bad.
Lastly, there are those who either were there the whole time and saw the rebirth of Drew or looked back on her life and saw her overcome her twisted youth. No matter what side of that bench you sit on, you found her tale inspiring — almost as much as her sweet nature.
Whether you love her lovable demeanor, her onscreen love with a funnyman or her bottom of the barrel to the rim story — you love you some Drew Barrymore.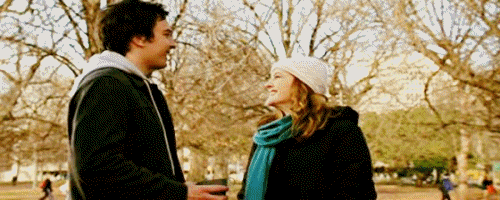 Reasons I Love Drew Barrymore
Middle school me and, hell, me today still loves Ever After and I connected with Josie Geller for way longer than I'd like to admit. However, it's neither those parts nor any of her Sandler movies that made me love her. It was a little movie she did with Jimmy Fallon 10 years ago that stole my heart and will forever be my favorite RomCom: Fever Pitch.
There was a long time when I could only relate to Fallon's character in that movie, but then I had a bit of a mental growth spurt and realized that I could give up my version of the Sox for someone if need be. When I was in elementary school Backstreet Boys were my everything. I can't lie, they still are. Nick Carter was to me what Scott Baio was to Barrymore's Lindsey. Like her, I realized that it's insane to still believe at my age that I have a chance with him. I'm almost 30 and to steal a line and paraphrase, if I thought I could still marry a Backstreet Boy — I would think there was something terribly wrong with me.
That's what I love about that movie — it's all about what you would give up for the one you love and the idea that you really don't have to change who you are, you just have to realize that you add a dose of reality to your life without losing the fandoms, the hobbies, the materialistic things that make you who you are.
Drew has done a handful of movies I will watch at the drop of a hat when I'm channel surfing, but none of them make me stop dead in my tracks faster than Fever Pitch.