Being the baby of the family has its ups and downs. On one hand, you can likely do no wrong. You're the last one of the bunch; that means the most precious. On the other hand, you're not the first one to own their heart. Plus, it's hard when your older brother is THE James Franco. The man who's not only an actor and director, but a man with what seems like a billion and one degrees. While it may suck at times, life isn't too bad for the always precious Dave Franco.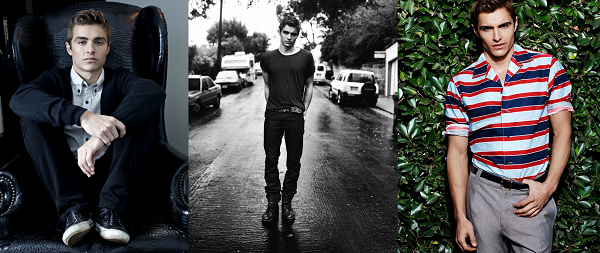 Name: Dave Franco
Birthday: June 12, 1985
Place of Birth: Palo Alto, CA
Facebook: Why doesn't this guy have a Twitter? Guess this will do…
Best Known For
If not for a couple of TV shows that went nowhere, Dave is known for being that dude who made a mess in his pants in Superbad and Gonzo in Greek. That's of course when he was first starting out and you knew him as "that one guy." Later when he was "James Franco's little brother" he had moved onto the bad era of Scrubs. He shook all the nicknames and took back his name come 2012 when he stole every scene in 21 Jump Street and made a memorable mark in people's heads with Now You See Me. He's also proven to be great in sequels like 22 Jump Street and the upcoming Now You See Me: The Second Act. Currently he's likely being the best in Unfinished Business alongside Vince Vaughn.
5 Quick Dave Franco Facts
His first role was on 7th Heaven. Anyone remember him as Benjamin Bainsworth?
He auditioned for Twilight. Yup, before it was out, everyone wanted that Edward part. Dave's probably glad he didn't get it.
Community's Alison Brie is his special lady friend.
Cats are his thing, he's a self-admitted cat guy. He told People, "I'm the weird cat guy, for sure. I do love my cats, Harry and Arturo. I guess I realized that I'm the weird cat guy when I don't see someone for awhile and the first thing they ask me, is, 'How've you been?' And then literally the second question is always, 'How are your cats?' That's not normal."
Emma Roberts and he were the leads in Cults' "Go Outside" video in 2011.
Reasons You Love Dave Franco
None of you attached yourselves to Dave Franco when he was starring in shows that lasted as long as a The Voice winner's career, but that's okay. Most of us didn't care to pay attention until 21 Jump Street. Then it was a mission to go back and watch any and everything he's ever done. I think that's called binge-obsession. We've all been there, it's nothing to be ashamed of. However I think the real reason most love him is because, for one, he's absolutely hilarious and, well, look at him. Plus, he's the type of guy you think you can actually be with. He's famous, but he's not James Franco famous. Although if you're a pretty blonde on Instagram James will give you the time of day — that's another story for another day though.
Back to Dave. He's that cute guy in class who is not only great to look at but who can make you laugh. If Adam Sandler, Brian Posehn, and many other comics have taught us anything, it's that women love a man who can make them laugh. It just so happens that Dave is conventionally a million times cuter than those dudes; no offense if you're a fangirl of either of them. To each their own. Anyways, Dave's proven time and time again that he's a funny guy and that's one of the reasons you keep on coming around. Him being so comical also has to do with the amazing roles he lands.
It's also due to the fact that he's downright adorable. That undeniable Franco smile that's so wide and makes the eyes appear in a squint. Plus, like I said, he's got that normal guy thing going on that makes fangirls believe they have a chance. It's not like with someone like Bradley Cooper or Hugh Jackman. Those are super celebrities who'd never notice you. Dave, however, you could run into at the mall and really hit it off. That's the delusional side of your brain talking and that's totally fine. We all have those moments of weakness.
So whether you're laughing at him or with him, or swooning because of him, you love Dave Franco for the smiles he causes you to have and that signature one he wears so well.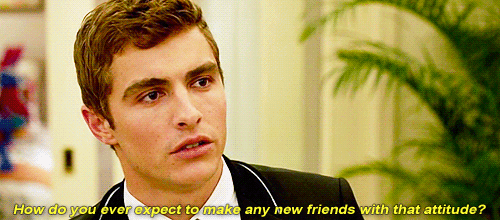 Reasons I Love Dave Franco
I was looking up why I loved James Franco and I wrote about that almost two years ago to the day that I'm writing about Dave. Fun fact if you like trivia about blogs. Anyways, unlike James, I've never met Dave but what I love about him boils down to a movie and a bit.
Channing Tatum and Jonah Hill are two dudes I think are amazing. So when they were going to do 21 Jump Street, I was worried. TV to movie remakes like that are usually horrendous, so I was nervous that I was going to have to sit there and watch two of my favorites tank in such a big way. Thankfully that movie was beyond great, but it wasn't my guys I walked away with laughing at the most. Nope, it was Dave. How could I not quote his breakdown about Taco Bell and friendship bracelets?
The other reason Dave forever owns a tiny piece of my heart is thanks to Conan. When they did that Tinder bit, I died. I still think it's one of the funniest things to have ever graced a small screen and why it wasn't awarded an Emmy is beyond me.
So while I don't keep track of his every move, I do love Dave Franco thanks to a movie I went in thinking was going to blow and a late night bit that can always make my day brighter.