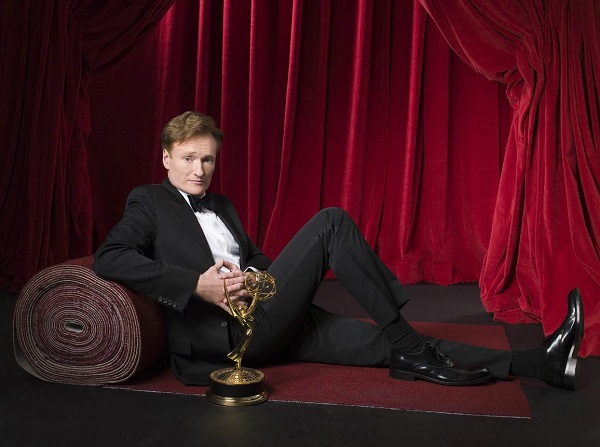 When South Park is your guide, you tend to believe everything those grade school kids from Colorado have to say. So when they declared gingers have no souls, I believed it. Yes, my BFF is a ginger (although she'll debate she's a day walker), but I can't help but think gingers are a bit creepy. Of course there are exceptions: Ariel from The Little Mermaid, Shameless's Cameron Monaghan, and The Ginger God himself, Conan O'Brien.
Conan is the world's most well-loved and admired ginger Irishman, and that's why in a week that contains St. Patrick's Day, it's only fitting to show him some love. Other than that, we celebrate Conan because he's a comedic genius both in front and behind the camera, as well as a sex kitten. Yeah, I said it.

Name: Conan Christopher O'Brien
Birthday: April 18, 1963
Place of Birth: Brookline, MA
Twitter: @ConanOBrien
Best Known For
He's worked on the best of the best when it comes to sketch comedy and animation and has continued to be a staple in late night for almost 20 years. Conan O'Brien has proven time and time again to be an asset to television, writing for Saturday Night Live and The Simpsons, on Late Night and today with Conan on TBS. Conan should also be familiar for the whole Leno VS Conan war of 2010. The war that lead to a pop culture staple known as "Team Coco" was born when Leno took The Tonight Show back from Conan after what seemed like a minute. Even if you've never watched Conan on TV, you're aware of him. It's hard to miss a 6'4" redhead who is as lanky as Olive Oyl and as endearing as Lassie. I'm aware both of those fictional characters are female, but I think Conan would approve the comparisons.
5 Quick Conan O'Brien Facts
There is a Twitter called @conan_facts with gems like "Conan O'Brien is not descended from apes. Conan O'Brien is descended from red pandas." Of course these aren't true facts, or are they?
Liza Powel, lucky lady. She met Conan on an episode of Late Night in 2000 during a skit and married him a couple years later.
Thanks to Tom Hanks we have Conan's nickname "Coco."
Dennis Leary is a distant cousin of Conan.
With fame comes insanity. Conan knows all about that. He had a serious stalker named Father David Ajemian in 2006.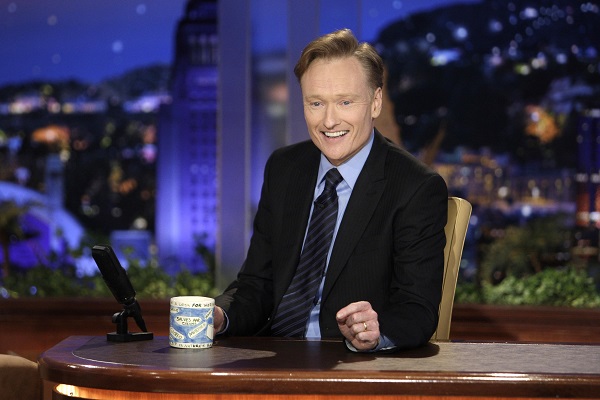 Reasons You Love Conan O'Brien
There are a multitude of reasons why you love Conan. To list them all would lead my hands to an arthritic state, so I'll try to just hit the main points. The obvious reason you love Conan is because of his funny ways. From the scripts he helped pen during his time on SNL and The Simpsons, to the jokes he presents after primetime, they're all winners in your book.
You also appreciate Conan's existence for his brain. He's not just some comedian who got lucky after a stand up gig. He's Harvard educated and makes it known more often than not. When he starts nerding out during an interview and spitting out historical facts that make him sound like a Jeopardy rerun, you can't help but admire him even more.
You also love that Conan isn't a quitter. When Leno took his show back, you worried. Where were you going to get your Conan fix? Luckily for you and his staff, Conan didn't let Leno have the last laugh; he went on to TBS where he's made a nice nest for Team Coco supporters to live in peace.
So he's hilarious, smart, driven, and gorgeous? Heck yeah he is. A huge factor as to why you love Conan is his being. That tall stature paired with the porcelain (almost crystal) skin, and topped off with that mane of red. He's definitely on your "if I could get one night with him" list.
Reasons I Love Conan O'Brien
It's always hard to write these when I truly love the person. It's like explaining why I love my mom; I just do. So years ago I was up late and came across Conan. In an instant I knew that I had to try my hardest to stay up to at least catch his monologue on school nights. Side note: If someone from NBC happens to be reading this, give Conan the rights to "If They Mated" back because that was golden.
Other than that little bit, I was drawn to Conan's energy throughout his show. The way he interacted with guests was and continues to be phenomenal to me. I feel that when you're a guest on Leno it's boring to talk to that guy and you have to pretend to laugh at his "jokes" the entire time. Of course this could be my bias against Jay, but still. Let it be known that I'd never promote myself on Leno and if my publicist made me, I'd wear a "Team Coco" tee and just give quick answers.
But really, I love Conan for all the same reasons you do. He never fails to make me laugh, his education is a total turn on as are his looks and when Leno stabbed him in the back, I stood in pouring rain to protest. True story, I was soaked, but seeing Conan in the flesh and the free pizza was worth it.
Again, it's hard to really grasp my love for Conan because I just look at him like a family member. My love for him exceeds a huge explanation.