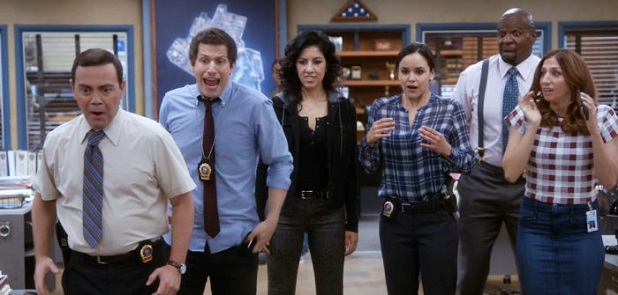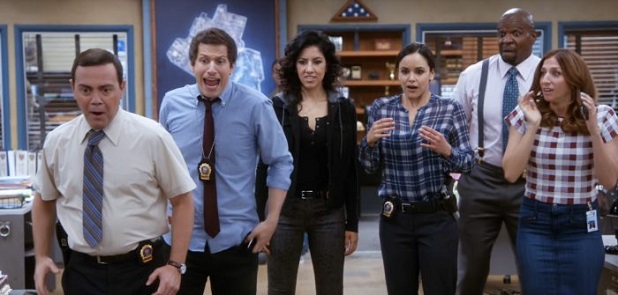 We could go into my love/hate relationship with Fox but well, why not? Fox was the guiding light of my trailer trash family. Don't get me wrong. We adored the family fun of TGIF but we felt seen thanks to Fox. The crude humor they were built on, it spoke to our way of life but over the years things…changed. I could handle 'American Idol' (when it was making relevant stars) and I could even forgive them for the myriad of Seth MacFarlane shows, but the morning they canceled 'The Last Man on Earth' and 'Brooklyn Nine-Nine,' was a slap in the face. Fox truly broke my heart that day, and really did me in when they continued to greenlight seasons of 'The Masked Singer.' Thankfully though, NBC was able to save one of those shows and that's why we're here today.
Name: Brooklyn Nine-Nine
Air Dates: September 17, 2013 – Present
Network: NBC
Twitter: @nbcbrooklyn99
Best Known For
It's the underdog that won in the end! It was the year Fox gave us the serial killer ways of 'The Following,' the short lived series 'Dads' starring Seth Green, and of course 'Brooklyn Nine-Nine.' One of those shows went on to win the network two Golden Globe in its first season. Mmhmm, Andy Samberg and the series as a whole won it all in 2014. Nevertheless, in 2018 Fox decided it was done making award-winning series and fans were not having it. Famous fans like Lin-Manuel Miranda tweeted up a storm and in 24 hours time NBC had saved the beloved cop comedy from extinction. Today it lives on alongside other hit series like 'Will & Grace' and 'Superstore.'
5 Quick Brooklyn Nine-Nine Facts
To date, 'Brooklyn Nine-Nine has won 14 awards.
Andy Samberg originally didn't want to focus on TV after his time at 'SNL' but a year after leaving the sketch comedy series, the script for 'Brooklyn Nine-Nine' drew him back to the small screen.
Melissa Fumero is a professionally trained dancer.
Members of The Lonely Island have both directed and guest starred on episodes of the show.
NBC picking up 'Brooklyn Nine-Nine' seemed like a pity take at first. They originally planned to just give them a proper final season, but 'B99' fans are rabid and rating kept it alive.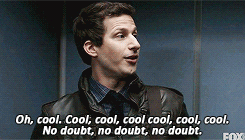 Reasons You Love Brooklyn Nine-Nine
When the likes of Michael Schur and Daniel J. Goor put out a show, there is no doubt that fans are going to appreciate not only the high level humor but also the amount of heart.
'Brooklyn Nine-Nine' may come off to some as a goofy cop show that brings about a chuckle here and there and they'd be right. It's a silly comedy about a bunch of cops in Brooklyn but it's also so much more to those who watch. The actors in this ensemble each provide a particular set of comedic skills and the way they each play off one another is complete perfection. From Captain Holt and Rosa's deadpan to Jake and Charles over the top ways to Amy's somewhat smart yet naivety to the world, it's all too good to go unnoticed and the fans – you fans notice it all.
They also notice and love, again, the heart these characters have for one another and that transfers into how much love fans want to put into this show. Hell, fans' admiration saved it from the fate of…'Dads.' Whether it's Jake's undeniable love for Holt and oh yeah, Amy, or the way Rosa's cold heart melts when necessary – every character relationship is precious and beloved by all who watch.
Another important aspect that has kept fans devoted to this show is the cast themselves. We don't have too many shows that have two Latina actresses in major roles. Here we have the great Melissa Fumero as Amy Santiago and Stephanie Beatriz as Rosa Diaz. Their characters are also far from stereotypical, which is fully appreciated. They're quite the opposite of one another. A yin and yang that form a beautiful union. Then there are the Black men on this cast who give fans life. Terry Crews' Terry Jeffords could've easily been a huge, brutish man but instead he's a loving, sensitive father of two who loves yogurt, while Andre Braugher's Captain Holt is a gay Black man leading a team, and he's not alone in the LGBTQ realm. Rosa came out as bi. Oh representation, it matters and 'Brooklyn Nine-Nine' knows.
From humor to heart to representation that hits the mark. These are the reasons you love 'Brooklyn Nine-Nine.'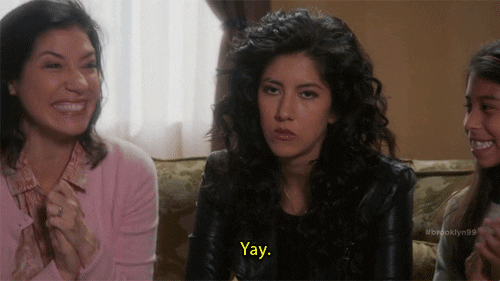 Reasons I Love Brooklyn Nine-Nine
On top of everything you just read above this, I love 'Brooklyn Nine-Nine' for Chelsea Peretti's flawless performance as the no care in the world but her own Gina Linetti, and the characters of Rosa and Captain Holt.
Gina was a gem and like many, I was devastated to see her leave but alas she left behind a cast solid enough to survive without her amazing brand of sarcasm and wit. And while I loved her dearly, she's always come in after Rosa and Captain Holt as my absolute favorite characters.
See, I didn't grow up in a home you see on the TGIF lineup. We went over that. No, my family was/is rude and crude, and has one cop and a couple of prison sentences. So when Rosa entered my view, I was instantly hooked to her unemotional responses to the world around her. You don't have to be over the top with your affection all the time and Rosa represented people who are like that and made them, me, feel seen. Holt did the same thing for me. As someone who's been called robotic, his responses to those in the precinct and his home life were endearing because while I'm not that out of touch with my emotions, I can relate to being more computerized and calculated with life than not.
We talked earlier about representation and I feel that goes far beyond race and sexuality. For me, it's about class, personality, and more. Darlene Conner, Jane Lane, Rosa Diaz, Captain Holt. Each of them have taught me it's okay to love without the 'Full House' music playing. You can say "I love you" and mean it without all the bells and whistles because when it's genuine, it's obvious no matter what.