When you fall in love, you start to overlook the horrible things your partner does. Hands up if you believe this — okay, so a few of you admit it, that's good. Well, when it comes to Andy Samberg, there is quite a bit to turn the other cheek about. His choice in movies hasn't always been the best and his dopey smile is one only a mother and a devoted fangirl can love, but when it all boils down his good outweighs his bad so all is forgiven. Well, at least for the sake of this piece.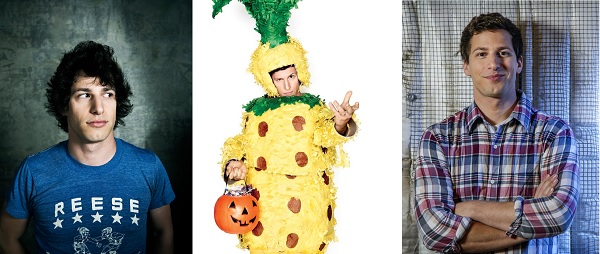 Name: David A. J. Samberg
Birthday: August 18, 1978
Place of Birth: Berkeley, CA
Twitter: @thelonelyisland
Best Known For
It's hard to imagine a world in which that goofy grin wasn't a part of our everyday lives. However, there was such a time but then he started doing small things here and there until he hit the jackpot and joined Saturday Night Live in 2005. During that time he perfected his Nicolas Cage impression, made girls swoon as one of the youngest on the cast and, of course, made the show go viral thanks to his digital shorts. From "Lazy Sunday" to "Dick in a Box," Samberg and the rest of The Lonely Island helped the then 30-year-old show get with the times and become a YouTube sensation. Like all greats from SNL, he left the show to do movies. Some became cult favorites like Hot Rod, some he merely stole the show like in What's Your Number, and then there are ones like That's My Boy — the ones you try really, really hard to forget. Movies were treating him so-so and in 2013 he jumped back on TV, headed to FOX, and managed to score a Golden Globe for his role on Brooklyn Nine-Nine. Now he's gearing up for the release of Hotel Transylvania 2 and preparing to host the Emmys next month.
5 Quick Andy Samberg Facts
Samberg was born to a teacher and photographer.
He's not only a gifted actor, but a musician as well. He's been nominated for a Grammy, ya'll. Yup, "I'm on a Boat" got a nod in 2010.
Brooklyn Nine-Nine is shot in the same studio Spin City was. The thing about that is Samberg worked as a PA on the Michael J. Fox show back in the day.
Jimmy Fallon is actually the one who got Samberg and his Lonely Island buds their auditions at Saturday Night Live.
Will Ferrell was actually supposed to be the lead in Hot Rod.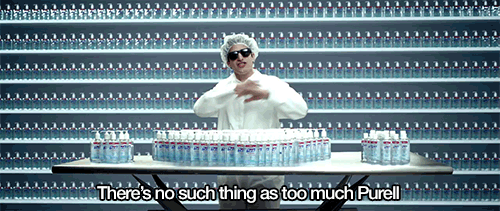 Reasons You Love Andy Samberg
There's rarely a person into Andy who didn't fall in love with him when he was on Saturday Night Live. That's where the infatuation with him started for everyone but then it was about how far everyone decided to take it. Whether it just stayed on the small screen or you dove into the movies, we're talking about you right now.
So I'm not sure how old you were in 2005, but Andy was popping up in these pre-recorded bits and you thought, "Who is this boy with mop hair that now owns my heart?" You did a quick Google search and that was it. Andy Samberg. That was the name of the man you swore would be your husband one day. You started to tune in to SNL more religiously than usual. Your friends started to worry that you never wanted to go out on Saturday night anymore but you assured them you were fine, you were hanging with your man. When they found out it was an actor on a show, their reaction was half relief and half — well, still worried. Nevertheless, to this day you could deliver any and every line he said during his eight years on the show.
Of course, The Lonely Island love wasn't far behind and you even went back in time and found their stuff before they went viral thanks to the show. That's how hardcore the obsession got. Some may say it's weird you fancy yourself a rap fan because you can spit Lonely Island rhymes so well.
Anyways, there's no denying his time on SNL is why everyone should love Samberg, but his movies? That's debatable to most, but not to you. While some turn their noses up towards Hot Rod and That's My Boy, you bust a gut. To you they are up there with the greats like Casablanca and Gone with the Wind. It's not outlandish to say that, you swear!
You can't lie though, you were happy to see him back on your TV every week with Brooklyn Nine-Nine. Yes, it was hard to understand that he would be playing the same character every week and that it wouldn't be on a Saturday but a Sunday, but you got used to it and now love him as Jake as much as you did as any of the countless characters on SNL.
The bottom line is that you're the type that loves to laugh be it from a well scripted punchline or a silly smile. That's why it's no surprise that you've been in love with Andy Samberg from the get go and why you'll love him for the rest of your days.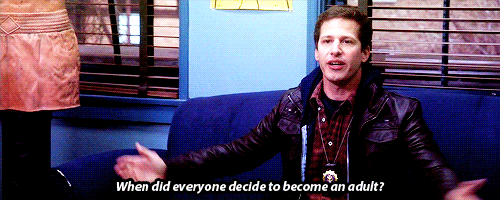 Reasons I Love Andy Samberg
Am I one of the five people who loves Celeste & Jesse Forever? Okay, I get it — comedies about couples aren't that cool, but I swear this one isn't like the rest, man. That's not why Andy Samberg is on my radar. And while he was hilarious in The To Do List, that's not why either. I'm all about Jake Peralta on Brooklyn Nine-Nine.
I'll admit — I thought that show was going to be the stupidest thing FOX has done since Traffic Light. I thought, it has maybe three episodes and then it's going to get cancelled. Within five minutes, I knew I was so wrong. It was one of the best things that channel has done in a long time that didn't involve Zooey Deschanel or Mindy Kaling. Luckily it and Samberg won those Golden Globes, so it was hard for the network heads to just go and cancel it because that's what FOX likes to do.
I love the show as a whole and Andy just happens to be a part of an amazing ensemble that works well together. It's a well oiled machine, that Brooklyn Nine-Nine, and that's why I'll always have a soft spot for that dude.