How have you fangirls and guys been? It's been a year since this was a regular thing but it's back and all of 2015 is booked solid. So at least for the next 12 months you won't have to wonder why you and I love the likes of newcomers to the series like Mindy Kaling, Stephen Amell, Hugh Dancy, and many, many more. Ah, it feels good to be back, doesn't it?
I wondered long and hard on who to start this off with and after a long night of jotting down birthdays, movie premieres, anniversaries of Buffy, and more, Bradley Cooper beat out the others to be the one to jump start us back on track. It's not because he's my personal favorite. You know by now that some (most) of these aren't guys and gals who tickle my fancy but rather those in pop culture whose fans ooze insanity — in the best way, of course.
He's gone from a TV actor (who knew?) to an A-list celebrity over the years, and was even the Sexiest Man Alive one time, but that can't be the only reason people are genuinely interested and sometimes obsessive over Bradley Cooper, right?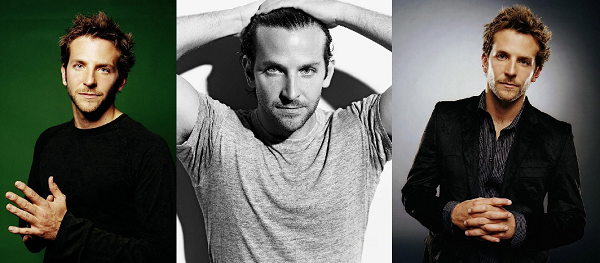 Name: Bradley Charles Cooper
Birthday: January 5, 1975
Place of Birth: Philadelphia, PA
Twitter: Too Cool for Social Media…
Best Known For
If you asked a regular Joe on the street the first thing Cooper ever did, they'd likely say The Hangover because that's when most of us heard his name on a huge platform for the first time. Well those of us who said that would be wrong. You can't do an episode of Sex and the City and be forgotten (yes you can). After that, though, he went on to do a number of series. If you remember The $treet, you're lying but your memory would recall his face in Jack & Bobby, Alias, and Nip/Tuck. While he's done a lot on the small screen, it's the big screen most love him from. He won hearts in He's Just Not That Into You, laughs for The Hangover, lost it with All About Steve and The A-Team, and then gained back all the love with Silver Linings Playbook and American Hustle. Oh yeah, and when he was a critter in a little movie, Guardians of the something something.
5 Quick Bradley Cooper Facts
Along with movies and TV, he's also done Broadway. He starred alongside Julia Roberts and Paul Rudd in Three Days of Rain.
He's a clean living kind of man. He doesn't drink at all and has said about quitting, "It was just the kind of thing where if I wanted to continue to live…"
He graduated with honors in English from Georgetown University.
Jim Carrey is one of his closest friends.
Before he was famous he was a doorman at the Morgan Hotel on Madison Avenue in New York City.
Reasons You Love Bradley Cooper
One has to go out on a huge limb and say only the biggest TV nerds knew Cooper before The Hangover entered the ring. For those who didn't have to hope Nip/Tuck, Jack & Bobby, and Alias were all on Netflix, that's awesome. You were ahead of the crowd and your love for this actor runs deeper than Jay Z's pockets. Your love has remained steady because unlike those who didn't have a clue who this guy was until he became Phil Wenneck, you were on top of it. He's more yours than anyone else's and when it comes to fandom, being first in the obsession is almost as important as anything else.
For the rest of you, you fell in love with the teacher whose life took an adventurous turn in Sin City and then again a couple more times in sequels you felt were necessary but the rest of the world agreed could've done without. Then by the time part 2 came out you were all caught up and even though you squirmed through All About Steve, you thought it wasn't that bad. At that point, you were hooked. Luckily his most embarrassing days were behind him once Silver Linings Playbook took everyone's breath away. Finally, the world was seeing what you'd been seeing all along: your boy was a bonafide actor capable of doing noteworthy performances that weren't just good enough for MTV awards but the big leagues — Oscars, Golden Globes, SAG. Of course then came American Hustle, and the box office smash Guardians of the Galaxy. You fell for a raccoon and had to Google the ins and outs of bestiality.
Your love of his movies is about the growth. You were there for the big break, circled back to the mistakes, and have watched him continue on his path from a guy taking on whatever role came along to a must-have actor.
Side note from his work, you love him because one thing that's a constant for this guy is that he's a mama's boy and proud of it. She's never far from his arm at awards shows and even when he does have a lady friend, there's mom.
So why do you love Bradley Cooper? Well, you either love that you were there on the ground floor when he was a small screen fixture, you are obsessed with anything he puts in theaters (good or bad), or you appreciate that he's a grown man who isn't afraid to hit the red carpet with his mother.
Reasons I Love Bradley Cooper
Usually you can see why the ladies and gents go wild over certain celebrities but I can't see why people are physically attracted to this guy. I've seen a million and one pictures, interviews, and whatnot but nothing about him is aesthetically pleasing. Maybe that's why the only reason I'd ever admit liking this guy is when he was indeed a raccoon. Even then, I was more into the tree.
Plus, unlike most of the world, I've never seen any of The Hangover movies and only bits and pieces of Silver Linings Playbook. With that, Jennifer Lawrence stole every scene I saw in between getting ready that morning we had Showtime for free. Wait, I thought of a reason I was interested in this guy. When he was dating Zoe Saldana, I was like, this dude is pretty cool. Then they broke up and he fell off my radar once again.
So unfortunately I have very little love for Cooper. His rodent ways and one past relationship were the only things of his that ever caught my attention and they didn't result in a heavy infatuation.