Back in July I sat down and cried as I wrote about an actor everyone loves — a man who left behind a multitude of projects, one each of us has attached ourselves to. I understood why Robin Williams was such a celebrated human, but when I looked and saw who I'd scheduled for this week, it was an actor on the opposite end of things. No disrespect to Bill Murray, but I don't get it. Yes, he's funny and I can find the humor in his Space Jam scenes, but the cult-like love people have for this guy escapes me. He sits on a shelf with other popular figures I will never understand. We'll talk about them later, but first let's try and get to the reason why this guy's fandom just won't quit.



Name: William James Murray
Birthday: September 21, 1950
Place of Birth: Wilmette, IL
Fansite Shoutout: Bill Murray Stories
Best Known For
As a Saturday Night Live alum, there's already a buzz around his name because when you can leave that show and actually have a successful career, you're one to be reckoned with. His run there was followed by comedy hit after hit with Meatballs, Caddyshack and, of course, his role as Dr. Peter Venkman in Ghostbusters. He was one of the most prominent funny men of the '80s and it didn't quit in the '90s, only shifted a bit alongside the likes of Michael Jordan and Richard Dreyfuss. Come the 2000s he became a staple in Wes Anderson films like The Darjeeling Limited, Moonrise Kingdom, and The Grand Budapest Hotel. Then of course there are his must-sees that he's come to be synonymous with other than Ghostbusters, like Lost in Translation and Zombieland. Come next week Murray will be 65 and he's showed no sign of stopping. Next year he'll be the voice of Baloo in The Jungle Book where he'll be reunited in a way with his Lost costar Scarlett Johansson. He's also pegged to be in the Ghostbusters reboot next summer as well.
5 Quick Bill Murray Facts
Murray is widely known for his odd antics. One time he walked up to someone at Wendy's, took their fries off their tray, and simply said, "Nobody's going to believe you."
You may be a big fan of his, but his fandom belongs to the Chicago Cubs.
He gave Wes Anderson a check for $25,000 to shoot a helicopter scene in Rushmore. That's impressive because he only got paid $9,000 for being in that movie.
Murray improvised every line in Caddyshack and shot it in only six days.
He's turned down some pretty big roles, like the lead in Forrest Gump and Buzz in Toy Story.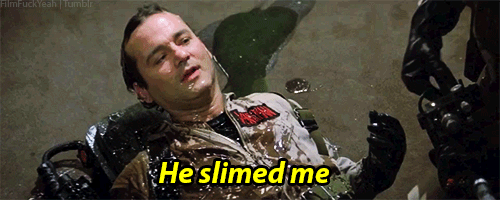 Reasons You Love Bill Murray
Like with Andy Samberg, Tina Fey, and many others who've been announced on Saturday Night Live, there's obvious love there so we won't go on too much about that part of why you love him. We'll talk more about his time ghost busting, his hipster route, and his carefree ways.
Strapped with a PhD in parapsychology and psychology, Dr. Peter Venkman was the Ghostbuster you fell for because he was Brooklyn-born and realer than the rest. While he was book smart, he also possessed a sense of street smarts and you loved the balance. Plus you couldn't help but get in trouble and be a little rebel anytime you muttered this line growing up: "Let's show this prehistoric bitch how we do things downtown…" The truth is, this may very well be your favorite movie — or one of them — and when you think back on all the actors who may've ended up cast as Peter, you thank your lucky stars it was Bill. Also, while you're still on the fence about this remake coming out next year, you've edged a little more towards the "for it" side now that you can expect to see your boy pop up in it.
Then there are those of you who will watch anything Wes Anderson does. You understand the layers he creates around his characters that seem boring to what you consider simpletons. You're also likely a hipster — but would never admit it. With that said, at first you thought Murray was too "mainstream" to take on Anderson but you let your guard down, let him in, and found a new appreciation for a man you thought could only play silly.
Last but not least, the reason Murray's fan base continues to grow is because of his random outings. Whether he pops into a bar down in Texas and serves tequila (no matter what anyone orders) or shows up to a wedding of a couple he doesn't know, every time it makes headlines and draws more people to him. He's one of the most recognizable faces in pop culture and for some reason that doesn't matter to him. While other celebrities hide away in mansions and in the middle of farmer's markets that sell produce the common man could never afford, this dude is hanging out and doing his thing like he hasn't been in some of the best movies around. His oblivious nature is something you find not only cool, but admirable.
Ghostbuster fans, Wes Anderson hipsters, and those who find honor in celebrities who are nonchalant about who they are. — these are the people we covered and the people who seem to love Mr. Murray most.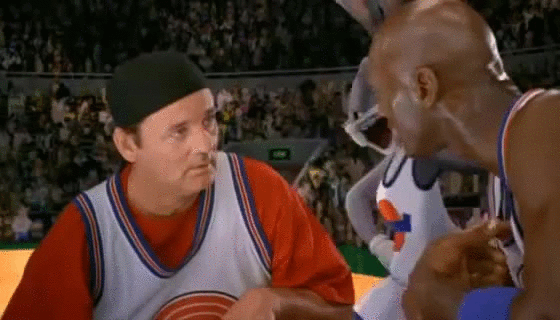 Reasons I Love Bill Murray
You know where I stand with this. I don't really care about this guy. He could walk by me right now and I'd be like, "Oh, Bill Murray…" Just because you're famous and on a pop culture pedestal doesn't mean everyone has to love you. Fact: I don't care about The Beatles and don't understand what made Seinfeld such a hit.
Speaking of, when I was looking up Murray for this I did find one little thing about him that made me like him more than I initially didn't. We'd agree about Seinfeld. We've both seen one full episode, the finale, and we both don't see its value. Other than that, I will give him props for Space Jam because come on — I love that movie start to finish and every scene is amazing, including Bill's.
So while I have placed him on a shelf in my life that includes The Beatles and a show he hates, at least I was able to see why you guys keep making him a big deal.