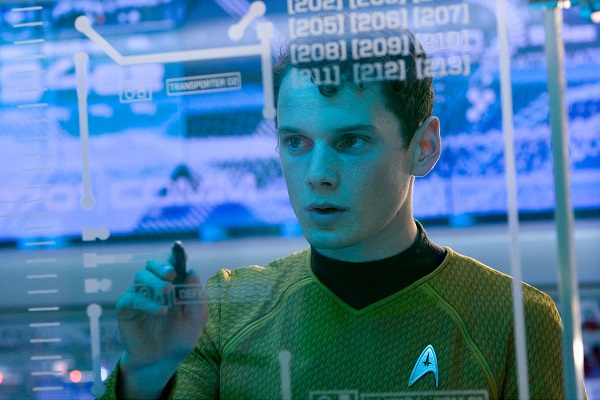 Still no Chris Fine, I mean Pine? Don't go starting riots. Captain Kirk will be here soon enough, I thought he should be the finale to a month of Star Trek folks. Now that we've settled that, I'd like to get to Anton Yelchin. He's the Russian cutie pie Chekov, but that's not all he's ever done. Like John Cho, Anton had a life and career before Star Trek became his signature role. Well, when you think of it, Cho may always be considered Harold. Now let's talk about everything that is one of my favorite people on Earth and beyond, Anton Yelchin.

Name: Anton Viktorovich Yelchin
Birthday: March 11, 1989
Place of Birth: Saint Petersburg, Russia
Fangirl Fansite Shout Out: @yelchinfans
Best Known For
Before he even hit junior high, Anton Yelchin knew what he wanted to do and set out to be an actor in 2000. That year he was in an episode of ER and a TV movie, Geppetto. Things started picking up a year later when he could say his costars were Morgan Freeman and Anthony Hopkins in Along Came a Spider and Hearts in Atlantis. Fast forward to 2006 and that's where Anton got the break that made him more than just "the kid in that movie with that one A-list star." So yes, when Anton Yelchin starred alongside Justin Timberlake in 2006's Alpha Dog, he took center stage playing Zack Mazursky. That last scene… we'll get to why that deserved an Oscar later. Next came the starring role in Charlie Bartlett, but he went from indie movie prince to blockbuster status thanks to his role as Chekov in 2009's Star Trek. In between his first ride on the Enterprise and the next in Star Trek Into Darkness, he did Like Crazy, played Mel Gibson's son, was one of The Smurfs, and did the Fright Night remake.
5 Quick Anton Yelchin Facts
Anton was born in Russia, but only spent six months there.
Both of Anton's parents are involved in ice skating.
He has said he'd like to work in TV on a show like 24 or Family Guy.
When Anton's not busy, he enjoys playing chess.
Anton is also a music man. He plays in a band called The Hammerheads.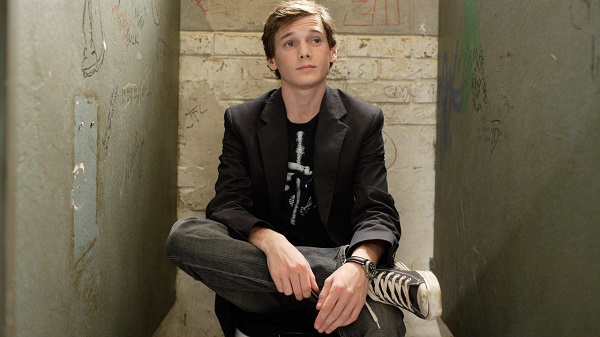 Reasons You Love Anton Yelchin
Anton is easy on the eyes, with those puppy dog eyes and that head of curls. Yup, it's easy to see why Anton's easy on the eyes, and why that's a reason you flock towards Chekov scenes when watching Star Trek. There are a couple other reasons why Anton Yelchin is your main man.
Looks aside, you love Anton for his skills. When he begged for his life in Alpha Dog, you wanted to wring Justin Timberlake's neck. Spoilers to those who haven't seen it, sorry. Also, that was the only time in history that you were mad at JT, besides the day he married Jessica Biel, of course. Back to Anton though, he's only 24 but seems two decades older when it comes to the intensity of the characters he plays. Every emotion he feels, you feel through the screen. When he's freaking out in Charlie Bartlett, you're freaking out and when he's going through the relationship cycle in Like Crazy, you're right there beside him. Since Anton's not even old enough to rent a car, you're also in love with the fact that he's got so many years left and you're not worried that he'll disappear into obscurity after his time in the Star Trek franchise is over and done.
Looks, skills and a promising future — those are the reasons behind your love for little Anton Yelchin.
Reasons I Love Anton Yelchin
Anton Yelchin is one of the only actors I love who I don't swoon over. That's odd for me since I grew up a delusional fangirl who falls in love at least three times a day with pretty faces on screens both large and small. It's not that I think Anton is ugly; it's just that I fell in love with his acting way before I knew you could do that. It was back in 2004. I was heading into my senior year of high school and I came across Jack. No, not the amazing Robin Williams movie, but the TV movie that starred Anton as the title character. When he finds out his dad is living with another man, I remember thinking that kid is amazing at what he does.
His being an unforgettable face, I was happy to see him land Alpha Dog, but I saw that after I fell head over heels for Charlie Bartlett. I know I've mentioned this before, but I love the high school experience depicted in film and on TV, so that's why Charlie was huge for me. Anton's Charlie was a conniving mess and I loved him. I then back tracked to Alpha Dog and would like to plead to the Academy for Anton to win a late Oscar for that. How you can watch that last scene without every part of your heart aching is beyond me. It was like watching your best friend take their last breath.
Thanks to Star Trek I got to meet Anton years ago when he was promoting but, again, that movie made me use the theater as a bedroom. So I can't say I'm hip to his biggest role yet. I'd love if he stayed in little coming of age movies for the rest of his life because he's always been able to embody the idea of an adolescent, be it one on meds, one in love, or one on the verge of the end — but I understand that he can't possibly play that age forever and I'm easing up to the idea of more grown up roles little by little.