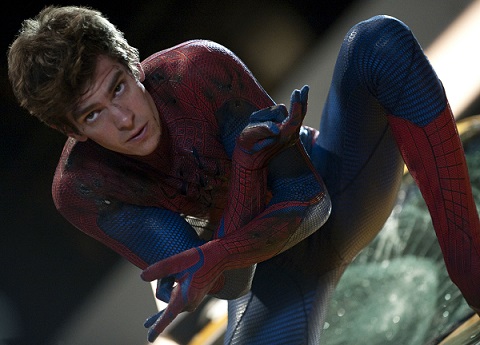 This week we wish a late happy birthday to Andrew Garfield. He turned the big 3-0 and that's reason enough to note why he's such a fan favorite. After looking over what he's done in his career, it was hard to pinpoint why he's such a hot topic with fangirls everywhere. Really, could Spider-Man be the only reason he's been able to hold attentions? Let's find out.


Name: Andrew Russell Garfield
Birthday: August 20, 1983
Place of Birth: Los Angeles, CA
Fangirl Fansite Shout Out: andrewgarfield.us
Best Known For
You either know Andrew Garfield as the other Spider-Man or the Spider-Man, depending on if you only have room in your heart for one, and that's Tobey Maguire. Some might recognize Garfield from a sitcom from 2005 called Sugar Rush. Nope? That was a longshot. Hardcore Whovians saw him as the web slinger and thought, oh, that's just Frank from a couple Doctor Who episodes from 2007. Other than that, Garfield's done The Other Boleyn Girl a year after his little stint on Who alongside Scarlett Johansson and Natalie Portman, The Imaginarium of Doctor Parnassus after that, and kept the ball rolling with 2010's The Social Network. No, he wasn't that awkward kid who invented it. He played Eduardo Saverin. Other than dating Spidey co-star Emma Stone and celebrating a birthday this week, Garfield's next plans are for The Amazing Spider-Man next year.
5 Quick Andrew Garfield Facts
Garfield has dual citizenship in the US and England, and was raised Jewish.
He graduated from the Central School of Speech & Drama in 2004.
Ever watched Raising Hope? He dated Sabrina on that show, Shannon Woodward, from 2008-11.
Ask him if he can still do a flip. He was a gymnast when he was younger.
Today he's a proud supporter of marriage equality.

Reasons You Love Andrew Garfield
There's a huge chance that Sugar Rush and Doctor Who didn't spark your interest in Andrew. You may've noticed him in The Imaginarium of Doctor Parnassus, but let's face it — you were watching that as a final goodbye to Heath Ledger. So let's just say he fell into your gaze with The Social Network. Instead of drooling over Justin Timberlake like most of the others in the theater, you set your eyes on Garfield and never looked away. From that point on you managed to keep tabs on him thanks to him landing the role of Peter Parker and dating Emma Stone soon after. Those two being paparazzi bait meant you'd always be ensured a picture of your boy in the latest tabloid. But why do you love him? It's hard to pinpoint if you love him more for his looks or his roles, since he only has a couple you can actually note without researching heavily.
He played a dude who gave people a hard time in one of his big roles and then a couple years later played a superhero, so you love that he is versatile — for the most part. Let's not put off the fact that you loved him more as Spider-Man though because of the costume. There's nothing sexier to you than a man in latex bodysuit; ah, to be his Gwen Stacy. It's not like you're almost driven to insanity because you can't decide if you love or hate them together. On one hand, he and Emma are adorable together. On the other hand, she's not you.
Anyways, you have these feelings towards Emma because of the way Andrew looks. He sends your hormones into overdrive. It's due to his tall stature, that head of hair that likely makes him five inches taller and to top it off? He's British. Accents make every guy 20 degrees hotter. It's a scientific fact (don't look that up).
So he might not have a lot to choose from, but when it comes to Andrew Garfield, he'd done enough. Your heart welcomes him fully thanks to his small resume because it's not going to deny a boy who looks like that and sounds like a gentleman.
Reasons I Love Andrew Garfield
There's one reason I can find a morsel of love in my body for Andrew Garfield. I said before, Tobey is the Spider-Man I liked and I just didn't like this new guy in his place. So I never saw this so-called Amazing Spider-Man. The Social Network is another one of those big hits that has remained unseen by my eyes. I know, what the hell do I watch? I do watch movies, mostly animated.
So where does this morsel come from? It comes from Andrew when he's out and about with his lady pal, Emma Stone. Have you ever seen the sign they put up to mess with photographers? Genius. It's one incident, but it was enough to get me to note in the back of my mind and that's the only reason I can find any love for this guy. Other than that, his large hair bothers me. You know why it's so big, "…it's full of secrets."