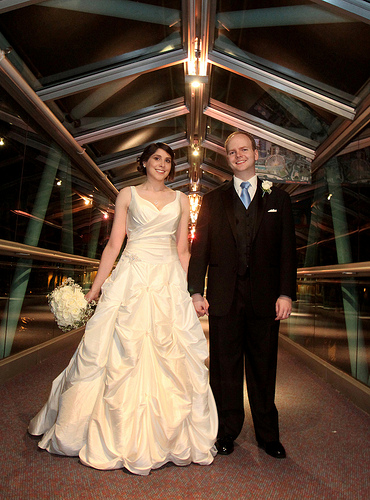 If you follow the Fandomania Podcast, you probably know by now that my co-host Jason and I got married on November 14th. Of course we had to throw in some geeky elements, so for this week's Fandomestic I thought I'd highlight those.
We both wanted a venue that reflected our interests and personalities, and at first it was hard to get past all the myriad of country clubs and fancy hotels that most of the local wedding magazines advertise. Then my mom saw that the Orlando Science Center hosts weddings and events, and we knew it would be perfect.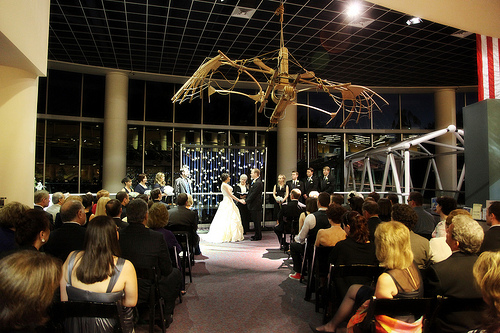 The ceremony was held in the OSC lobby area and was relatively brief (about twenty minutes, I think). We used film and TV scores for the entrance music: our wedding party's processional was "Many Meetings" from The Lord of the Rings: The Fellowship of the Ring and our own processional (we walked up together) was "Admiral and Commander" from Battlestar Galactica Season 3. We had my Best Man (Chris) and Jason's Best Woman (Ginny) do, as one of our readings, G'Kar's "Declaration of Principles" from Babylon 5.
Our wedding bands are titanium and each is engraved with the words "I know." (Star Wars fans will recognize that reference!) Our recessional was funtwo's "Canon Rock" and we entered the reception to Europe's "The Final Countdown," as made popular by Arrested Development's GOB.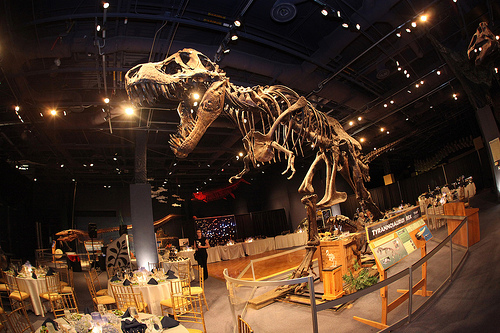 The reception was held in the Dino Digs room, which was the main draw of the OSC for us. The room is huge so we actually only used about half of it and sectioned the other part off.
Each table was named after a different fictional location from a movie, TV show, book, or video game of which we're fans. Unfortunately, we didn't get pictures of all the different signs and place cards on the tables, but here are the place cards after I designed and printed them out (Sunnydale was the head table!):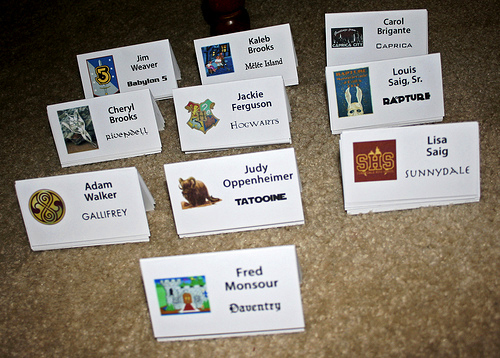 In addition to the traditional First Dance, Father/Daughter Dance, and Mother/Son Dance, we also did a "First Rock Band Duet," on which I played bass and Jason played guitar (Boston's "More Than A Feeling" — 98% each!). It was a big hit and I don't think the Rock Band corner was ever left empty for another second the rest of the night!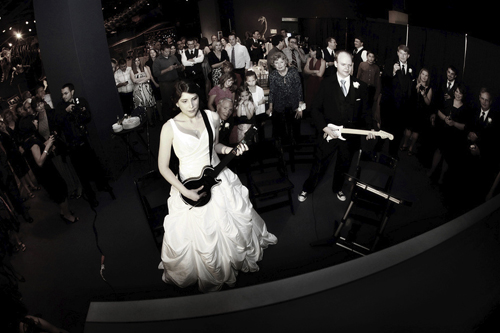 And, of course, we wanted our cake to reflect our tastes in some way as well. The four-tier vegan vanilla cake had navy blue fondant with ivory and gold stars to match our colors and our love of space and sci-fi, and we used Han Solo and Princess Leia as toppers (action figures from Jason's personal Star Wars collection!). We also had some chocolate cupcakes to match.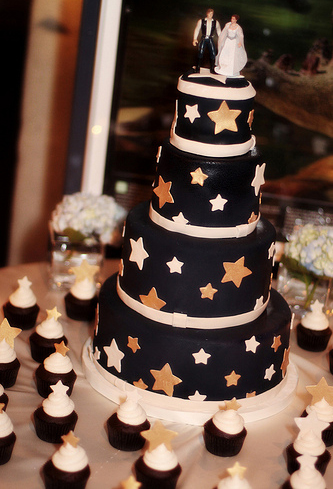 We won't get our final wedding video for some time, but the videographer provided us with a "wedding trailer" which shows the highlights.