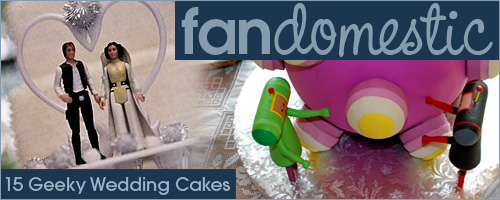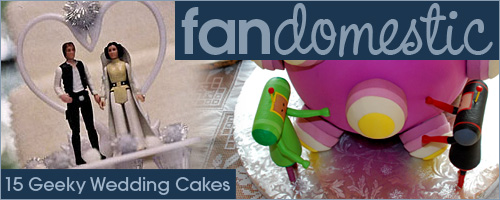 In honor of Valentine's Day, it seemed appropriate to profile some of the best geeky wedding cakes around. Some are fandom-related toppers on otherwise traditional cakes; others are all-out tributes to the couple's shared interests. But oh, man, do they all look delicious.
1. Super Mario Brothers Wedding Cake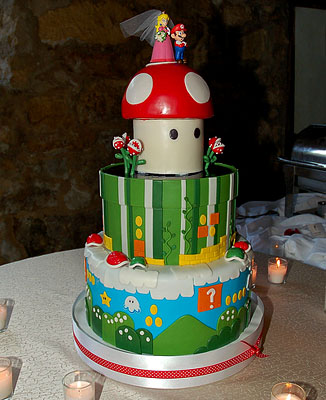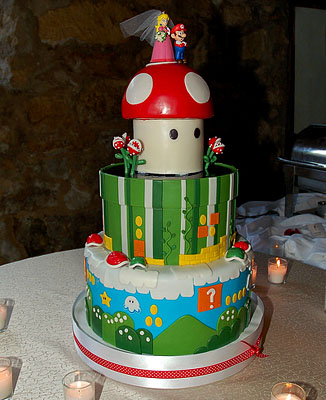 I could easily have done a post just of Mario wedding cakes — they're that popular. But this one, and the one below are, in my opinion, on a different level. The detail is incredible (follow the link for close-ups), and I imagine it was almost painful for the couple to cut the cake.
2. Buffy & Angel Wedding Cake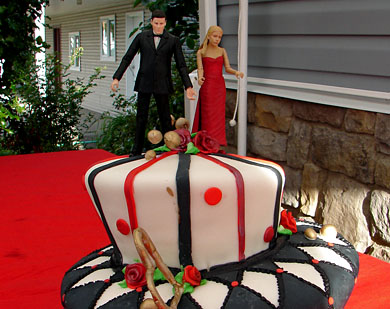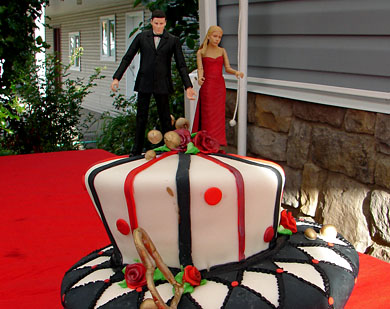 If you're a fan of Joss Whedon's work, you know weddings don't usually go very well in his universes. Nevertheless, Kat and James chose Buffy & Angel figures to top their harlequinesque cake. Kat painted Buffy's prom dress red to match her own wedding dress. Apparently, the wedding went off without anyone bursting into flames or being left at the altar. Score!
3. Han & Leia Wedding Cake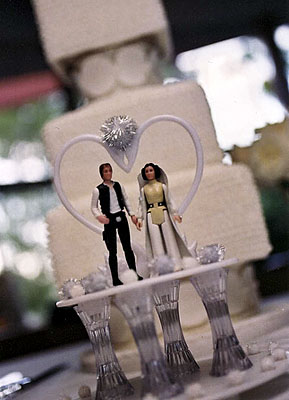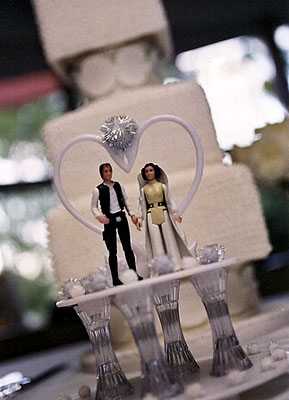 In the Star Wars universe, few couples are as iconic as Han and Leia. They top many cakes, but I found this one from Flickr user galexiegirl's wedding to be particularly sweet.
4. Star Trek Wedding Cake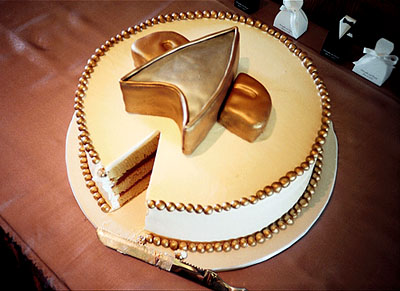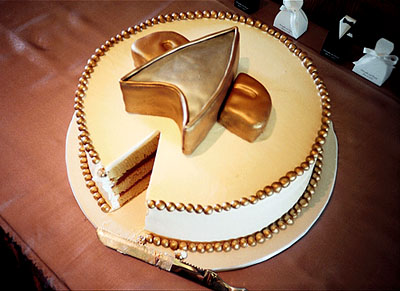 It's not every day you see the Starfleet insignia all gussied up like this.. only for special occasions, like the wedding depicted here and photographed by annawhite.
5. Zombie Spider-Man & Mary Jane Wedding Cake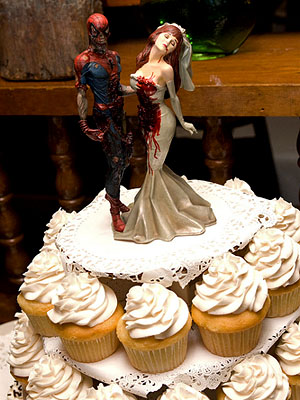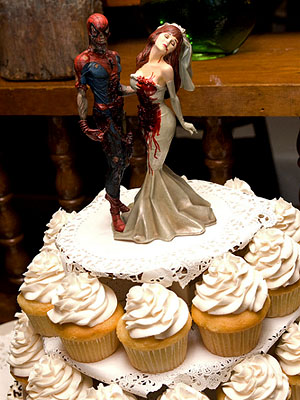 Breaking the tradition of a multilayer cake, Erin & Chris instead celebrated their wedding with a cupcake tower (yum!) topped with zombie Spider-Man and Mary Jane.
6. Katamari Damacy Wedding Cake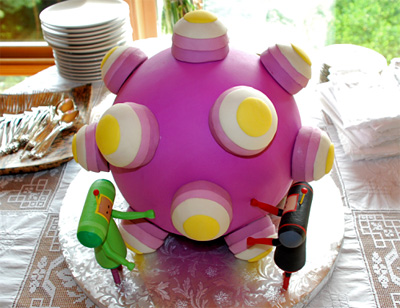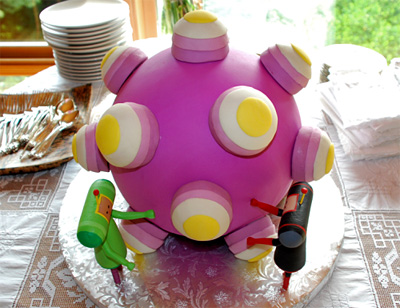 When a couple's "first dance" is a Guitar Hero duet and they have a "wedding ninja" in place of a flower girl, the fact that their wedding cake is shaped like a Katamari shouldn't be too surprising.
7. Arwen & Aragorn Wedding Cake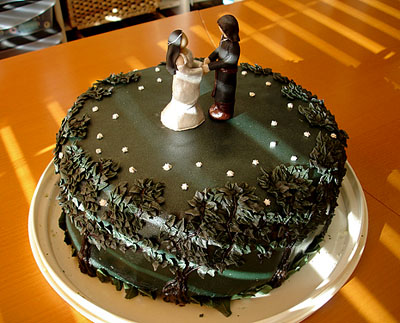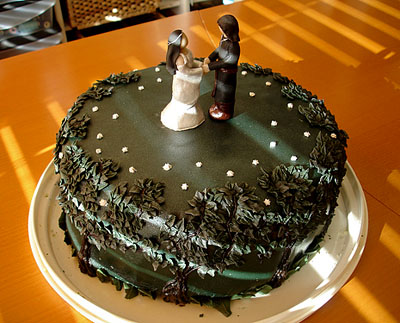 Flickr user marijoki made this Lord of the Rings-inspired cake, with marshmallow fondant & royal icing frosting and a mini Arwen and Aragorn hand-molded from marzipan and sugar paste (there's even a little Evenstar!).
8. Hulk & Wonder Woman Wedding Cake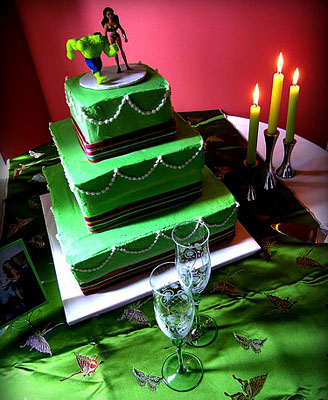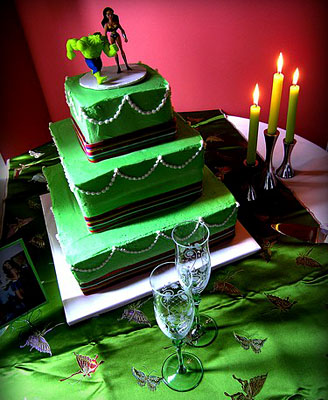 Apparently, this cake is meant to represent the first Halloween Ben and Kerri spent together, when he was dressed as the Hulk and she as Wonder Woman — hence the unorthodox couple topping the cake.
9. Miis Wedding Cake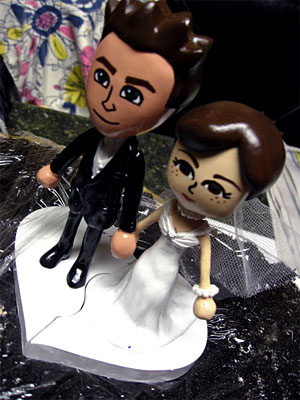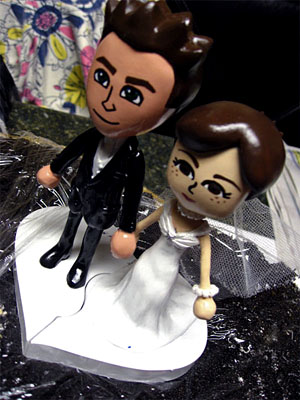 Gaming blogger Man Zero and his wife incorporated Mardi Gras, Superman, and Nintendo themes into their wedding (a bizarre mix, but the full shot of their cake shows how surprisingly well they worked together). Their Mii toppers were made by Paul Pape Designs, customized to resemble the couple (including their actual nuptial apparel).
10. Mario Kart/Mario Galaxy Wedding Cake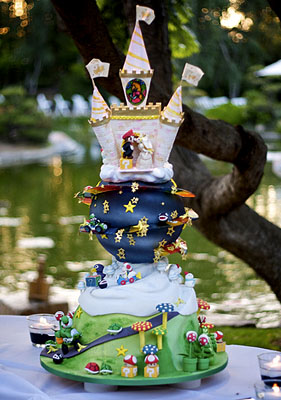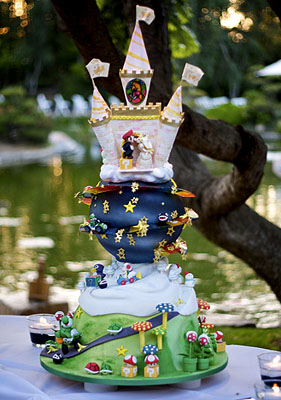 As mentioned above, this is another Mario cake which is just over-the-top phenomenal (and, interestingly, this one was inspired by the one above). Themed mostly around Mario Kart and Mario Galaxy, it features the quintessential castle, the Rainbow Road, and a planet à la Mario Galaxy. Mario and Princess Peach are the happy couple, with Luigi, Toad, Yoshi, Koopas, Mushrooms, Piranha Plants, Chain Chomps, and Question Blocks dotting the landscape. But wait, get this — the ENTIRE cake is edible. That's right.. even the character figures. When you click through to the detail shots, you won't believe it. Oh, and apparently the cake wasn't the only geeky aspect of the wedding.
11. Stargate Wedding Cake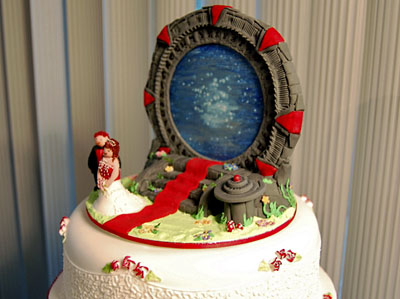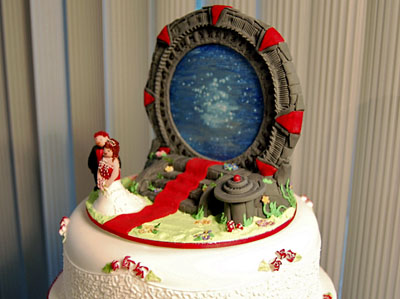 The Stargate on this cake from GateWorld forum member DrScarey's wedding is handmade, with a wormhole made from hand-painted icing and accurate gate symbols (to Earth, I assume!). It looks like they're about to use the gate to go on their honeymoon!
12. Storm & Rogue Wedding Cake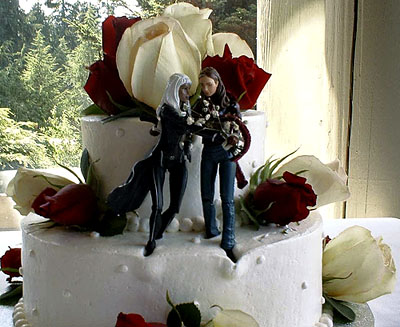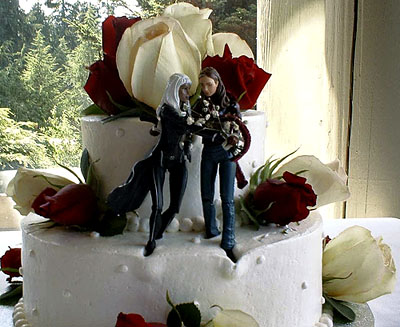 According to Flickr member kellyoyo, her favorite X-Men character is Rogue and her wife Alyx's is Storm. Thus, the non-canonical couple made a fitting addition to their rose-adorned cake.
13. Dalek Wedding Cake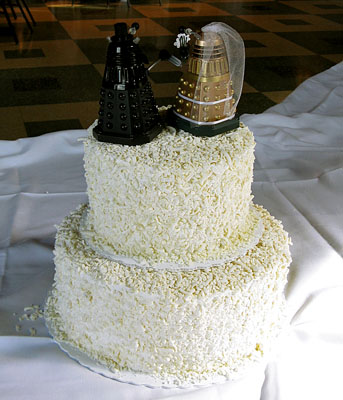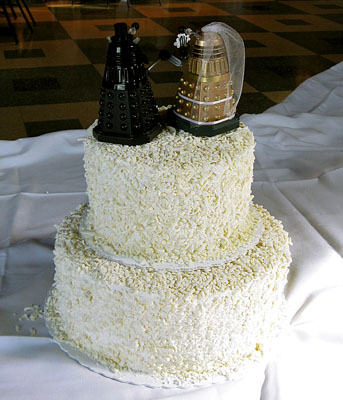 Daleks may not have the capacity for emotion, but they definitely know how to honor and obey! Don't these two look adorable as the bride and groom atop froggy_dear's wedding cake? Dalek Sec looks particularly dashing in his top hat. I wonder if Davros officiated?
14. & 15. Nightmare Before Christmas & Corpse Bride Wedding Cakes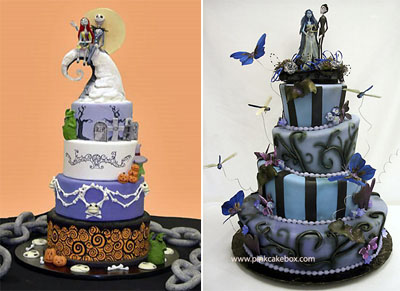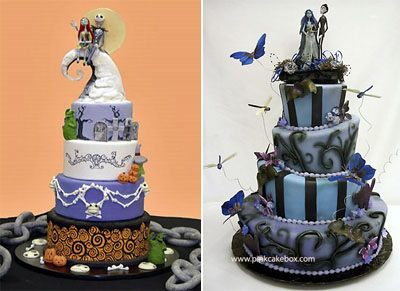 These cakes go so well together that it seemed right to combine them, though they were created by two separate cake designers. The first, starring Jack and Sally from The Nightmare Before Christmas, was made by Let Them Eat Cake — the same bakery responsible for the Mario Kart cake above. The Corpse Bride cake was made by Pink Cake Box for a Halloween wedding (natch!).