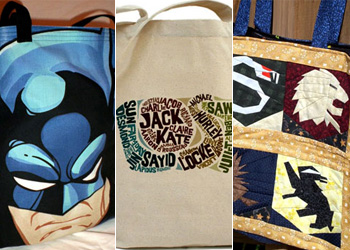 It's Earth Day 2010 and we haven't quite reached the point of colonizing other planets like on Firefly, or living on space stations like on Babylon 5. We're stuck here on Planet Earth, so let's take care of it. More than that, let's take pride in it! You don't want the Hutts to make fun of how sloppy we are once they get here, right? (Really, that would just be embarrassing.)
American retail stores go through about 92 billion plastic bags a year. Why go to all the trouble of collecting up your used grocery bags to take back to the store for recycling (or, worse, throwing them away) when you could be carrying a fabulous reusable tote bag instead? And while you're at it, why not show off your fandom at the same time? Here are 12 featuring all kinds of geekery, from sci fi to gaming to comics.
1. Super Mario Bros. Mushroom Bags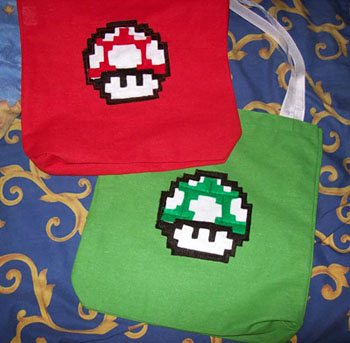 Starting with some existing tote bags, starlightcheese Mario-ified these by making the mushrooms out of felt and sewing them on.
2. The Lord of the Rings "Po-ta-toes" Bag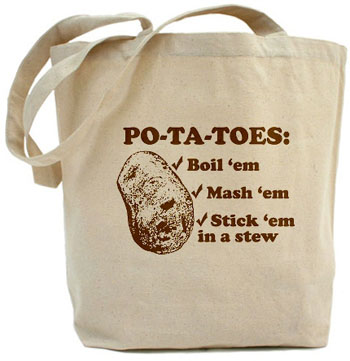 Featuring the famous line from The Two Towers movie, this tote bag from CafePress would actually be pretty perfect for carrying produce, dontcha think?
3. Superman Bag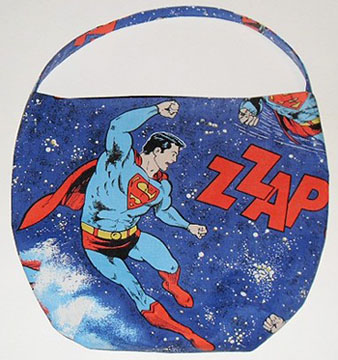 Etsy seller DAMEcreations offers this large shoulder bag made from what looks like Superman sheets.
4. Star Wars Yoda Bag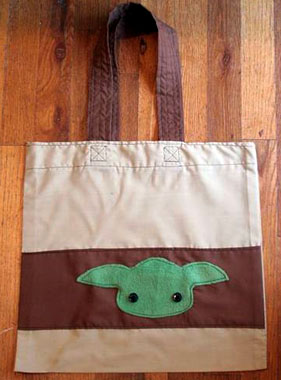 This whole bag was made by yardenxanthe from scrap fabric, using Jedi robe colors and featuring a cute little Yoda head.
5. Science Fiction Bag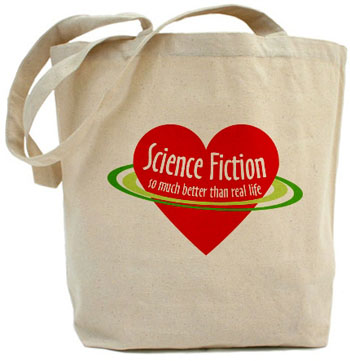 No matter what sci fi fandom you're into, this bag from CafePress speaks the truth.
6. Twilight Bag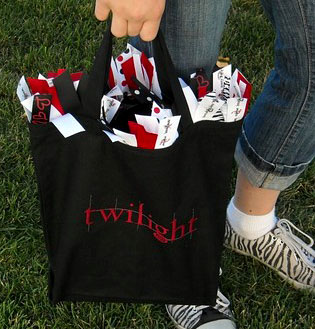 This Twilight tote from chicclips is embroidered with the Twilight logo, and its top edge is fringed with ribbons featuring the logos for all the individual books in the series.
7. Doctor Who Dalek Bag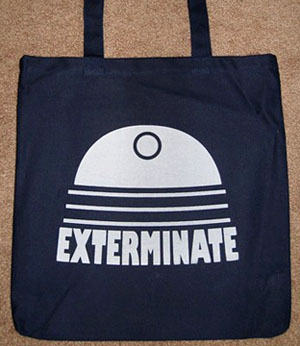 The Daleks may not be the first thing you think of when you think "eco-friendly," but maybe seeing their "Exterminate!" mantra on this bag by geekboypress will help remind you of how not to treat the Earth.
8. LOST Names Bag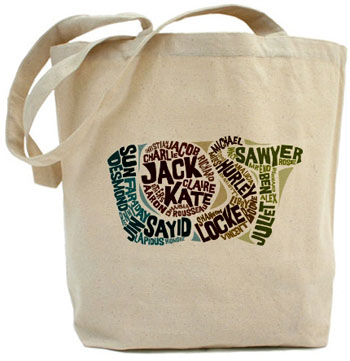 Just about all the important characters from LOST's six seasons appear on this typo-graphic tote from CafePress.
9. Lemmings Bag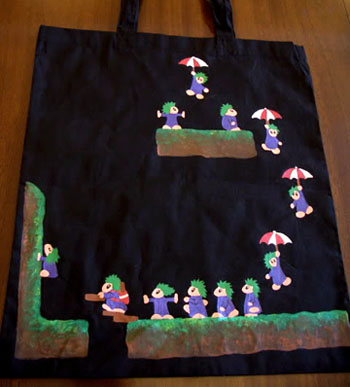 Craftster member sophieangele hand-painted this tote as a gift for her brother, who is both a lover of retro Amiga games like Lemmings and an eco-warrior.
10. Batman Bag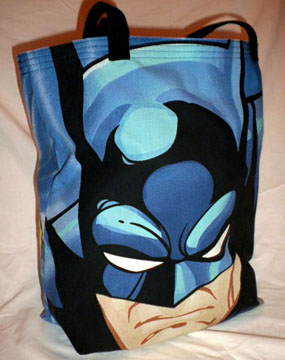 From Etsy seller ElectricNomad comes this Batman tote, featuring The Bat on one side and the Batman logo on the other.
11. Star Trek Starfleet Academy Bag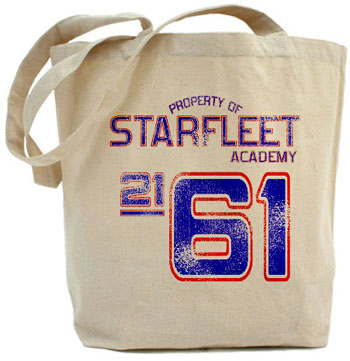 Made in the classic style of college alumni merchandise, this tote from CafePress is perfect for any Trekkie.
12. Harry Potter Hogwarts Houses Bag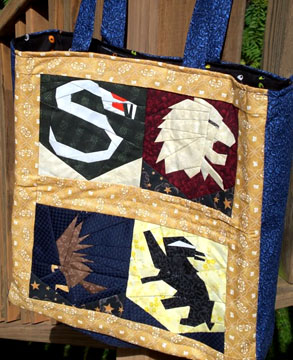 Quilted by grapeicepop for a swap, this bag has each of the four house symbols (Slytherin, Gryffindor, Ravenclaw, and Hufflepuff) on one side, and the Hogwarts shield on the other.
bags
,
batman
,
doctor who
,
eco-friendly
,
Fandomestic
,
harry potter
,
lord of the rings
,
lost
,
star trek
,
star wars
,
super mario bros
,
superman
,
Twilight