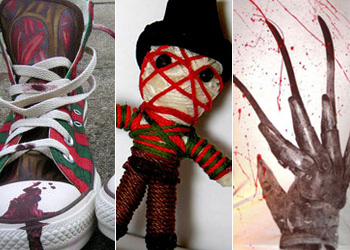 The latest reboot to hit movie theaters, A Nightmare on Elm Street, comes out this week. Freddy Krueger is one of the biggest icons of horror thanks to Robert Englund's creepy portrayal of him over the years, and now Jackie Earle Haley takes over the role to continue the legacy. Here are ten fans' tributes to the disfigured dream invader.
1. Freddy Krueger String Doll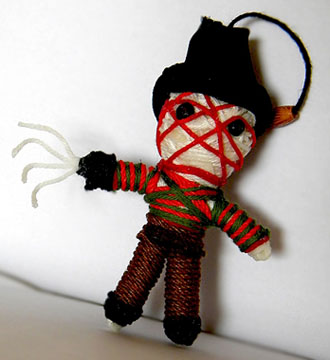 Kismag made this voodoo-like doll of Freddy Krueger out of colored string.
2. Freddy Krueger Nike Dunk Low SB Shoes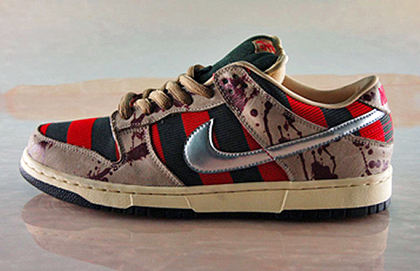 Never actually mass-produced, these shoes were designed and produced in small sample quantities by Nike in 2007 as part of a planned "Horror Pack" of sneakers. Photo from NikeHorror.com.
3. Freddy Glove Necklace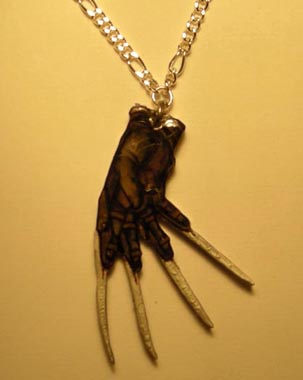 Freddy's famous metal claw glove hangs from a chain on this necklace by ialexandernash.
4. Freddy Krueger Plush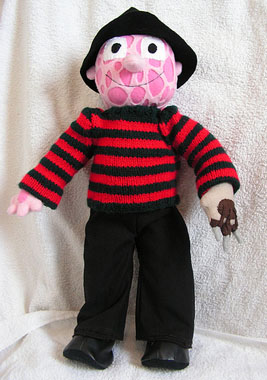 This surprisingly adorable plushie was made as a custom order by AngelaTiara.
5. Freddy Krueger Cake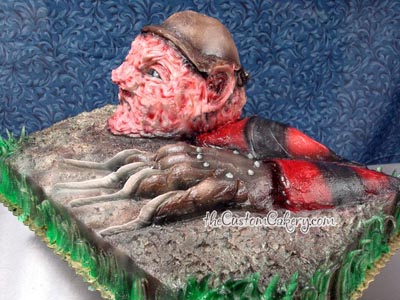 A buttercream Freddy claws his way out of this cake by ilexiapsu.
6. Freddy Krueger Amigurumi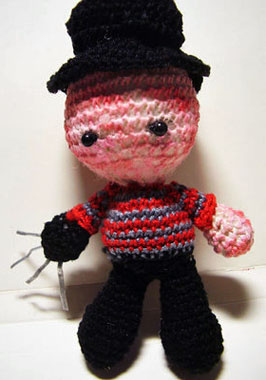 Another ironically cute Freddy creation, this one's by Nissie.
7. A Nightmare on Elm Street Custom Chucks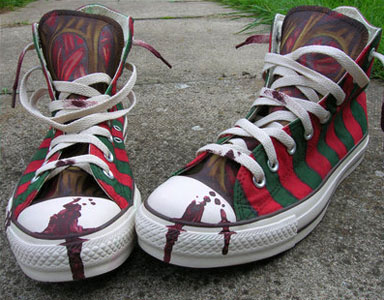 Inspired by the Nike shoes, Rozzi-Bunny customized some Converse Chuck Taylors for a friend.
8. Freddy Krueger Perler Bead Art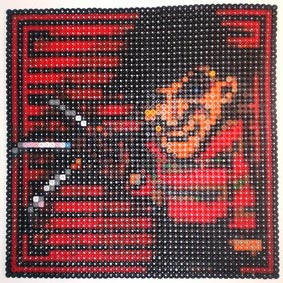 Exodecai101 made this pixel-like art of Freddy using Perler beads.
9. Freddy Krueger Custom Munny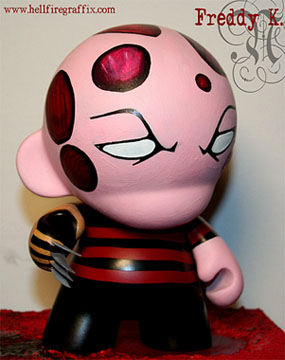 HellfireGraffix.com customized this Munny figure to resemble Freddy Krueger. Photo from visualartassassination.
10. Freddy Krueger Bloody Glove Tee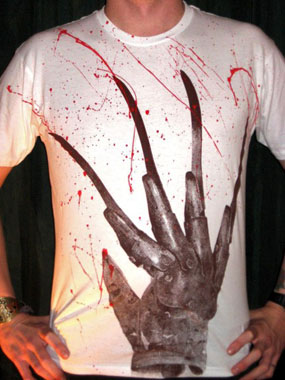 This tee by Etsy seller T-ReX T-ShirtS features a giant print of Freddy's claw glove with blood splatters all over it.
A Nightmare on Elm Street
,
amigurumi
,
cakes
,
dolls
,
Fandomestic
,
figurine
,
Freddy Krueger
,
jewelry
,
perler beads
,
plush
,
shoes
,
tees