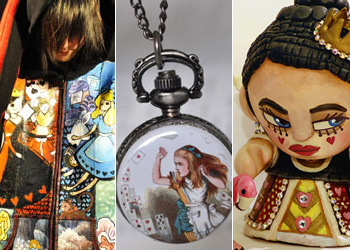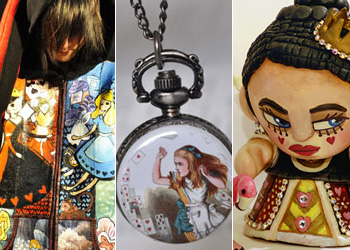 Lewis Carroll's Alice's Adventures in Wonderland is considered to be a timeless classic, and Tim Burton's movie (out this week) has brought about new interest in the peculiar tale of logic and fantasy. But fans have been inspired by Alice and the bizarre, nonsensical world of Wonderland since the book's publication in 1865. Here are ten fan-made crafts which show tribute to the world down the rabbit hole and beyond the looking glass.
(Unfortunately, much of the detail for some of these is lost in the image-resizing, so make sure to click through to the sources to find the original versions!)
1. Alice Pocket Watch Necklace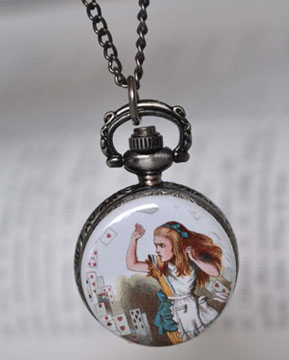 An actual pocket watch featuring an image of Alice with the flying pack of cards hangs from a chain on this Victorian-styled necklace from Etsy seller finkgifts.
2. Needle-Felted Cheshire Cat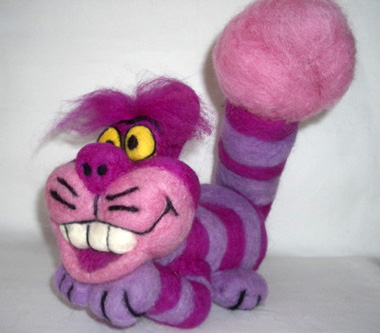 Poorlulu's Stabby Critters made this Cheshire Cat using the needle felting technique.
3. Alice in Wonderland Cupcake Tower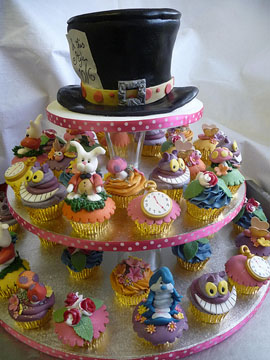 Flickr user obliviousfire created this intricate cupcake tower, featuring a large Mad Hatter hat, the Cheshire Cat, the White Rabbit, the Caterpillar, the red roses, the pocket watch, and more!
4. My Little White Rabbit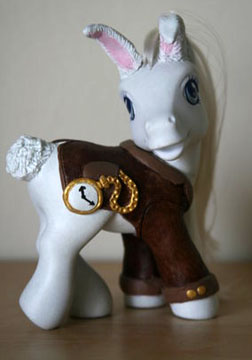 This custom My Little Pony was made by aquiafin and posted at the My Little Pony Arena forums, where many other Alice custom ponies can also be seen!
5. Alice in Wonderland Messenger Bag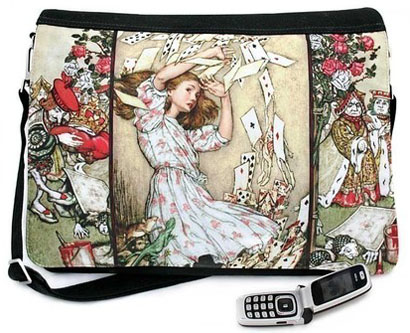 Sold by Etsy seller babastudioPrague, this messenger bag features illustrations of scenes from Alice in Wonderland by Arthur Rackham.
6. LEGO Mad Hatter Tea Party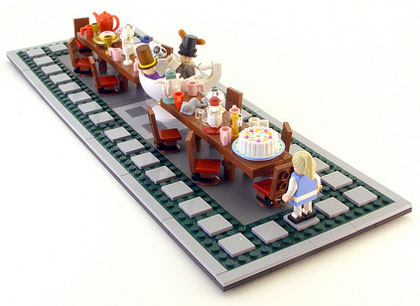 The famous Mad Hatter tea party scene has been recreated here in LEGO by Legohaulic, complete with the March Hare and the Dormouse.
7. Alice in Wonderland Shoes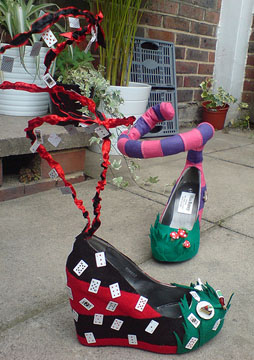 Sure to get attention, these shoes were customized by miss-bunny and feature elements from Alice in Wonderland: the Cheshire Cat's tail, playing cards, the Caterpillar on a mushroom, and other miniature items from the work.
8. Amigurumi Cheshire Cat, Alice, & Mad Hatter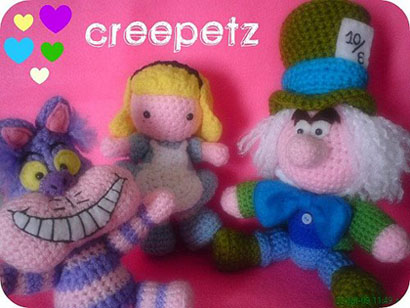 Christiana at creepetz made these amigurumi characters based on the animated Disney version of Alice in Wonderland.
9. Alice in Wonderland Hoodie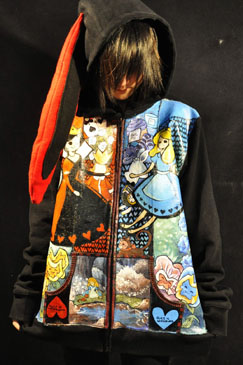 This bunny-eared hoodie painted with various scenes and characters from the book was made by chocolatlove for Toronto's CyberARTS school program.
10. Red Queen Munny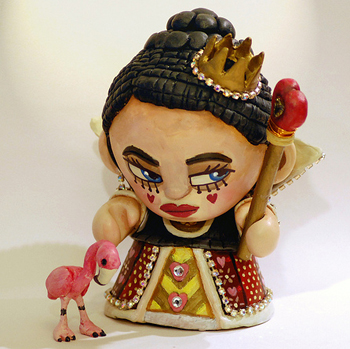 Larissa Meek customized this Munny to look like the Red Queen, complete with flamingo.
Alice in Wonderland
,
amigurumi
,
bags
,
cupcakes
,
custom clothing
,
Fandomestic
,
figurine
,
jewelry
,
LEGO
,
my little pony
,
shoes