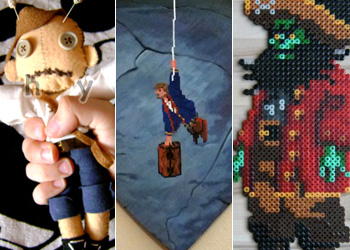 The Special Edition of LucasArts's Monkey Island 2 came out this week, but to purists like me who grew up with the first two games, nothing beats the originals. For 20 years, the series has garnered a cult following, and that means lots of awesome fan crafts and tributes. So grab your sword, your map, and your rubber chicken with the pulley in the middle, and let's go treasure-hunting for some fan-made tributes to the first two installments of the Monkey Island franchise!
1. Hama Bead LeChuck, Guybrush, & Elaine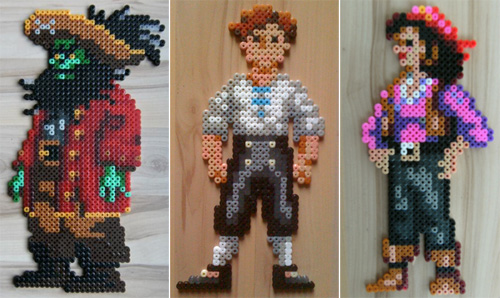 Born-Toulouse crafted this LeChuck, Guybrush, and Elaine out of Hama Beads.
2. Mêlée Island Treasure Souvenir Tee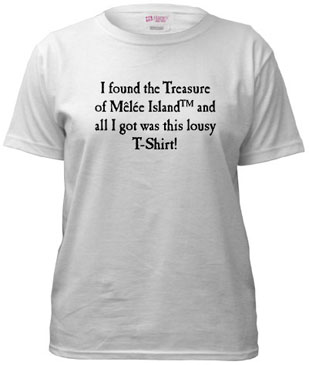 Unlike Guybrush, you don't have to trek through screens and screens of identical-looking forest to find the treasure that earns you this t-shirt from CafePress.
3. Cross-Stitch Guybrush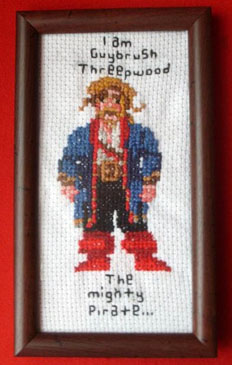 The mighty pirate Guybrush Threepwood (MI2 version) was cross-stitched and framed by yaseminezberci.
4. LEGO Guybrush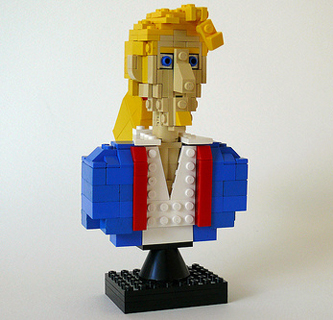 Baarten constructed this LEGO version of Guybrush as he appears in Monkey Island 2.
5. "Ask Me About LOOM" Button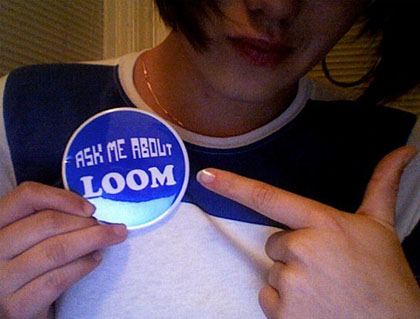 Just like Cobb the Pirate in the SCUMM Bar, Tiff now sports an "Ask Me About LOOM" button!
6. Resurrected Ghost Pirate LeChuck Tattoo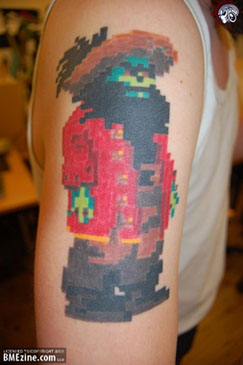 Unfortunately it's unknown whose arm this actually is, but it comes from BME.
7. Guybrush Threepwood Voodoo Doll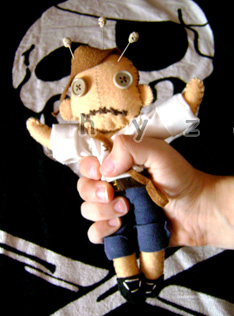 Hyzave fashioned this voodoo doll of Guybrush based on the one LeChuck holds on MI2's cover art.
8. "Mêlée Edition" Converse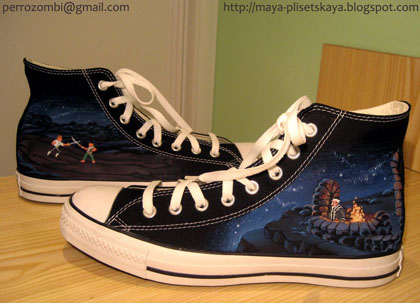 The incredibly creative Maya Pixelskaya customized these Converse All Stars to feature the famous cliffside lookout and swordfighting scenes from The Secret of Monkey Island.
9. Pantsed Hanging Guybrush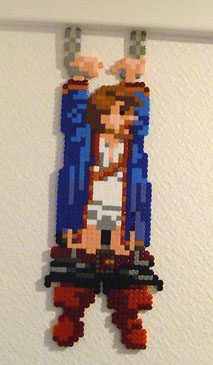 Made from Perler Beads, this Guybrush by acidezabs depicts his unfortunate habit of not keeping his belt properly tightened.
10. Three-Headed Monkey Cross-Stitch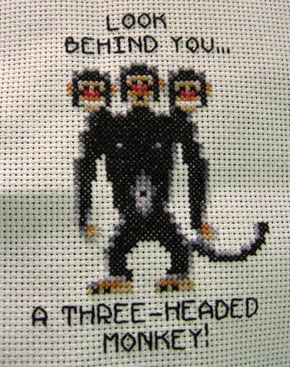 The legendary three-headed monkey was cross-stitched by EphemeralToast.
11. MI2 Opening Tie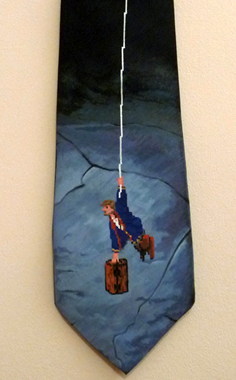 This necktie is based on the intro of Monkey Island 2 and is made by the aforementioned Maya Pixelskaya.
12. Monkey Island Sleeve Tattoo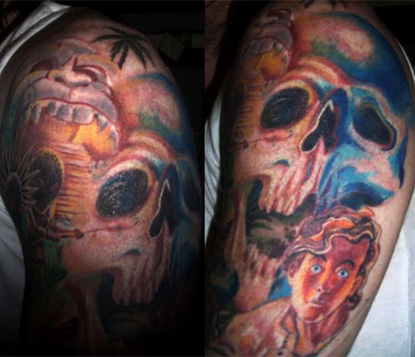 A work in progress, AskMeAboutLoom's sleeve tattoo is based on the cover art for The Secret of Monkey Island. The picture above shows the arm from two different angles.
13. My Little Guybrush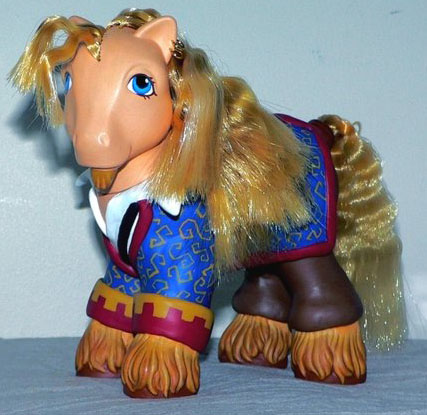 This is jen-kollic's first customized My Little Pony, fashioned after Guybrush from MI2.
14. The Secret of Monkey Island: The Play
In April 2005, the first game was adapted as a play by Christopher Heady and some other dedicated fans. This is part 1 of 9.
15. Wally & Guybrush Figurines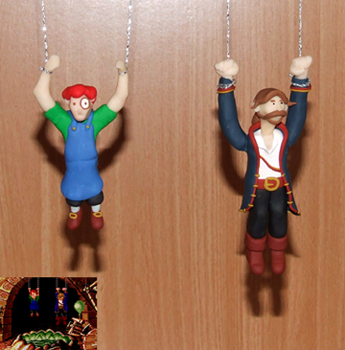 3PO made these figures from Fimo clay based on the scene from MI2 shown in the bottom left corner.
16. Guybrush Plush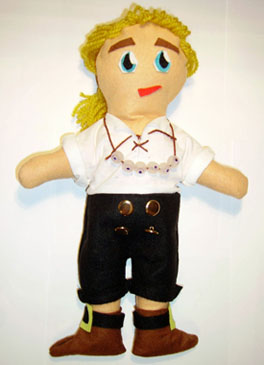 A young Guybrush, from the first game, is immortalized here in plush form by 3-headed-monkey, complete with the Navigator Head's eyeball necklace.
cross-stitch
,
Fandomestic
,
figurine
,
LEGO
,
monkey island
,
my little pony
,
perler beads
,
plush
,
shoes
,
tattoos
,
tees
,
videos