There are a lot of hand-painted customized shoes out there, but some of the best have to be those inspired by video games. Since most gamers grew up playing classic Nintendo games, it's only fitting that the characters and icons from those games be featured heavily on game-inspired shoes. Here are twenty of the best custom shoes inspired by classic Nintendo.
1. Nintendo Character High Tops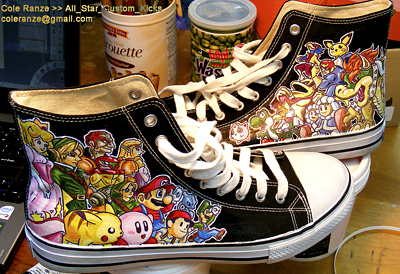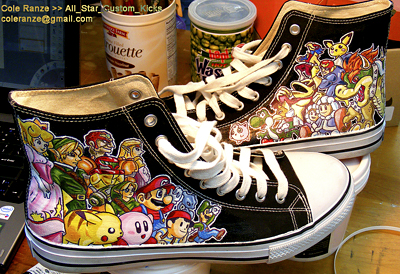 Can you spot all the classic Nintendo characters on these high tops hand-painted by Cmr8286?
2. Tetris Slip-Ons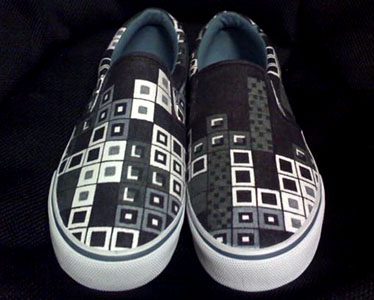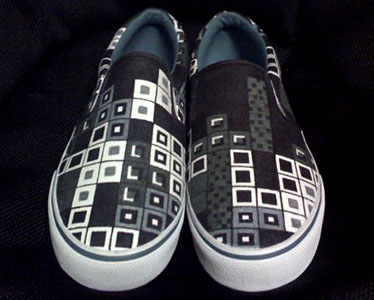 Sceene Shoes went Game Boy style for these Tetris-inspired slip-ons!
3. Mario Life & Death Slip-Ons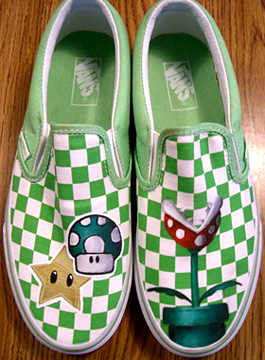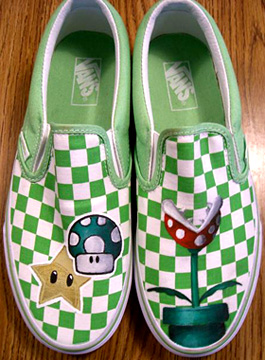 1-Up Mushroom and Invincibility Star signify life, while the Piranha Plant signifies death on this very clever design by one-crazy-fox.
4. Zelda Triforce Shield Slip-Ons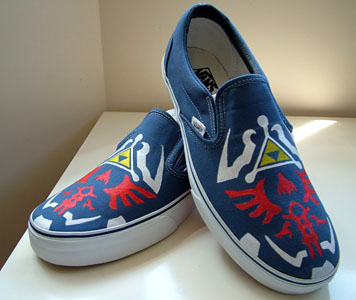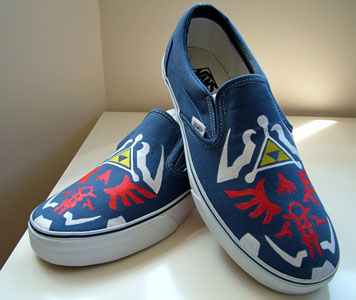 Based on one of Link's shield designs, these shoes are made by Kyozo Kicks.
5. Nintendo Entertainment Shoe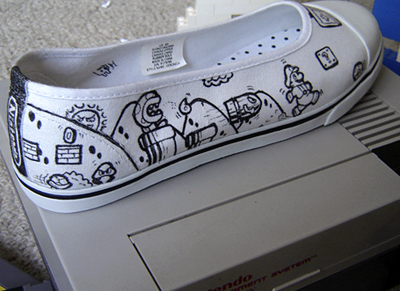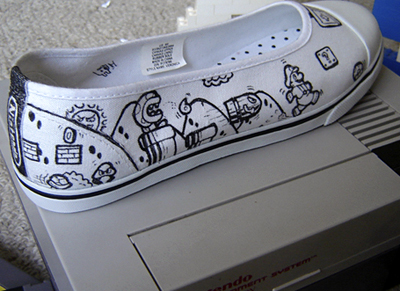 This shoe by khdownes mostly features Super Mario Bros., but the opposite side sports the NES slogan "Now you're playing with power!" and a mini NES system, game, and controller.
6. Metroid Slip-Ons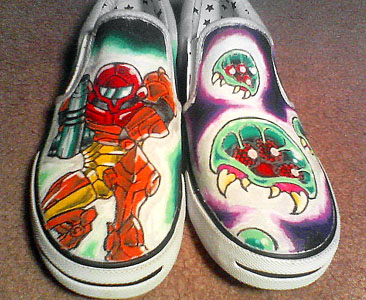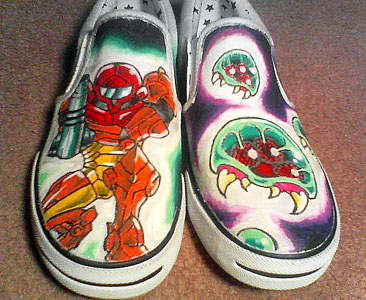 One of these shoes by richardkeithyoung features Samus; the other, some enemy Metroids.
7. Mario & Luigi Shoes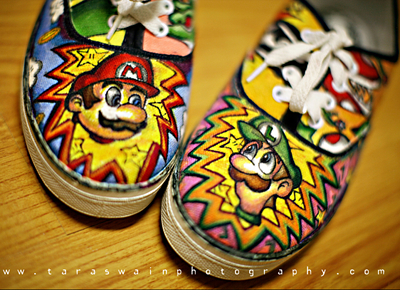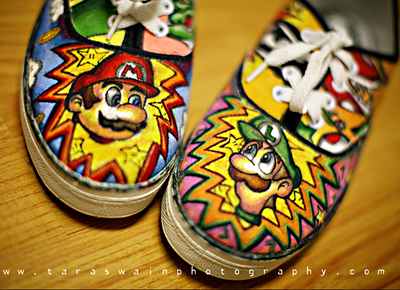 Mantabirdy drew the Mario characters on these shoes: Mario and Luigi, as shown, plus Yoshi and a whole mess of baddies.
8. Zelda Map Slip-Ons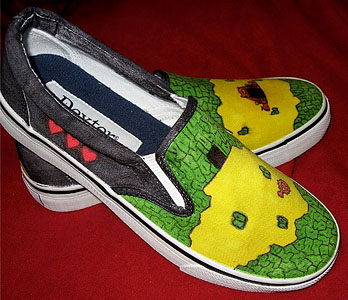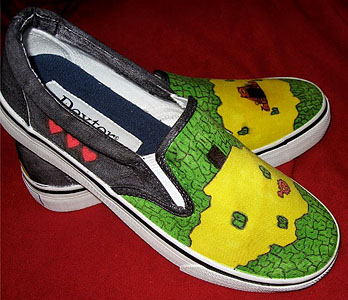 The classic aerial map view of The Legend of Zelda was the inspiration for these slip-ons by thedish, and details like the life hearts and the Triforce on the shoes' heels make them even awesomer.
9. NES Controller Slip-Ons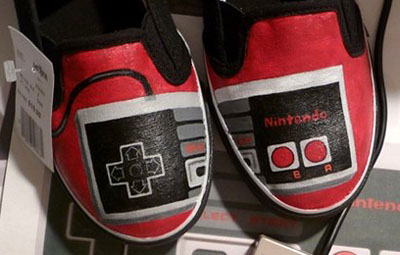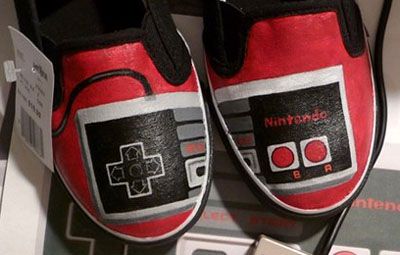 The NES controller on these red slip-ons by ParadoxArtistry is life-size, and the painted cord wraps around to spell out "NES" on the heel! Too cute.
10. Street Fighter Slip-Ons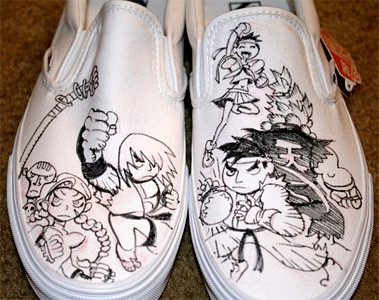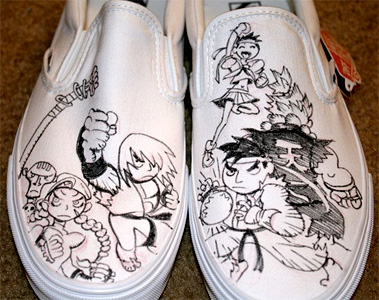 These shoes featuring the characters of Street Fighter were drawn by artist Mindy Lee for her cousin.
11. Super Mario Bros. World 1-1 Slip-Ons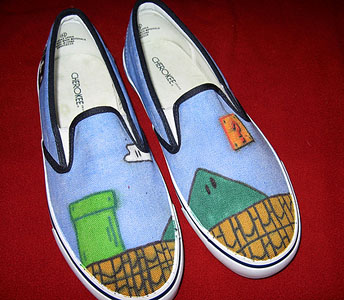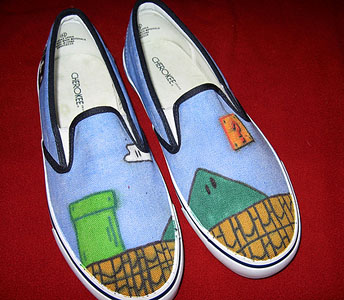 Craftster member thedish based these slip-ons on the iconic World 1-1 of Super Mario Bros.
12. Zelda Link & Ganon Slip-Ons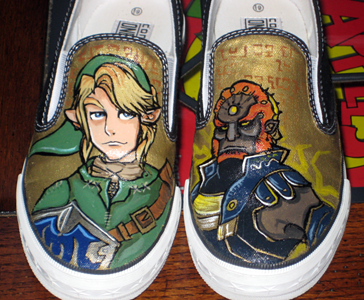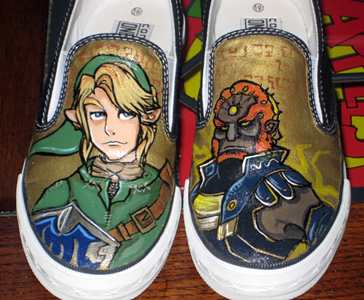 Link adorns one of these golden shoes by JoiToi, Ganon the other.
13. Game On Shoes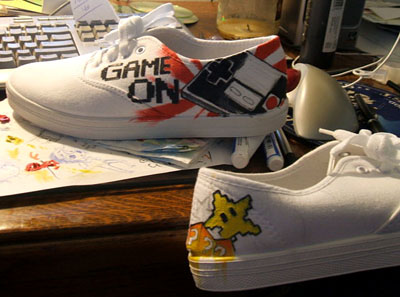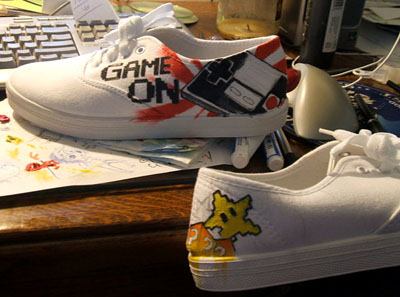 A NES controller and Mario's Invincibility Star & Question Blocks are featured on these white shoes by somnambulist-x.
14. Mike Tyson's Punch-Out Slip-Ons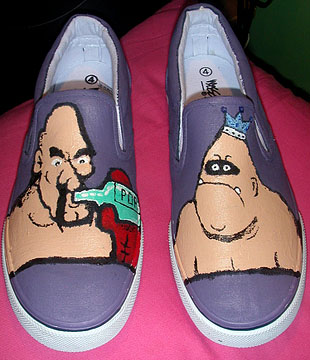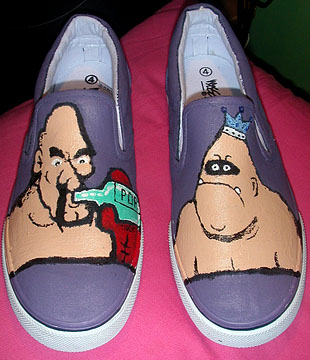 What would a classic Nintendo list be without Mike Tyson's Punch-Out? These purple slip-ons by thedish, featuring Soda Popinski and King Hippo, would probably look great with Little Mac's pink track suit!
15. Super Mario Bros. Sketchy Slip-Ons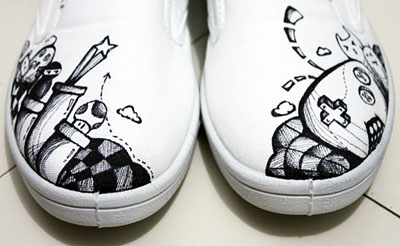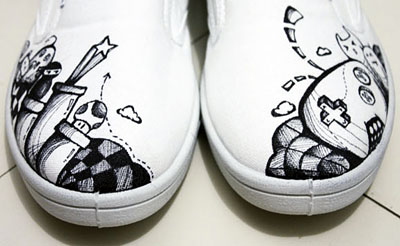 These sketched-up shoes by crimsonchucks are heavily inspired by Super Mario Bros., but also feature some other random little cute characters.
16. Legend of Zelda Slip-Ons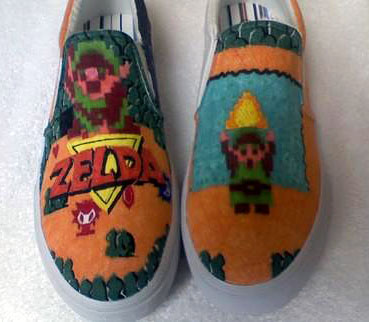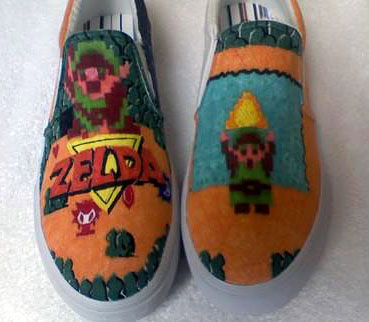 Sceene Shoes also made this Zelda pair featuring the map view, logo, and Link holding up a piece of the Triforce.
17. NES Controller Shoes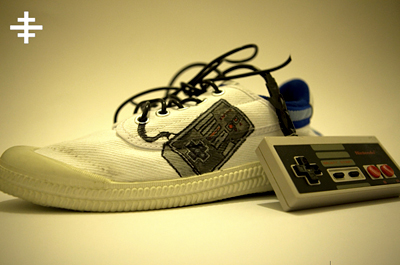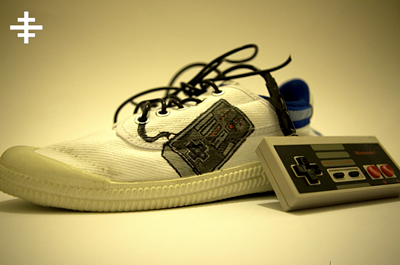 Democat's sneakers don't just feature a NES controller on the side, they're even laced with its cord (for this picture, at least)!
18. Mega Man Slip-Ons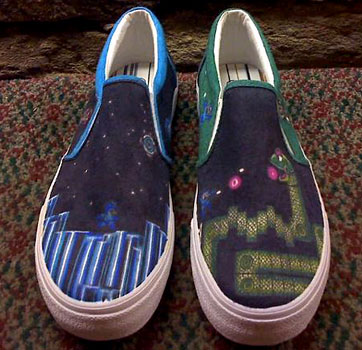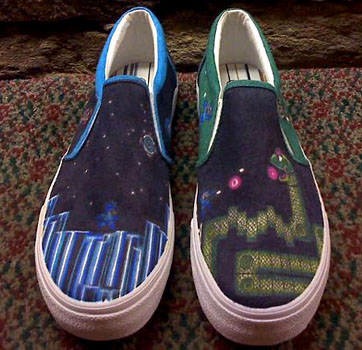 Another Sceene Shoes design, these slip-ons (one blue, one green) are inspired by Mega Man.
19. Super Mario Bros. 3 Chucks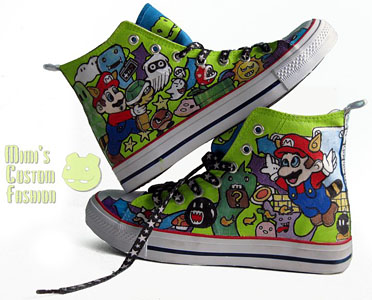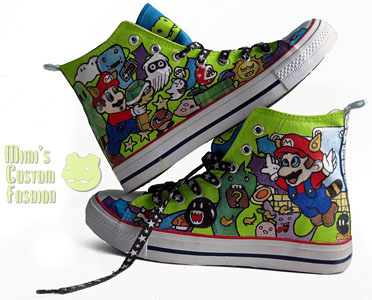 MimisCustomFashion decorated these neon green Chucks with characters from Super Mario Bros. 3, plus some other random monsters thrown in.
20. Zelda Triforce Ones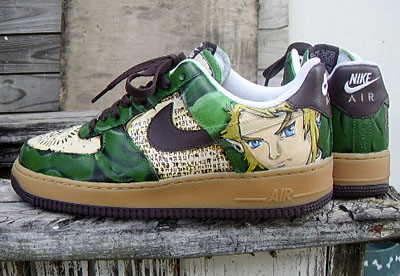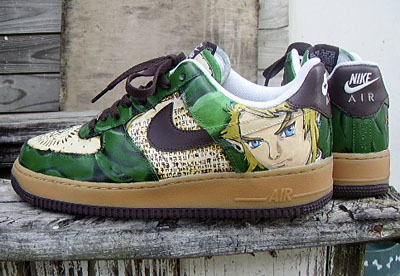 They started as Nike Air Force Ones, but after Justbeast painted them up with Link, they became Triforce Ones. Love it.