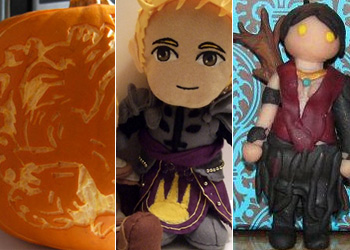 Since the release of Dragon Age: Origins in November 2009, fans of Ferelden and beyond have been inspired to craft their own tributes to BioWare's epic fantasy RPG. This week, gamers everywhere resumed the battle against the Blight with the shipment of the first big expansion, Dragon Age: Origins – Awakening. Here are twelve fans' creations based on Dragon Age, all worthy of a Grey Warden.
1. Warden Commander Alistair Plushie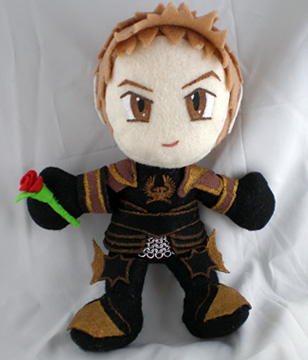 Holding his famous rose from the game (well, famous if you're a swooning sap like me), this Alistair plushie by eitanya wears the Dragonbone Warden Commander armor from the Warden's Keep DLC.
2. Dragon Age: Origins Load Screen Cakes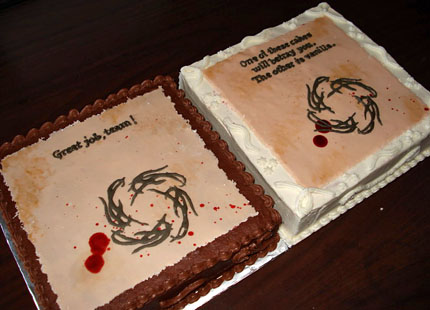 These cakes are especially cool because they were made by Chris, one of the programmers at Edge of Reality, for her coworkers — the DA:O development team — while they were still working on the game.
3. LEGO Darkspawn Combat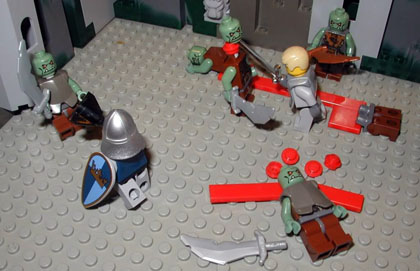 One of several Dragon Age fan art scenes made in LEGO by levi_porphyrogenitus (some others very spoilery), this one portrays the PC and Alistair fighting some darkspawn.
4. Zevran Plushie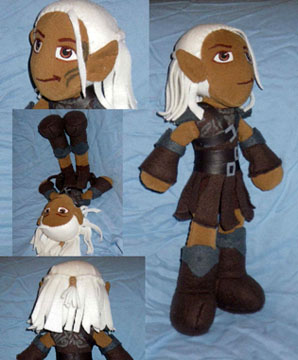 Threnodi crafted this plushie of everyone's favorite Antivan assassin, Zevran Aranai.
5. "Team" Magnets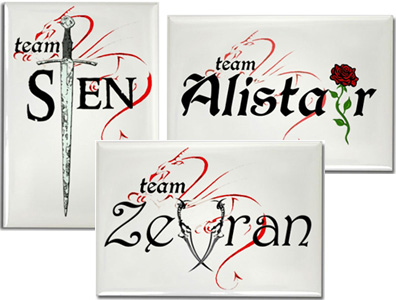 These designs are also available on t-shirts, mugs, and tons of other merchandise from CafePress: Team Alistair, Team Zevran, Team Sten, and even (not pictured) Team Jowan!
6. Morrigan & Leliana Custom Figures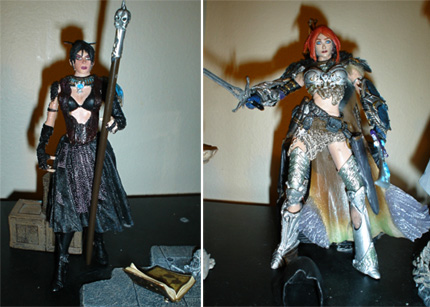 Custom-made from other action figures as well as his own sculpting, here are Morrigan and Leliana by pyramidhead22, who has also made figures of Alistair and his own PC.
7. Alistair, Oghren, & Sten Plushies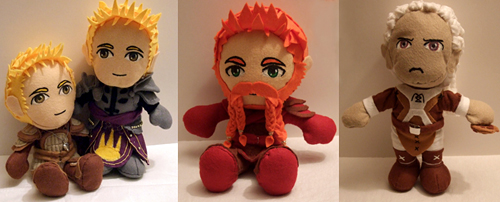 deviantART member kinbari has made two chibi plush versions of Alistair — Splintmail, with his mom's necklace (a locket), and Templar Armor — as well as Oghren as he appears at the entrance to the Deep Roads and Sten in his farmer clothes in Lothering.
8. Grey Wardens Griffon Pumpkin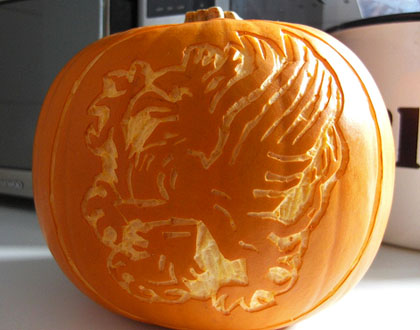 Submitted to BioWare's community Halloween contest asking "fans of Dragon Age to contribute something both based on Dragon Age and on Halloween," as BioWare Community Coordinator Evil Chris Priestly says, this pumpkin bears the crest of the Grey Wardens featuring the iconic griffon of ages past.
9. Zevran Keychain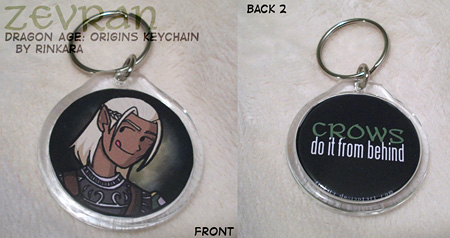 One side of this keychain features Rinkara's fan art of Zevran, and the other has a very cheeky phrase that it's easy to imagine the flirty bad boy himself saying.
10. Morrigan Plushie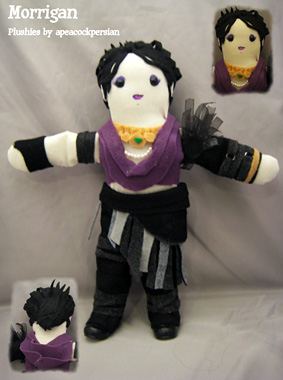 The Witch of the Wilds was translated into smirking plush doll form here by apeacockpersian.
11. Archdemon Cake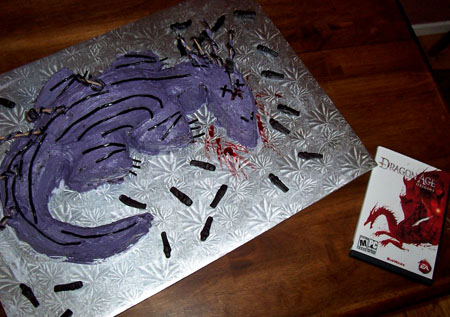 Obviously, after the end of the game, and surrounded by many, many dead Darkspawn. I wonder if Freckles04 survived eating that much Darkspawn blood…
12. Sculpey Party Members

So far, freakstop had completed Shale, Wynne, Zevran, Morrigan, Oghren, Alistair, and Dog when this photo was taken.