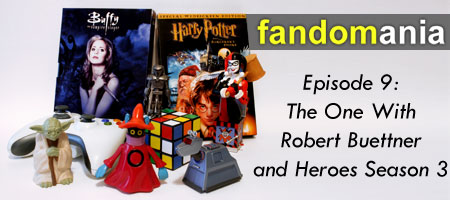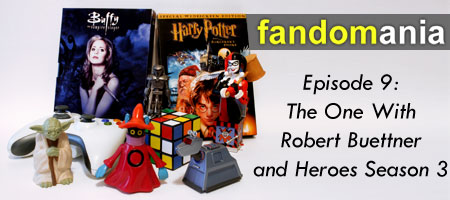 [audio:http://media.libsyn.com/media/fandomania/Episode_0009_-_Robert_Buettner_and_Heroes_Season_3.mp3]
In this week's episode:
We talk about Fandomestic and The Frugal Fan, the two new Fandomania features.
Kelly interviews author Robert Buettner.
Celeste and I discuss the Heroes season 3 premiere at length and disagree about time travel.
We talk about the (mid-?) season finale of Eureka.
Celeste tries to read some classic Batman while I vent about Ultimates 3.
I talk about Pure and Warhammer Online.
Talking about the New XBox Experience leads into a discussion of the demerits of the Wii.
We briefly touch on Jack Thompson's disbarment and Johnny Depp's long list of upcoming roles.
There's a new contest running this week.
You can write to us at podcast@fandomania.com. The intro music for this episode comes from The Crowd, via the Podsafe Music Network.