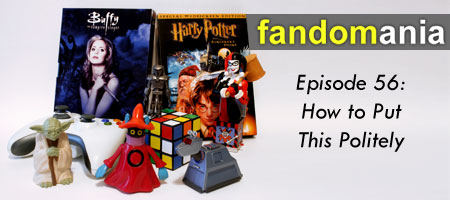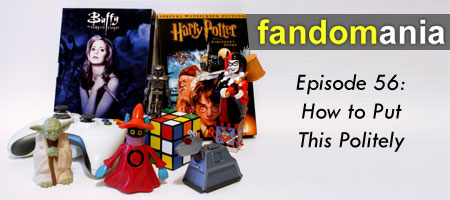 [audio:http://media.libsyn.com/media/fandomania/Episode_0056_-_How_to_Put_This_Politely.mp3]
On this week's episode:
00:00:15 – Episode Opening
00:00:53 – I'm suffering yet another ear malady this week.
00:01:12 – We just got back from Mini-Megacon here in Orlando, where we had a great time, met Buffy actors, and observed a very awkward Q&A session.
00:09:27 – William Shatner is coming to Dragon*Con!
00:11:03 – We revisit the subject of professional photographers at conventions, this time with a more informed perspective.
00:20:37 – We've had some good growth in the listener numbers since last week.
00:21:56 – We announce the winners of the BSG soundtrack contest and remind everyone about our currently-running 9 contest.
TV Talk
00:23:00 – We briefly talk about the impending end of the long-running soap Guiding Light.
00:26:33 – I'm looking forward to the new Spartacus series being developed for Starz.
00:28:26 – James Marsters has been cast in Caprica.
00:32:00 – Warehouse 13 has been renewed for a second season, and we talk about the newest episode, "Implosion" (spoilers!).
00:36:56 – Eureka: Ship Happens (spoilers!)
Movie Talk
00:40:10 – Universal is talking about the possibility of rebooting the Anne Rice vampire series with a new Lestat.
00:42:47 – I give my non-spoiler review of Inglourious Basterds.
Game Talk
00:47:55 – I talk about the beta for Champions Online.
00:49:55 – Celeste has gotten into playing the expansion for Red Faction: Guerrilla.
00:51:41 – I've finally gotten around to playing X-Men Origins: Wolverine.
00:55:45 – We take a look at the new XBLA game, Shadow Complex.
00:58:23 – Episode Closing