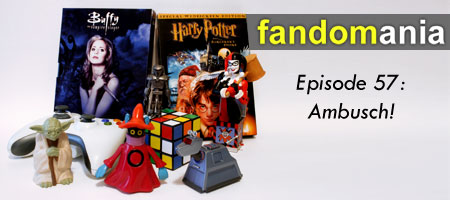 [audio:http://media.libsyn.com/media/fandomania/Episode_0057_-_Ambusch.mp3]
In this week's episode:
00:00:16 – Episode Opening
00:00:37 – Details about our live podcast from Dragon*Con and a Fandomania meetup and dinner!
00:02:25 – We recount the past week's tale of Fandomania drama.
00:08:47 – I announce a new poll that YOU need to fill out: The 100 Greatest Fictional Characters of All Time.
00:11:23 – Buffy alums Amber Benson (Tara) and Adam Busch (Warren) join us to talk about Adam's band, Amber's books, Drones, and their awesome rendition of the Macarena.
TV Talk
00:25:28 – Eureka: You Don't Know Jack (spoilers!)
00:35:06 – Warehouse 13: Duped (spoilers!)
Movie Talk
00:38:11 – Todd McFarlane's twisted version of Oz is moving ahead as a movie.
00:41:40 – Michael Crichton's upcoming posthumously published pirate book is being picked up by Steven Spielberg.
00:44:28 – Celeste has some details about Pirates of the Caribbean 4.
00:47:25 – We talk about the upcoming vampire manga-turned-movie, Priest.
Game Talk
00:49:43 – I loved the demo for the upcoming game Wet, while Celeste was less than impressed.
00:55:26 – EVE Online teeters a little too close to the real world with some bizarre banking and embezzling going on.
01:09:38 – I talk a little about the head start phase for Champions Online.
01:13:15 – Episode Closing