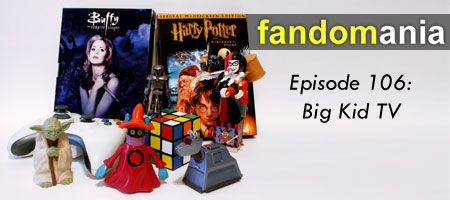 [audio:http://media.libsyn.com/media/fandomania/Episode_0106_-_Big_Kid_TV.mp3]
On this week's episode:
00:00:17 – Episode Opening
00:00:52 – We address some technical issues from the previous episode.
00:02:37 – This week we'll be going to Star Wars Celebration, and in just a few weeks we'll be at Dragon*Con. We talk about plans for this year's Fandomania meetup in Atlanta.
00:04:55 – We are giving away season 1 of Being Human on Blu-ray and DVD this week!
00:06:48 – The extremely talented Bear McCreary talks with us about his work on the music of Battlestar Galactica, Eureka, Human Target, and several other projects.
TV Talk:
00:24:54 – Warehouse 13 Episodes 2.03-2.05 and Eureka Episodes 4.03-4.05 (spoilers!)
00:47:04 – Covert Affairs Episodes 1.02-1.04 (spoilers!)
00:55:26 – Rubicon Episode 1.01 (spoilers!)
00:57:08 – We briefly talk about movies watched over the past few weeks: Salt, The Other Guys, Pandorum, and The Crazies.
00:57:52 – We played Alan Wake: The Signal and Starcraft 2 this past week and talk a little about both.
01:01:47 – Episode Closing