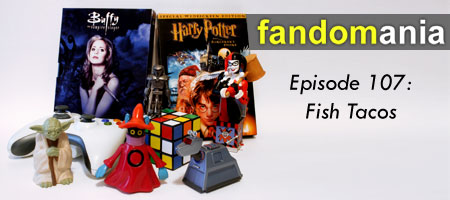 [audio:http://media.libsyn.com/media/fandomania/Episode_0107_-_Fish_Tacos.mp3]
On this week's episode:
00:00:17 – Episode Opening
00:00:30 – We're giving away copies of Titan Maximum: Season 1 this week!
00:01:17 – We went to Star Wars Celebration V this weekend, and we talk about what we did and saw there.
00:14:38 – Aaron Douglas (Battlestar Galactica's Chief Tyrol) joins us to talk about his work on BSG and beyond.
TV Talk:
00:26:13 – Rubicon: "Keep the Ends Out" (spoilers!)
00:29:27 – True Blood: "Night on the Sun" (spoilers!)
00:32:14 – Warehouse 13: "Around the Bend" (spoilers!)
00:37:02 – Covert Affairs: "In the Light" (spoilers!)
00:39:26 – Eureka: "Momstrosity" (spoilers!)
Game Talk:
00:48:47 – BioShock Infinite
00:56:40 – Singularity
01:00:23 – Episode Closing