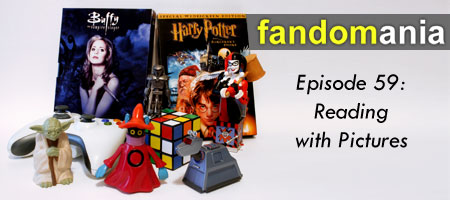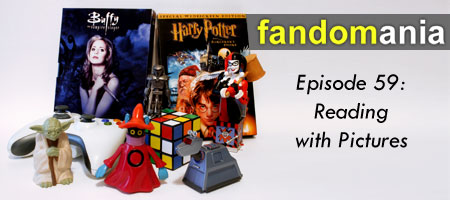 [audio:http://media.libsyn.com/media/fandomania/Episode_0059_-_Reading_with_Pictures.mp3]
In this week's episode:
00:00:16 – Episode Opening
We fill in the blanks from Dragon*Con.
00:00:39 – The Q&A recording is running late, and we make excuses.
00:01:15 – We talk about the Battlestar Galactica party thrown by The Colonial Fleet.
00:07:35 – Interview: Comics creator Josh Elder talks with us about his project, Reading with Pictures.
Fandomania Talk:
00:22:03 – Our 100 Characters project is now in number crunching mode.
00:24:12 – Contest: We're giving away four copies of the Chess CD / DVD set this week!
Game Talk:
00:26:39 – Our Xbox 360 Elite blew up, and thus continues the saga of the Red Ring of Death.
00:28:49 – The Beatles Rock Band released this past week, and we talk a little about that.
TV Talk:
00:31:45 – Warehouse 13's ratings have been crazygood.
00:35:03 – Celeste talks a little about the Creative Emmys awarded this weekend.
00:37:58 – Warehouse 13: Breakdown (spoilers!)
00:42:00 – Eureka: Have an Ice Day (spoilers!)
Movie Talk:
00:50:11 – The title of Pirates of the Caribbean 4 has been announced, and it has an intriguing legacy.
00:54:31 – We talk about the new movie Gamer (spoilers!).
01:03:21 – Episode Closing