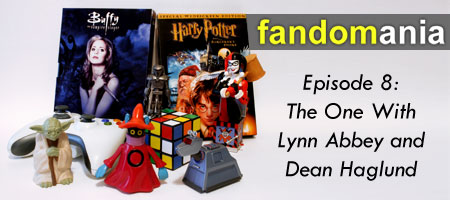 [audio:http://media.libsyn.com/media/fandomania/Episode_0008_-_Lynn_Abbey_and_Dean_Haglund.mp3]
In this week's episode:
Celeste and I rave about Rock Band 2 and a few upcoming video games.
I give my take on the CAG prank heard round the blogosphere.
Kelly talks with Lynn Abbey (lynnabbey.com), editor of the Thieves World anthologies.
Celeste and I discuss the drama surrounding the production of Joss Whedon's Dollhouse.
We both have good things to say about Fringe, and we talk about a few other TV shows we watch.
Celeste still likes True Blood, and I still think Sookie Stackhouse is a silly name.
We agree that Eureka is a fantastic show and shouldn't be peddling Degree in every episode.
I talk with Dean Haglund (deanhaglund.com), Langley from The X-Files and The Lone Gunmen.
We read from the mailbag about comic book movies.
We also have a new contest running this week. Send in your questions and listener mail to podcast@fandomania.com, and you'll be entered to win the Eureka CD soundtrack by Bear McCreary.
The intro music for this episode comes from The Crowd, via the Podsafe Music Network.