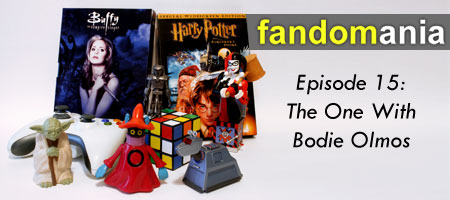 [audio:http://media.libsyn.com/media/fandomania/Episode_0015_-_The_One_With_Bodie_Olmos.mp3]
In this week's episode:
Celeste professes her new fandom for Twilight.
We talk about Michael Crichton's sad passing.
Celeste and I discuss Circuit City's troubles, along with our buying habits at other retail megaliths.
Bodie Olmos, aka Hotdog from Battlestar Galactica, is our special guest and talks about the show and his character.
We cast a critical eye at the latest episode of Ghost Hunters.
Celeste is disgusted by the way vampires die on True Blood.
We talk about this week's Dexter and Terminator episodes.
I bring up Fox's asinine decision to put Dollhouse on Friday nights at 9pm.
We have a trivia contest for some Eureka swag.
I find Silent Hill: Homecoming far inferior to Dead Space, and I give my opinion of Farcry 2.
We talk about my most recent and all-consuming addiction: Fallout 3.
I get excited about the new James Bond Quantum of Solace video game.
You can write to us at podcast@fandomania.com. The intro music for this episode comes from The Crowd, via the Podsafe Music Network.
Be sure to add us on MySpace!